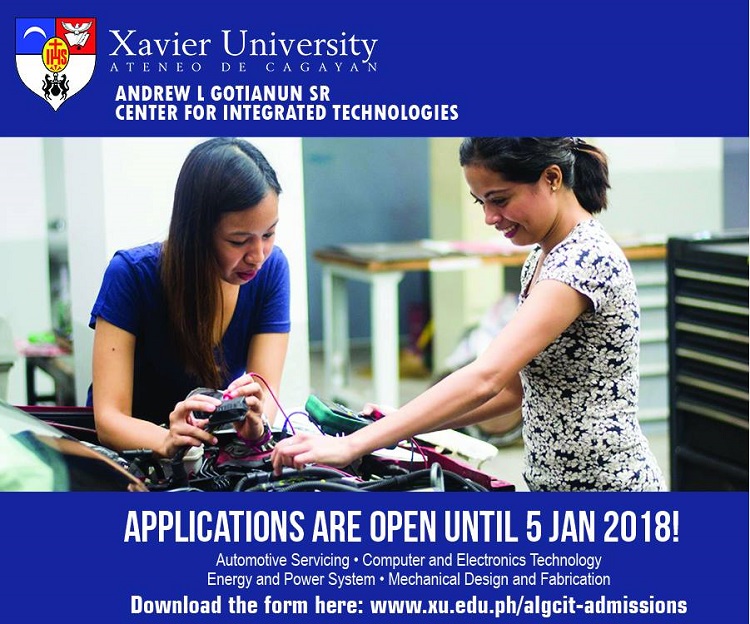 The Andrew L Gotianun Sr Center for Integrated Technologies (ALGCIT) Senior High School, an endowment from the Andrew L Gotianun Foundation, offers three-year residential Tech-Voc SHS full scholarships to competent yet financially-disadvantaged youth.
The program features (1) quality instruction and learning environment, (2) intensive Jesuit-Atenean formation, and (3) an extended academic, community, and on-the-job experience.
Tuition, matriculation, books, board & lodging, uniforms, and other school fees are all covered by this scholarship.
ALGCIT scholars will be housed in the modern and safe dormitories and hold their classes in a state-of-the-art building situated inside the Manresa complex. Their new campus provides plenty of activities for the scholars while they complete their academic requirements and develop their technical skills.
The applicants can choose from the four ALGCIT Tech-Voc Specializations:
• Automotive Servicing
• Computer and Electronics Technology
• Energy and Power System
• Mechanical Design and Fabrication
The Center has existing partnerships with numerous local and international companies to employ its graduates.
Students who complete this program are also eligible to take the Technical Education and Skills Development Authority (TESDA) National Certificate (NC) examinations for the respective qualifications embedded in each program.
The applicant for an ALGCIT full scholarship must be:
• Currently in Grade 10 or have completed Grade 10 (or the old high school curriculum)• Not more than 18 years old by June 2018
• Maximum annual income for each family member is Php50K (Total yearly income of all working individuals in the family divided by the number of family members)
• Eligible for a DepEd voucher
• Mentally and physically fit to study (PWD students are welcome.)
• No disciplinary cases in previous and/or current school
• Must be able to pay the admission exam fee of Php50.00
• Must pass the XU Admission Exam
• Committed towards the three-year SHS TechVoc program
At the end of the three-year program of boarding school, the students are expected to graduate world-ready, with international standard competencies, and spiritual and social commitment the Ateneo way.
Download the application form at www.xu.edu.ph/algcit-admissions and send it to This email address is being protected from spambots. You need JavaScript enabled to view it.. ∎
ALGCIT Scholarship Exams for AY2018-2019
Venue: XU Testing Center, XU Main Campus Corrales Avenue, Cagayan de Oro City
Time: 7:30 AM (Please be at the XU Testing Center 30 minutes before the time.)
Requirements:
• Grade 10 ID (Alternative: Old HS diploma, report card, and other related school documents)
• Admission exam fee of Php50.00 (Pay at the XU Finance Office)
• Pencils #2
Testing Dates: January 6, 13, 20, and 27, 2018