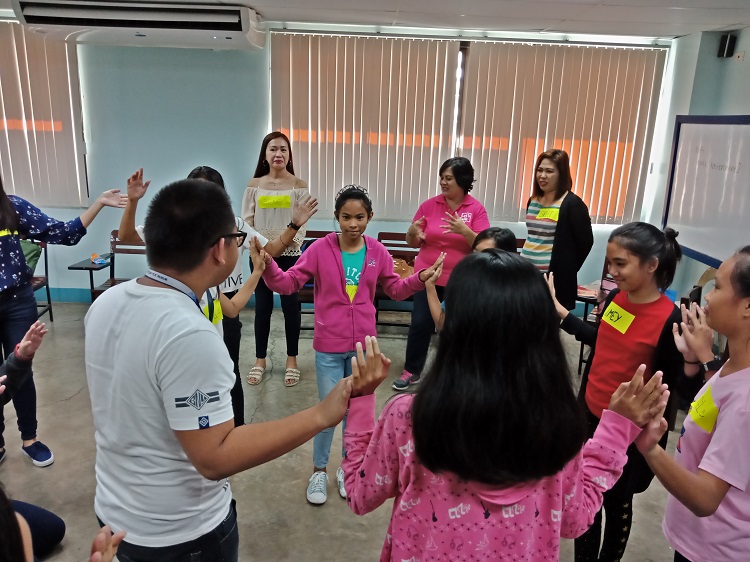 STORYTELLING. Public school pupils and teachers, together with Xavier Ateneo Junior High School students, participate in the workshop held at the AVR-4. Photo by Kate Mary Queen Ebonia.
By Anito Librando
The English department of Xavier Ateneo Junior High School conducted a seminar-workshop on storytelling to select teachers and pupils of Tulong Dunong - DepEd partner schools last January 27.
Aptly named Project WISE (Words, Images, Sounds, Events), it was aimed at exploring how Grade 6 public school pupils can creatively convey a series of events through different methods of storytelling.
The participants were Grade 6 pupils from Bulua Central School, Lumbia Central School, South City Central School, Taguanao Elementary School, and Bayabas Elementary School together with their English teachers. Representatives from Xavier Ateneo Grade 10 classes, who are the Tulong Dunong tutors, also participated to help the pupils develop their stories.
"I hope this event would pave a way for more collaborations with our co-educators in the public schools as we work toward a common goal of educating the young of Northern Mindanao," said JHS English department chairperson Jennifer Yu.
All Grade 7 Xavier Ateneo JHS English faculty members served as resource speakers for the training. Dinafe Rara facilitated a review of the elements of a short story and focused on story and performance, while Esther Bajuyo presented different storytelling methods. Kate Mary Queen Ebonia presented stage focus and materials development while the rest of the English department team assisted each participating school in developing their stories in the afternoon session.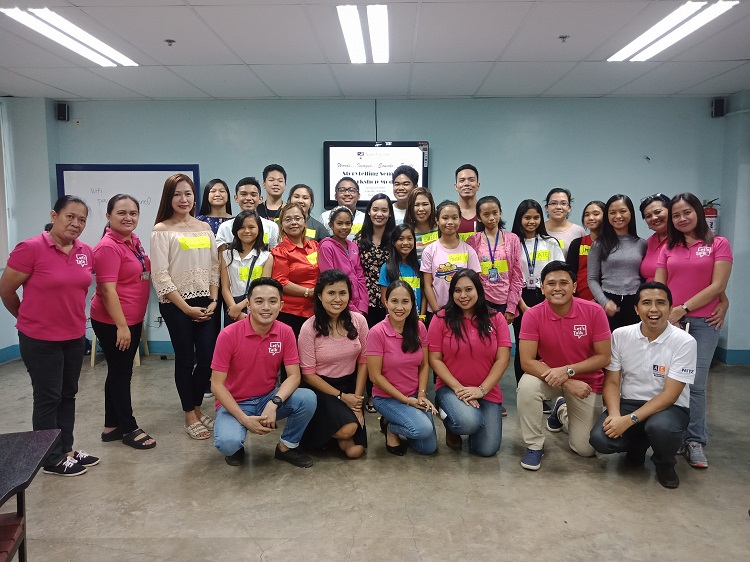 COLLABORATION. Xavier Ateneo JHS English department faculty members pose together with Grade 10 students and Tulong Dunong partner school Grade 6 pupils and teachers. Photo by Kate Mary Queen Ebonia.
Each group was given copies of Illustrated Folktales Volumes 1 and 2 by Fr Francisco R Demetrio SJ that contain historical tales of early Cagayan de Oro and became the literary selection from where the groups chose a story they will interpret.
Xavier Ateneo JHS Grade 7 teacher and resource speaker Dinafe Rara said, "It was a truly wonderful experience being a resource speaker during the Project WISE. Each participant was like a sponge absorbing every bit of information, strategies, knowledge, and skills that I shared."
"The pupils presented their storytelling in an active, engaging and fun manner. They had great enthusiasm and interest in the workshop. I was overwhelmed with how they were eager to learn more about storytelling," Rafa added.
Yu also expressed her gratitude to the people behind the success of the event.
"The realization of the event had been made possible through the collaborative efforts of the members of the English department with the help of Tulong Dunong Program led by Anthony Ryan C Manus. The English Department is very grateful to the XUJHS administration headed by Dr Pamela Q Pajente for supporting our endeavor. We are also thankful to Hobart Savior, director of Xavier Center for Culture and the Arts (XCCA), for tapping the department to organize the event. It was indeed a story of the power of teamwork," Yu said.
A storytelling contest will be held on February 19 at the JHS Covered Courts.
The Xavier Ateneo JHS English Month 2018 is part of Panaghugpong 10: Xavier Ateneo Arts Festival, in partnership with the National Center for Culture and the Arts (NCCA) in celebration of the National Arts Month (February).∎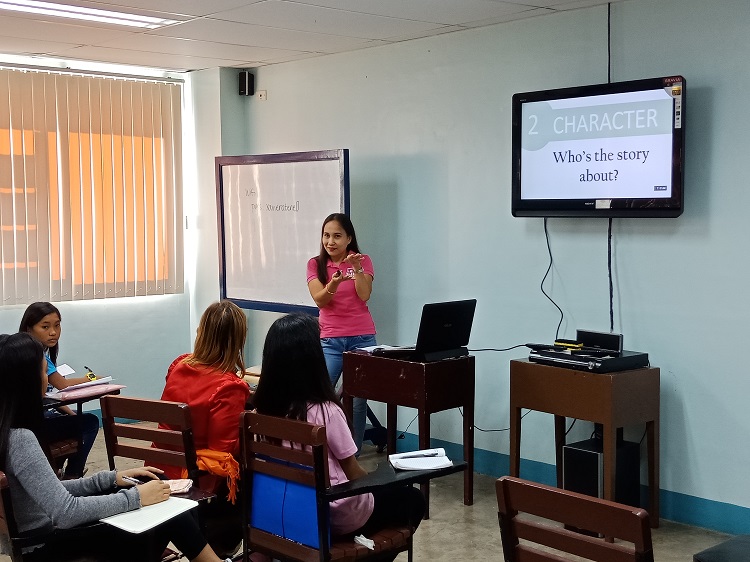 WRITING STORIES. XUJHS English department faculty and resource speaker Ms Dinafe Rara shares how the participants can write their drafts focusing on the elements of the story. Photo by Kate Mary Queen Ebonia.