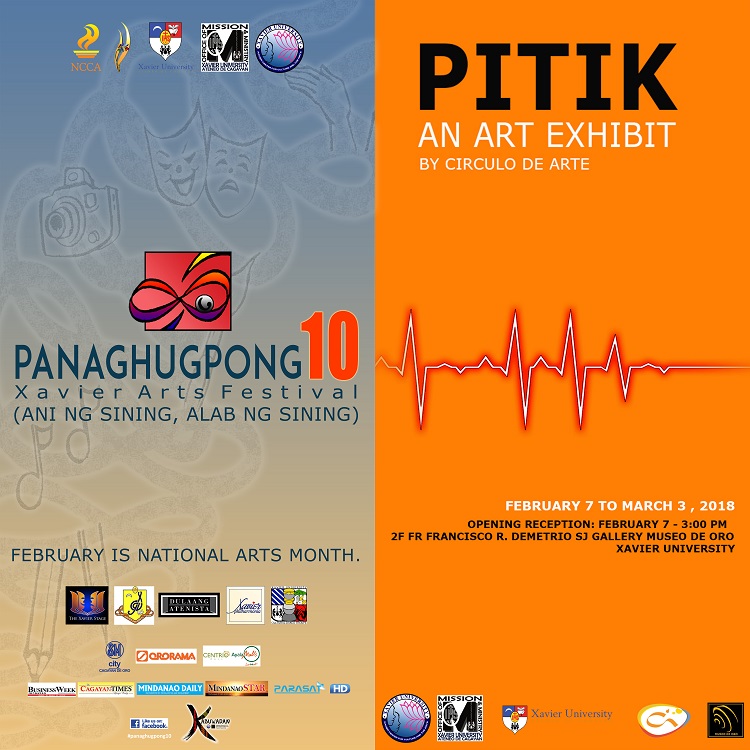 Mabuhay ang sining ng Pinoy! Mabuhay ang sining tatak Xavier Ateneo!
The National Commission for Culture and the Arts (NCCA) and Xavier University - Ateneo de Cagayan, through its Xavier Center for Culture and the Arts (XCCA), celebrate PANAGHUGPONG 10: Xavier Ateneo Arts Festival for the whole month of February, our National Arts Month, in consonance with Proclamation No 683.
The National Arts Month aims to promote and popularize artistic creation of Filipinos, integrate arts in community life, celebrate the significance of arts and culture in uplifting national spirit, and harness art as a catalyst for values education.
With Xavier Ateneo, PANAGHUGPONG 10 is a multi-arts festival that converges the various productions of the performing arts companies of Xavier University as well as art workshops, exhibitions, concerts and cultural education programs.
XCCA also celebrates one decade of culture and arts formation programming thru PANAGHUGPONG 10.
Everyone is invited to the opening of PANAGHUGPONG 10: Xavier Ateneo Arts Festival and PITIK: An Art Exhibit by Circulo de Arte on Wednesday, February 7, 2018, 3PM, at the Museo de Oro grounds.
Xavier University Glee Club, XU Cultural Dance Troupe, and Xavier Philharmonia will perform during the said program.
Cocktails will be served.
For inquiries, you may contact XCCA director Hobart Savior through 0917-4397-000 or Oya Magrña through 0975-6009-101.∎