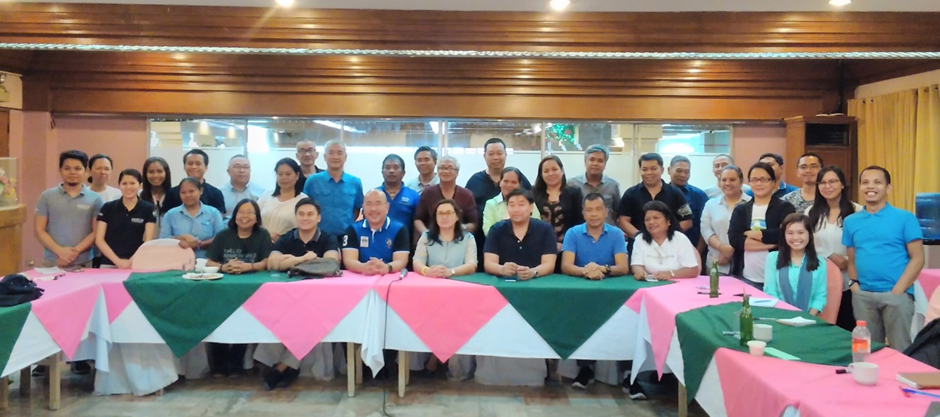 SUPPORT FOR ECOSYSTEM SERVICES. After a lengthy exchange of ideas and expressions of support, CDO councilors pose with XU-GLI, TSI, and CSO coalition officials at Philtown Hotel on Friday, February 2. Supplied photo.

By Trex G Olandria
To present their initial proposal for a Payment for Ecosystem Services (PES) legislation, over 20 core leaders from a coalition of more than 50 civil society organizations (CSOs) of Misamis Oriental and Bukidnon met with six Cagayan de Oro City councilors on Friday, February 2.
According to Xavier Ateneo's Governance and Leadership Institute (GLI) director Dr Dixon Yasay, PES has been proposed by the group in 2014 but it did not push through because of some constraints back then.
The Samdhana Institute (TSI), represented by Dr Hilly Ann Roa-Quiaoit, and GLI served as the facilitating units in the said meeting.
Payment for Ecosystem Services is "an emerging financial tool for environmental conservation" built on research and community collaborations, whereby as a "rewarding mechanism" there exists "the seller" who protects and provides ecosystem services to "the buyer" who benefits from these intangible products (ie fresh air, mitigating the disaster risks, etc).
(RELATED READ: XU PES project recounts beginnings, celebrates milestones)
The Miarayon-Lapok-Lirongan-Tinaytayan Tribal Association (MILALITTRA) serves as the seller in this project while different sectors — businesses, cooperatives, academic institutions, religious organizations and households in Cagayan de Oro City — are the buyers of the various ecosystem services, such as ensuring the streamlines along the region develop high water infiltration capacity and providing continuous supply of potable water, clean air, and food, among others.
Yasay added that this time the coalition of more than fifty CSOs is stronger and has the capacity to push for the PES scheme aimed at rehabilitating and protecting the ecosystems of the mountain ridges of Kitanglad and Kalatungan, water aquifers (sources) of MisOr and Bukidnon, especially for the Cagayan de Oro and Tagoloan River Basins.
The councilors who expressed their support were: majority floor leader Ian Mark Nacaya; Finance, Budget, and Appropriations Committee chairwoman Edna Dahino; Police, Fire, and Public Safety Committee chairman Romeo Calizo; Health Committee vice-chairman Reuben Daba; Tourism Committee chairman Jay Roa-Pascual; and Environment and Natural Resources Committee chairman Zaldy Ocon.
"It's important for us to see the whole picture. There should be a sample so we can specify [and] clarify where the fund goes. The people should understand their involvement in protecting the environment by paying the ecosystem services. Help us understand where the money will be spent on. Credibility and trust (referring to the PES implementers) are important here," said Dahino.
Daba and Pascual also expressed their concerns over the construction of a dam in Talakag. For them, it is dangerous for the people living in low-lying areas, adding that the river rafting around the area will be adversely affected and the burial site of the IPs will be submerged.
Daba and Pascual encouraged the CSO coalition to lobby against the dam construction.
In conclusion to the said meeting, Yasay said that PES can be a form of service fee to the environment.
He added: "If we pay for the water supply and distribution, we must also pay for the source. The proposal, when approved by the city council, will become a landmark legislation in the country. It will have a big impact on the city because it may serve as a pilot study for city PES programs or a benchmark for all other cities in the country who would wish to follow suit." ∎