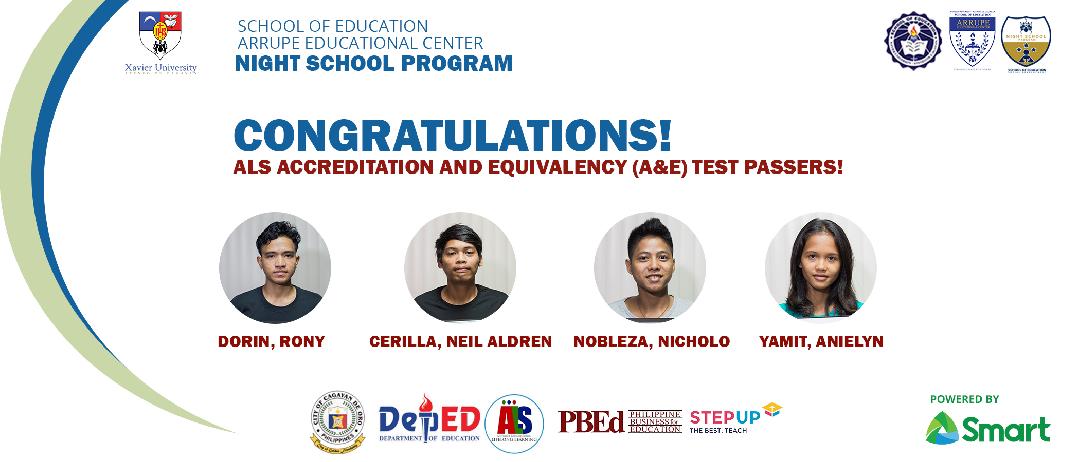 Four students of the Xavier Ateneo Night School Program passed the secondary level accreditation and equivalency test of the Department of Education's Alternative Learning System (ALS), held at City Central School in November 2017.
Out of the nine takers of the ALS test from the said XU program, only four passed, namely, Rony Dorin, Anielyn Yamit, Neil Aldren Cerilla, and Nicholo Nobleza, who were among the street children and out-of-school youth in last year's class.
Dorin, Yamit, Cerilla, and Nobleza can now proceed formally to a technical-vocational track in senior high school, with the prospect of pursuing a college degree.
The Alternative Learning System is "DepEd's flagship program offering non-formal education to out-of-school Filipino youth and adults who have failed to complete basic education. ... ALS includes both the non-formal and informal sources of knowledge and skill."
In a message, Xavier Ateneo Night School Program officer Jerome Torres said: "Knowledge is important and it is critical for building better decisions in our everyday lives. Our Night School Program was commissioned to provide significant knowledge for out-of-school youth and street children in Cagayan de Oro City, those who have no and/or limited access to education."
Non-formal educational activities and values formation sessions formed part of their program, in preparation for ALS students' entry to formal education.
"The program has evidently provided an opportunity to supplement their basic knowledge and ability and to boost their self-confidence despite their struggles," Torres added.
This program is one of the projects under the XU Arrupe Educational Center, the social development office of Xavier Ateneo's School of Education, supported by the city government of Cagayan de Oro, Philippine Business for Education (PBEd), Scholarships for Teacher Education Programs to Upgrade Teacher Quality in the Philippines (STEP UP), and Smart Communications.
The students admitted to this year's class, which had already started on January 15, were out-of-school youth and street children, 13 to 35 years old, and have committed themselves to finishing the alternative study. ∎