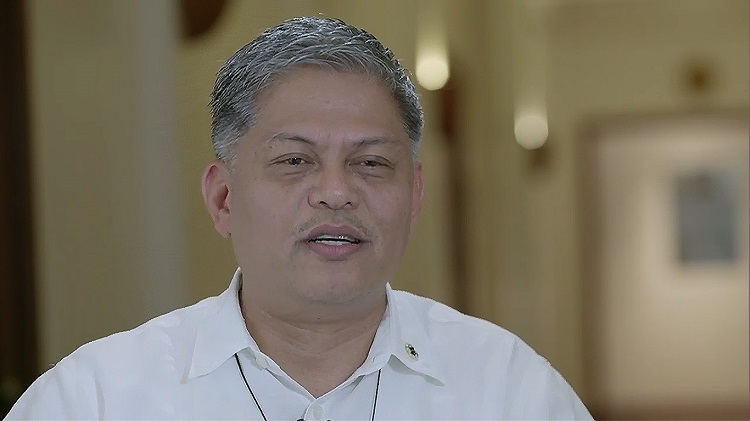 BR ARMIN ALTAMIRANO LUISTRO FSC
COMMENCEMENT SPEAKER
Xavier University - Ateneo de Cagayan
Senior High School
18 March 2018
"When the road ahead does not seem as straight and clear, it is important that we return to the compelling reason for embarking on this journey — and bring it back to life. When the fervor wanes, we need to reconnect with an anchor for our dreams and create new fire."
His story as an educator in the Philippines began with a strong conviction — to uphold the right of every child to accessible, quality, and relevant education. With his quixotic ideal to serve and improve the system, Br Armin Luistro, former Secretary of the Department of Education (DepEd), from June 2010 to 2016, frontlined the implementation of the K to 12 Basic Education Program, thereby creating what is now known as the Senior High School which covers the additional two years of Grades 11 and 12. The K to 12 reform, for Br Armin, required a comprehensive restructuring of the educational system that our country has gotten used to for nearly a century.
In his farewell message to DepEd in June 2016, Br Armin wrote: "Throughout our six-year-long journey, our reform took on a life of its own — not without our share of critics and detractors. Yet, amidst all the challenges and controversies, it was your passion and optimism that kept me committed to run the race to the finish. Just as you believed in our students, you also believed in me, and you believed in what we were fighting for."
Teaching is close to the heart of Br Armin. He started as a religion teacher, homeroom adviser, and campus minister from 1983 to 1986 at the De La Salle Lipa in Batangas, his beloved hometown. He then went on to teach and serve in various capacities in La Salle schools and institutions across the country.
Br Armin completed his elementary and secondary education in De La Salle Lipa and he finished his bachelor's degree in Philosophy and Letters at De La Salle University in Manila. In 2003, he received his MA in Religious Education and Values Education from DLSU Manila and his Doctorate in Educational Management from the University of Saint La Salle in Bacolod City. Before his DepEd post, Br Armin served as the President of De La Salle University (May 2004 to June 2010), De La Salle Philippines Inc (November 2005 to May 2009), and De La Salle Professional Schools (November 2005 to May 2007), among other positions. At present, he is the President of DLSU Science Foundation Inc and Philippine Business for Social Progress, and District Council Member of the De La Salle Brothers Philippines.
Inspired by the Animo spirit of St John Baptist de la Salle, Br Amin entered religious life in 1979, where he signed up for the Live-Out Aspirancy Program. On May 1, 1988, he took his final vows at the National Shrine of the Divine Child of the La Salle Provincialate in Mandaluyong City. In the midst of his ministerial and administrative duties, Br Armin still manages to be engaged in intercultural and interreligious dialogue, advocacies, and foundations dedicated to the poor and the marginalized. He is the founding chairman of SIDHAY Foundation for Street Children Inc and was a Trustee of Knowledge Channel Foundation Inc, Jose W Diokno Foundation, and Socio-Pastoral Institute, among other organizations in the Philippines and abroad.
Revered for his leadership and enthusiasm to refining the education sector, Br Armin has been conferred with eight honorary doctorates by different academic institutions in the Philippines and abroad: Doctor of Humane Letters from La Salle University in Philadelphia (May 2004), Doctor of Pedagogy from Angeles University Foundation (April 2011), Doctor of Humanities from Foundation University in Dumaguete (March 2013), Doctor of Education from Naresuan University in Phitsanulok, Thailand (December 2013), Saint Mary's College of California (April 2014) and Philippine Normal University Manila (April 2015), Doctor of Laws from the Philippine Women's University Manila (April 2015), and Doctor of Humanities from Ateneo de Davao University (April 2016). On top of all his accolades, he was bestowed with the Grand Cross of the Order of the Order of Lakandula, one of the highest honors given by the Philippine Republic as acknowledgment for meritorious social, political, and civic service to the nation.
Wherever he will go, Br Armin would always go back to one of his great loves — education. The story behind his vision persists as a collective pursuit of a better future for our learners, and ultimately, for a better Philippines. As he said, "The seeds we have planted need to be nurtured for years. We need patience and faith that underneath the dark loam, the seed is alive and is growing. We need to see it through before we can enjoy the fruits of our labor."
In recognition of his exemplary leadership and commitment to excellence in education spanning for more than three decades, his generous and dedicated service to the Church in the Philippines, and for his outstanding contributions to development work, Xavier University - Ateneo de Cagayan is pleased and deeply honored to present Armin Altamirano Luistro of the De La Salle Brothers as the commencement speaker for the inaugural Class of 2018 of Xavier Ateneo Senior High School.