Xavier University - Ateneo de Cagayan, the premier academic institution situated at the heart of Cagayan de Oro City in Northern Mindanao, is among Asia's top universities, based on the 2016 Asian University Rankings released by London-based education and career consultancy Quacquarelli Symonds.
Parents, guardians, benefactors, and students may contact our Admissions Office through (088) 853-9800 local 9835 / 9151 / 9152 / 9153 or email This email address is being protected from spambots. You need JavaScript enabled to view it..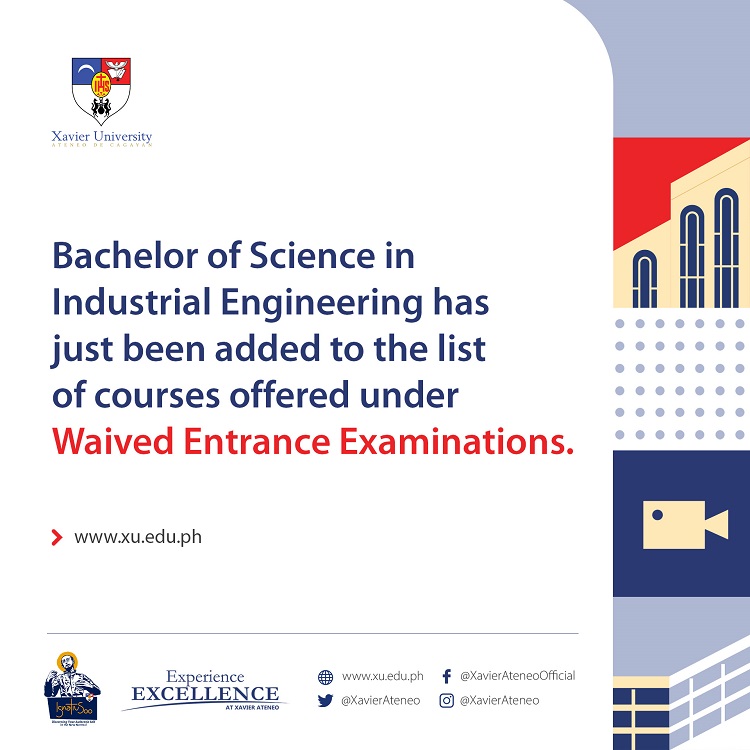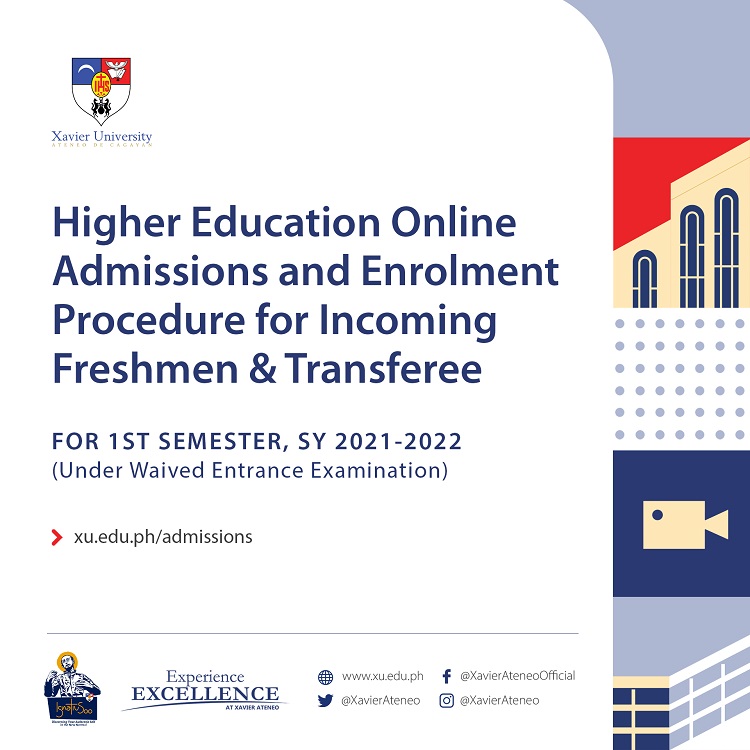 Higher Education Online Admissions and Enrollment Procedure for Incoming Freshmen & Transferee 1st Sem SY 2021-22
Under Waived Entrance Examination
A. ADMISSIONS & ENROLLMENT
Step1
Undergo the PRE-SCREENING REGISTRATION by accessing the link designated to the School/College you wish to apply for admissions. Prepare scanned copy of your SHS Report Card (Incoming Freshmen) or Transcript of Records and Good Moral Certificate (Transferees).
Refer to the list of courses offered under WAIVED ENTRANCE EXAM ADMISSIONS to be guided which school/college your chosen course belongs:
Step2
Applicant will be notified via email of a unique REGISTRATION NUMBER.
This Registration Number will be used to create an account in the online admissions portal, which can be accessed here: http://apply.xu.edu.ph/.
Admitted applicant will receive via email the ADMISSIONS CLEARANCE.
Step3
Pay the required down payment of Php3, 000.00.
Go to this link: https://www.xu.edu.ph/payment-centers-finance to view the list of accredited XU payment centers.
IMPORTANT: Please be sure that the ADMISSIONS CLEARANCE is already secured before making a down payment. Carefully follow the instructions in filling out the bank forms as indicated in the admissions clearance.
Down payment is waived for scholarship grantees. Notice of Scholarship Award will be sent via e-mail.
Step4
Process Online Enrollment Registration of your school/college by accessing the link:
https://www.xu.edu.ph/admissions-enrollment.
Prepare clear scanned copies or photo of the following:
a) Admissions Clearance
b) Senior High School Report Card (Freshmen)/ Transfer Credentials (Transferees)
c) Birth Certificate PSA
d) Validated Deposit Slip (or Notice of Scholarship Award for scholars)
e) Signed Data Privacy Consent Form
After completing the online registration, a notification will be sent to you via email regarding the status of your application for enrollment in XU. If successful, you will be given your Login credentials to access the Student Lifecycle Management and Information System (SLMIS) to check your class schedule and other related information.
B. POST-ENROLLMENT
Attend the Virtual ORSEM. Access the online portal via www.xu.edu.ph.
Like and follow the Facebook page @XUOrsemNow for updates.