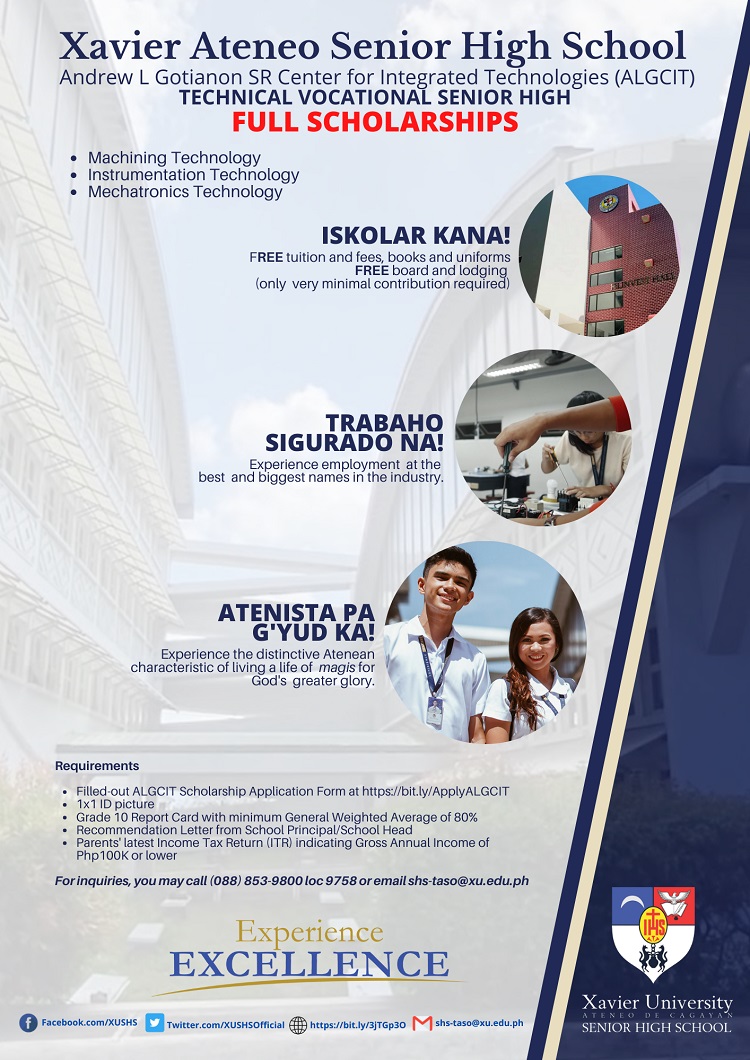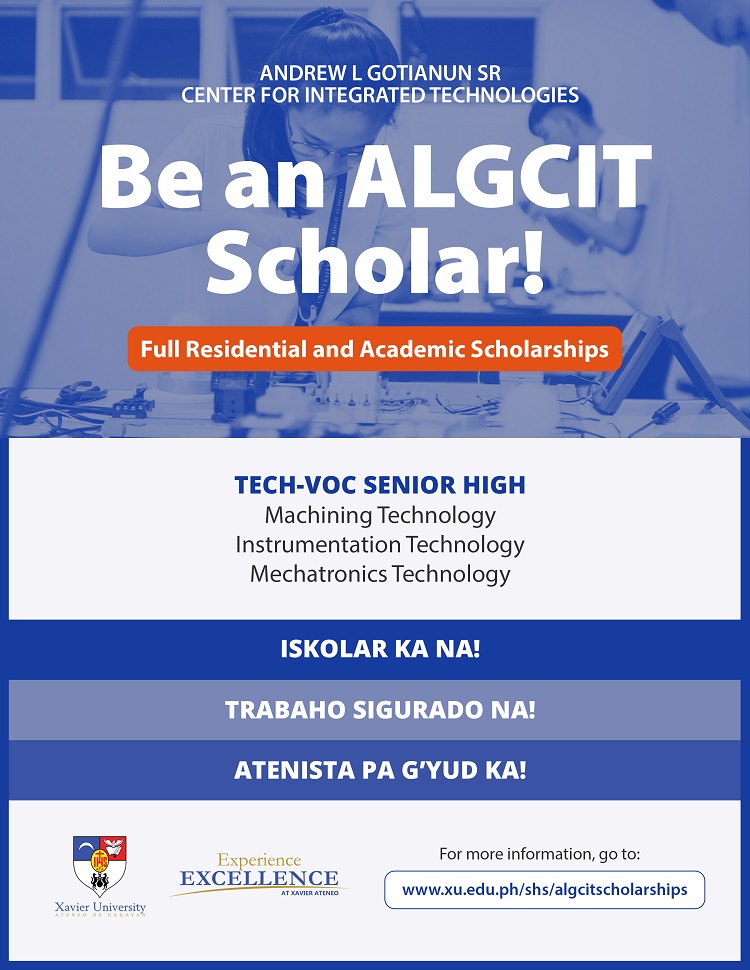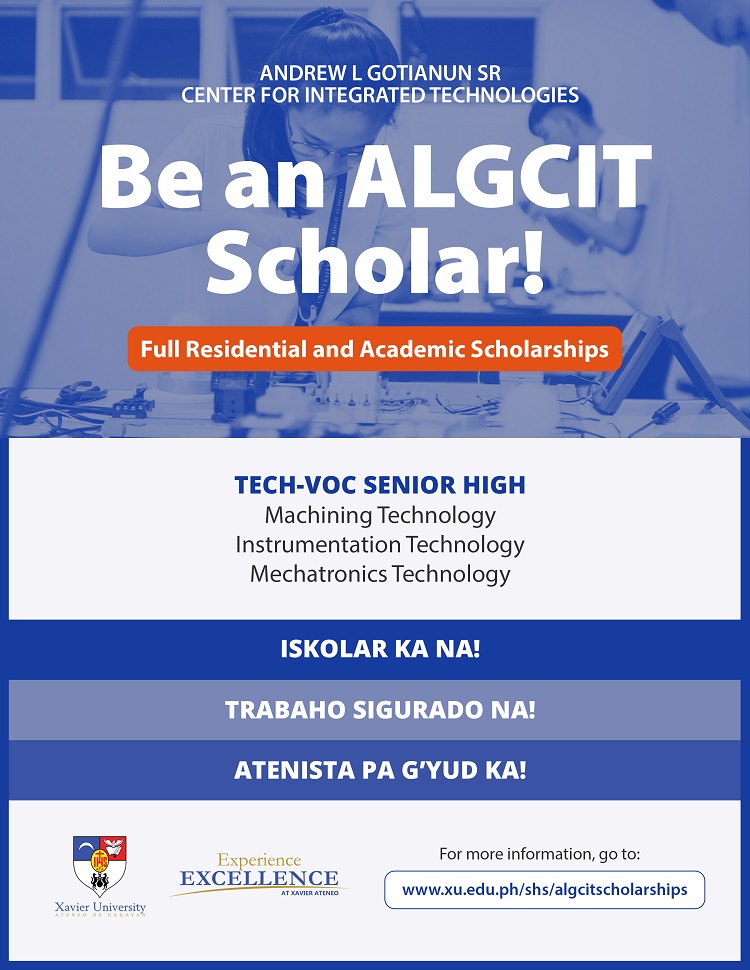 Program Background
The Andrew L Gotianun Sr Center for Integrated Technologies (ALGCIT) Senior High School is an endowment from the Andrew L Gotianun Foundation for a two-year residential Tech-Voc Senior High School to competent yet financially disadvantaged youth.
The program features (1) quality instruction and learning environment, (2) intensive Jesuit formation, and (3) an extended academic, community, and on-the-job experience. Full tuition, matriculation, medical tests, and other school fees are all covered by this scholarship.
ALGCIT scholars will be housed in modern and safe dormitories and hold their classes in a state-of-the-art building situated inside the Manresa complex. Their new campus provides plenty of experiences and activities for our scholars while they complete their academic requirements and develop their technical skills. Manresa is great for our scholars who live close to historical sites and nature spots, yet desire to experience convenience and accessibility at all times.
The three Advanced ALGCIT Tech-Voc Electives are the following:
Machining Technology for Automotive & Mechanical Fabrication
Instrumentation Technology for Computer & Electronics
Mechatronics Technology for Energy & Power System
Xavier Ateneo received the "Operation Permit" to offer the Tech-Voc track in SY2014-2015 for the senior high school program, following the K-12 educational reform. The Center has existing partnerships with numerous local and international companies to employ its graduates. Students who complete the program are also eligible to take the Technical Education and Skills Development Authority (TESDA) National Certificate (NC) examinations for the respective qualifications embedded in each program.
At the end of the two-year program of boarding school, the students are expected to graduate world-ready, with international standard competencies, and spiritual and social commitment the Ateneo way.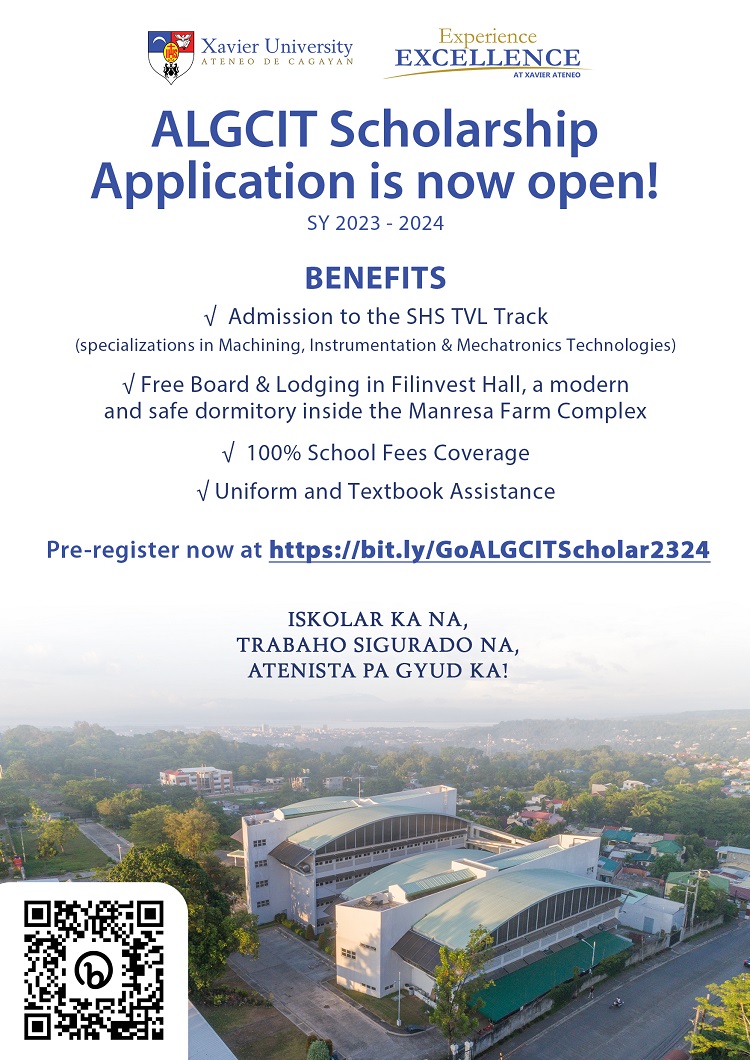 XAVIER ATENEO SENIOR HIGH SCHOOL ANDREW L. GOTIANON, SR. CENTER FOR INTEGRATED TECHNOLOGIES SCHOLARSHIP APPLICATION FOR SY: 2023-2024 IS NOW OPEN!
For guidelines & requirements visit this link https://www.xu.edu.ph/shs-scholarships
Pre-register thru this link https://bit.ly/GoALGCITScholar2324
Come join us and Experience Excellence!