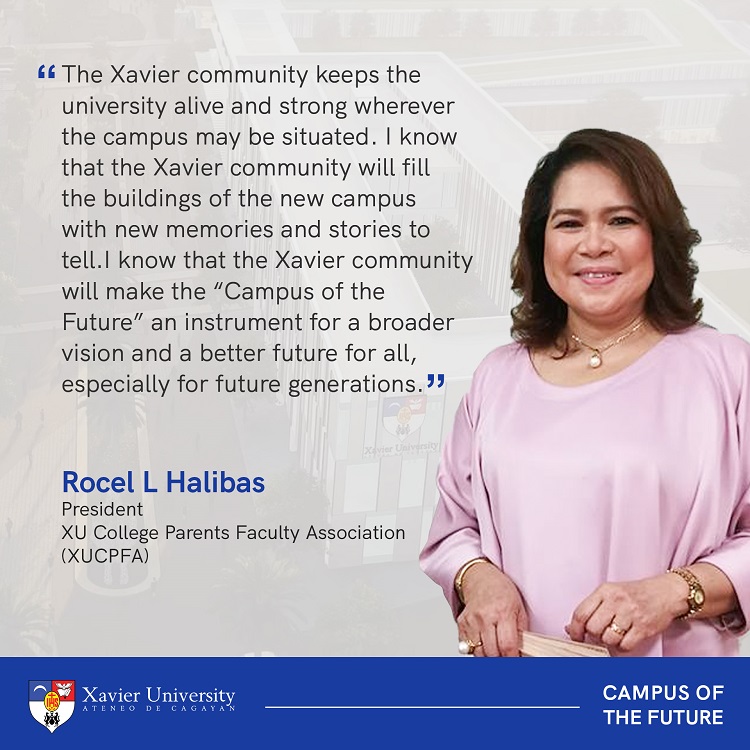 Message of XUCPFA President on the Campus of the Future
Xavier University - Ateneo de Cagayan, a journey from the past
to the present and the future.
XU is an institution that radiates care, warmth, and friendliness for its students and faculty members. It is a school that provides growth opportunities intellectually, spiritually, and personally. I consider myself a witness to its commitment to excellence and I can confidently say that Xavier University is definitely one of a kind. What makes Xavier University distinct is its emphasis on values, education, and holistic development. XU students are also firmly rooted in solid fundamental principles.
I am very much honored to be part of this institution for more than a decade. For those of you who do not know me, I am Rocel Halibas, a mother of three, and I am willing to share my experiences with Xavier University. I started serving XU in 2006 and entering such an extraordinary institution has made me realize that there is a future waiting for its students. Collaborating with the Xavier community has helped me develop as an individual and as a mother. I know deep down that I have a call to serve and show concern towards the students and parents.
The "Campus of the Future" is indeed visionary, but at some point, I felt nostalgic thinking about the moments I had around the main campus. But I am relieved to realize that the concrete buildings were not the ones who made the memories, but the people inside it — the Xavier community. The Xavier community keeps the university alive and strong wherever the campus may be situated. I know that the Xavier community will fill the buildings of the new campus with new memories and stories to tell. I know that the Xavier community will make the "Campus of the Future" an instrument for a broader vision and a better future for all, especially for the future generations.
Xavier University- Ateneo de Cagayan has served many communities and countless individuals over the years. They have extended valuable services at present, and to continue to serve in the future, Xavier University must adapt to the changes of the modern era. The "Campus of the Future" is the start of a positive transformation, and I support it with all my heart because I know that taking this initial step of change will manifest and claim greater things ahead.
Good luck, Xavier University, on your future endeavors, and may God bless you and allow you to prosper.
Rocel L Halibas
President,
XU College Parents Faculty Association (XUCPFA)