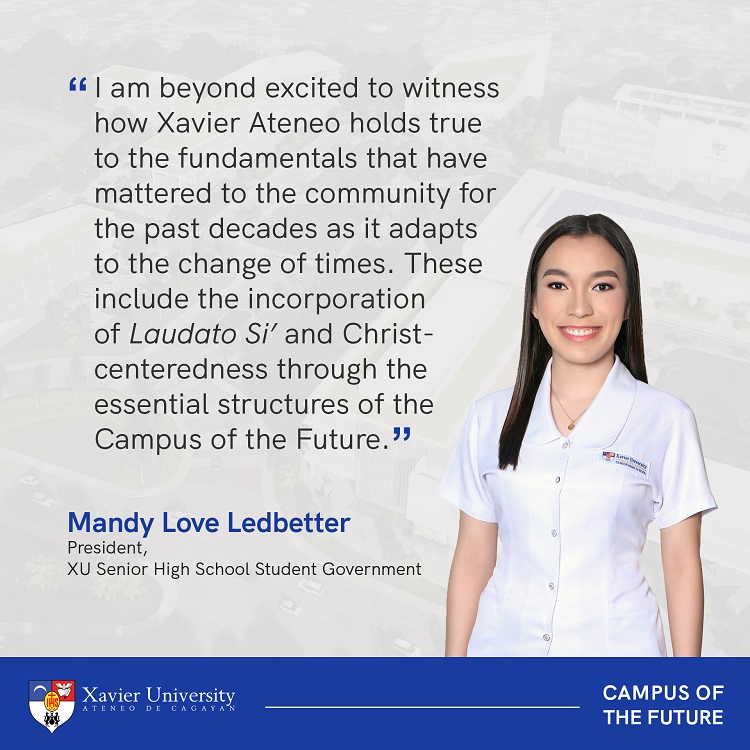 As we move forward from Basic Education in Xavier Ateneo, it is essential that we, the graduates of XU Senior High, are well equipped as 21st-century learners. The Campus of the Future ensures that our facilities allow holistic and specialized excellence as we give back through our honed passions to the Xavier Ateneo community and the world at large.
I am beyond excited to witness how Xavier Ateneo holds true to the fundamentals that have mattered to the community for the past decades as it adapts to the change of times. These include the incorporation of Laudato Si' and Christ-centeredness through the essential structures of the Campus of the Future.
The world today calls for a different breed of individuals who are not just adaptive, but savant to the needs of the times. Xavier Ateneo goes beyond just fulfilling this need by incorporating Jesuit Education at its best to the Campus of the Future. We must be encouraging and thrilled about this initiative because it allows us to respond to what the world needs while emanating Magis.
Mandy Love Ledbetter
President, XU Senior High School Student Government