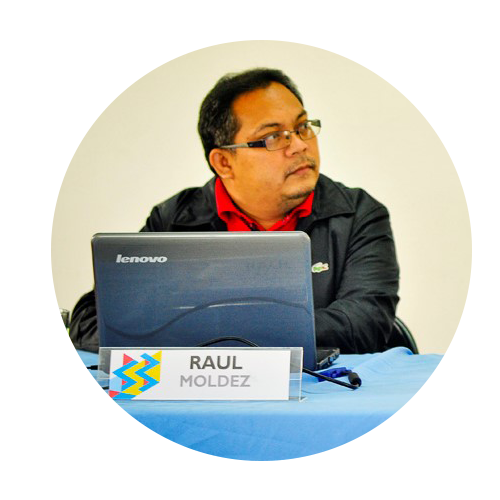 is the author of two collections of poetry, A Day in a Poet's Life and Othe r Poems and Mga Taho Gikan sa Akong Uniberso.
He has been a fellow of the Iligan National Writers Workshop, the 2nd Panagsugat: UP Mindanao-UP Visayas Creative Writing Workshop and the 37th and 53rd editions of the University of the Philippines (UP) National Writers Workshop and a member of the Philippine Center for International PEN (Poets, Playwrights, Essayists and Novelists).
Now serving his second term as President of Bathalan-ong Halad sa Dagang-Mindanao (Bathalad-Mindanao), a group of creative writers in Mindanao which advocates for the flourishing of Cebuano literature, Raul Moldez has won awards in the writing competitions sponsored by Bathalad-Mindanao, Bathalad-Cebu, Davao Writers Guild, Gov. Gwen Garcia Literary Contest and Homelife Poetry Contest, among other contests.
Currently, he is the Assistant Secretary to the Sanggunian in the City of Cagayan de Oro. He has a master's degree in Public Administration and is currently pursuing his Doctor of Philosophy in Educational Administration and Supervision. Aside from working in the Sanggunian, he also finds time to write fiction and poetry, some of which have appeared in The Sunday Times, Panorama, Philippines Free Press, Homelife, Sunstar Weekend and Bisaya, among other publications.