Scholarship Fund
Give/Share to our ALGCIT Tech-Voc Senior High School Scholarships through:
Endowment – Php 400k and above
Full Scholarship Php 130k/SY (full fee plus B/L)
Partial Scholarship – Php 65k/SY (full tuition only)
Grant-in-Aid Php 32.5k
Academic Assistance Php 15k
Benefaction Php 5k
Naming Rights Program – Avail a right to name a facility/space/part of the new state-of-the-art ALGCIT building by donating to our scholarship funds – Php 1.0m and above.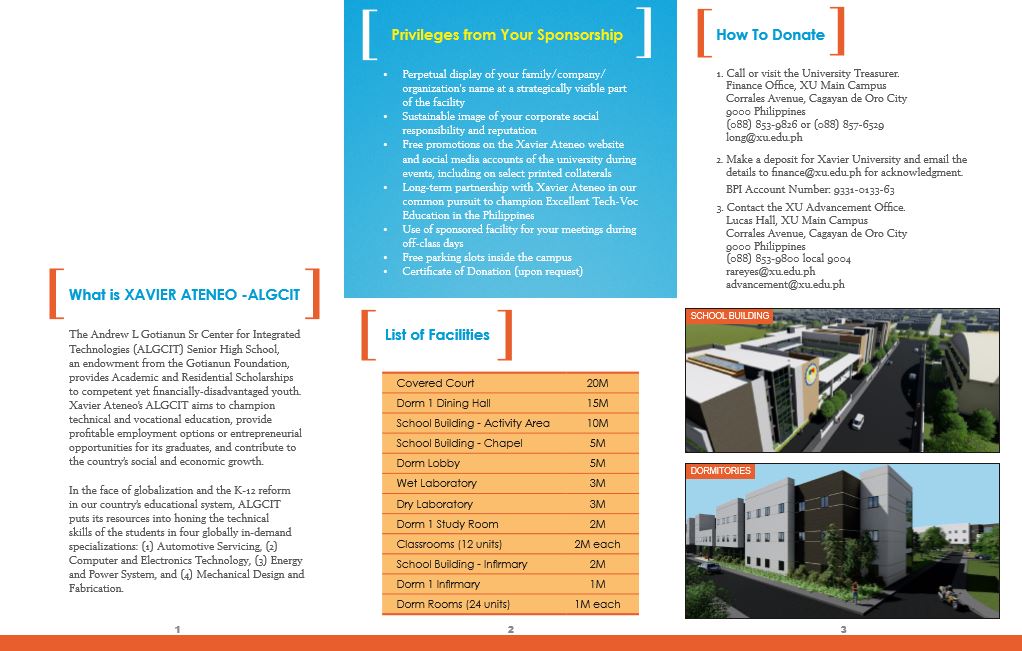 Donate using your credit card
Go to this address: www.phjesuits.org/pjf/share.php
If donating from the Philippines:
A) Deposit donation through:
Acct number: 9331-0133-63
Acct name: Xavier University

Bank name: Bank of the Philippine Islands, Capistrano St., Cagayan de Oro City And email
This email address is being protected from spambots. You need JavaScript enabled to view it. cc: This email address is being protected from spambots. You need JavaScript enabled to view it. This email address is being protected from spambots. You need JavaScript enabled to view it. the following details:
Name
Address
Phone number
Amount
When and where deposited
Intention
B) Make PhP check payable to Xavier University (for scholarship fund) and mail this to:

Xavier University
Attn: Advancement Office
Corrales Avenue, Cagayan de Oro City
9000 Philippines
If donating from the U.S:
Make USD check payable to Philippine Jesuit Foundation (for XU scholarship fund) and mail this to:
Philippine Jesuit Foundation
P.O. Box 312
New York, NY 10028
Philippine Jesuit Foundation is a charitable organization under section 501(c)3 of the US Internal Revenue Code. Contributions are tax-deductible to the extent allowed by US law.
Contact Us

ADVANCEMENT OFFICE
Room 101 G/F Campion Hall
Xavier University - Ateneo de Cagayan
Corrales Avenue, Cagayan de Oro City
9000 Philippines
Tel. No. (088) 853-9800 (Local: 9004)
Email:
This email address is being protected from spambots. You need JavaScript enabled to view it.
UNIVERSITY TREASURER
Finance Office, XU Main Campus
Corrales Avenue, Cagayan de Oro City
9000 Philippines
(088) 853-9826 or (088) 857-6529
Email:
This email address is being protected from spambots. You need JavaScript enabled to view it.