Xavier Ateneo Graduate Lecture: Embracing AI in Education
In the recent Xavier Ateneo Graduate Lecture, Dr Michelle P Banawan, a prominent figure in the field of AI and education, addressed the burgeoning role of artificial intelligence in reshaping graduate education. As a research faculty member at the Aboitiz School of Innovation, Technology, and Entrepreneurship, and the director of the Asian Institute of Management's dual degree program, Dr Banawan brought her extensive experience to the fore. She shared insights from her postdoctoral work at Arizona State University, which focused on leveraging natural language processing and machine learning to assess student writing, and her ongoing research in computational linguistics.
The lecture, entitled "Realizing the Potential & Mitigating the Risks of AI for Graduate Education," convened online on 28 October and invited participants to explore the transformative impact of AI on teaching and learning at the graduate level. Dr Banawan discussed the dual-edged nature of AI in education – its potential to personalize learning and streamline assessment, against the backdrop of ethical concerns such as data privacy and algorithmic bias.
She stressed the need for a proactive and balanced approach to integrating AI into educational frameworks. This includes recognizing the technology's limitations and ensuring that it serves to support, not replace, the irreplaceable human elements of teaching. By staying current with AI advancements and embedding ethical considerations into the curriculum, educators can harness AI's potential to enhance graduate education while navigating its challenges with foresight and responsibility. The lecture concluded with a call to action for educators to engage with AI critically and constructively, ensuring that as AI evolves, our educational strategies evolve alongside it.
_______________________________________________________________________________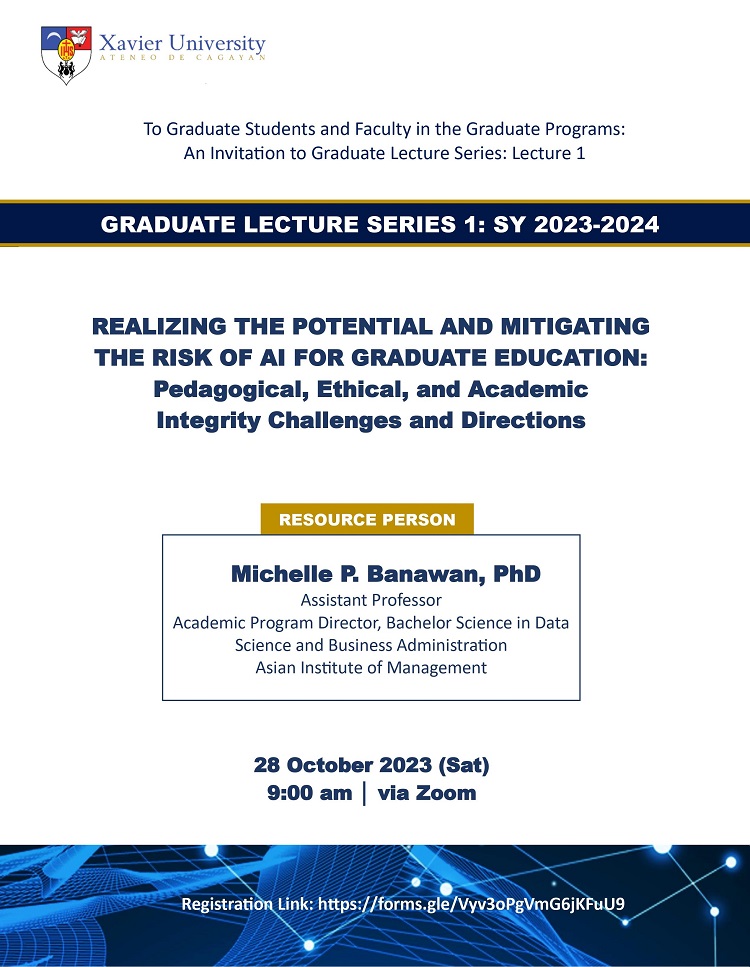 Please register on or before 25 October 2023
REGISTRATION LINK: https://forms.gle/Vyv3oPgVmG6jKFuU9
(upon registration, the zoom link will be sent to you)