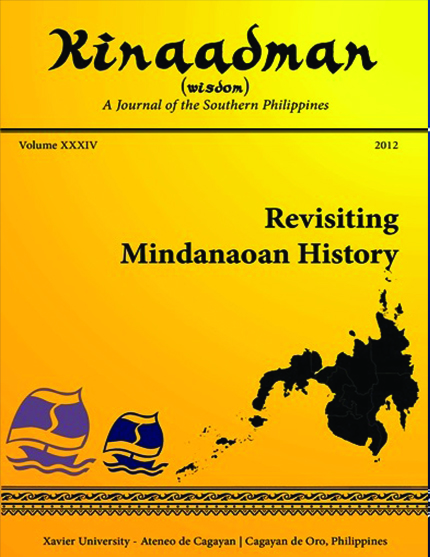 Volume 34
Bernadette S Tismo, PhD
Antonio J. Montalvan II
Michael Vincent P. Caceres, M. Hist.
Ferdinand T Cantular

Henry K Solomon
Maria Luisa S Saministrado
Literary
Antonio Enriquez
Joanna Mok
Roger F Garcia
Roger F Garcia
Roger F Garcia
Book Reviews
Elisabeth B Enerio
Elisabeth B Enerio
Roel B Absin
Bernadette S Tismo
ISSN: 0115-6012OPEN ACCESS POLICY STATEMENT
One of the most sought-after references for studies pertaining to Mindanao,
Kinaadman Journal, instituted in 1979 by the leading scholar from Mindanao, Fr Miguel Bernad, is now accessible online.
We remind readers to cite properly the journal as original source in their
academic work and that the downloadable contents are not used for commercial purposes.