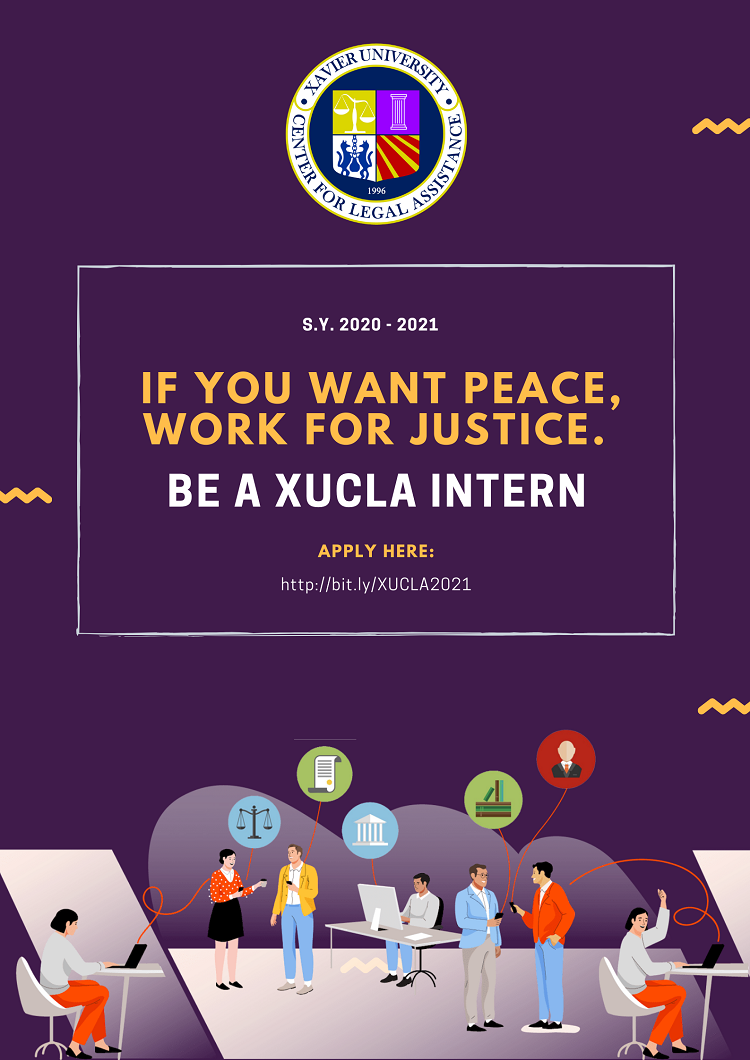 XUCLA Internship Program 2020-2021
APPLY NOW: http://bit.ly/XUCLA2021
Deadline: 10 PM on 14 MARCH 2020.
The Xavier University Center for Legal Assistance Internship Program is open to Xavier Ateneo Law Students who are eligible for Certification Level 1 under Rule 138-A (Student Practice Rule). Certification Level 1 requires the student to have successfully completed his or her first-year law courses with no failing mark. It is expected that the Intern enrols in the CLEP 1 and CLEP 2 subjects in S.Y. 2020-2021.
Though the XUCLA Internship is credited as part of 120-hour internship requirement for the Clinical Legal Education Program, the commitment expected from an Intern goes beyond the law school as this program hopes to form advocates who are committed to promote human rights and social justice in their chosen field of practice.
Successful applicants will undergo a week-long Basic Orientation Program and Immersion during the summer break. As an Intern in the Center, he or she is expected to engage in case-referral and case-building activities, legal research, policy review and recommendation, popular rights education sessions, paralegal training, and jail decongestion among others.
In sum, the Intern learns, uses, and shapes the law as it operates in the lives of people who need it most.
This application form has 6 parts namely: basic information; contact details; background / community involvement; skill sets; academic standing; and two essay questions.
To know more about the history and background of XUCLA, please visit: https://www.xu.edu.ph/xavier-university-center-for-legal-as…
Please provide true and accurate information and submit completed forms before