After receiving an overwhelming number of admission applications in November 2019, Xavier University - Ateneo de Cagayan is pleased to release the Master List of Incoming College Freshman Scholars for AY2020-2021.

The selection was primarily based on their performance in the college scholarship/admission exam, a newly-designed standardized test that measures the potential and readiness of the students for a university course in various fields of study following the country's shift to a K+12 Basic Education.

Individual test scores will be viewed soon at http://apply.xu.edu.ph/users/exam_results/. Use your registration ID to open your account.

Full scholarships are being offered to the Top 100 qualifiers:

Xavier Ateneo President's Scholars - Top 1-15: Full Tuition, Full Matriculation, All Laboratory and Other School Fees, and up to Php10,000/year Book and Uniform Allowance
Xavier Ateneo Merit Scholars - Top 16-30: Full Tuition, Full Matriculation, Laboratory and Other School Fees
Xavier Ateneo Academic Scholars - Top 31-100: Full Tuition and Full Matriculation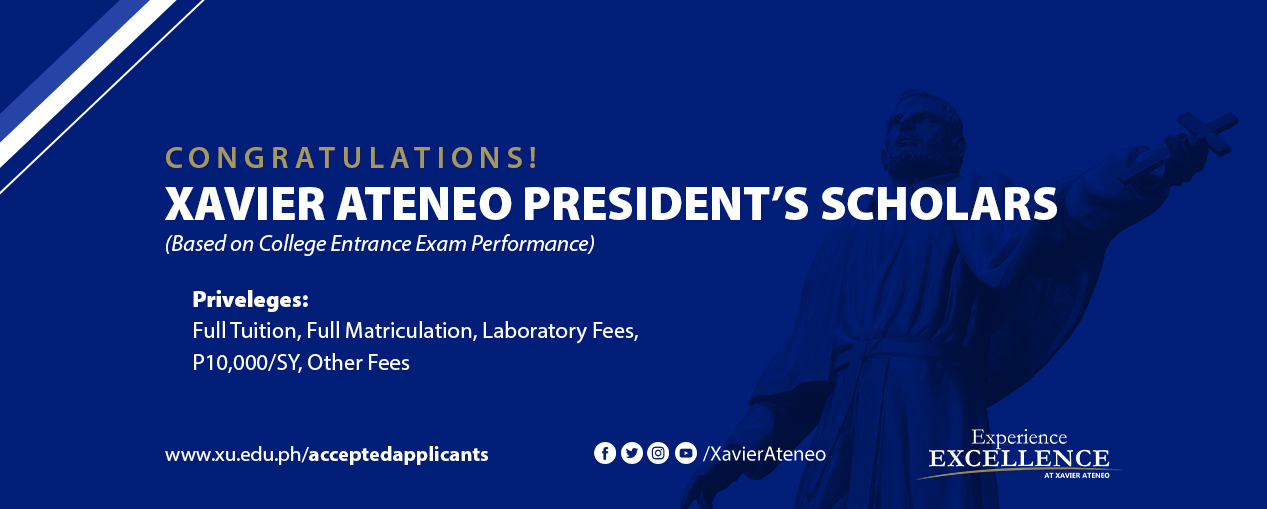 | | |
| --- | --- |
| NAME | SCHOOL |
| ABRAGAN, AIANNA ISOBEL ZOE C. | MSU-IIT-IDS |
| ABSUELO, JASON LOUIS A. | XUSHS |
| ALAMIN, AL JAY LAN J. | Philippine Science High School - Central Mindanao Campus |
| ALERTA, TRIXIA MAY P. | XUSHS |
| ALONTO, ADEEM NASSER M. | Philippine Science High School - Central Mindanao Campus |
| BACAL, LUKE SAMUEL P. | Philippine Science High School - Central Mindanao Campus |
| DOBLE, IVORY JANE V. | XUSHS |
| GAAMIL, RICHARD MATTHEW Z. | Bukidnon National High School |
| HUR, WON | XUSHS |
| LABADOR, MARIA FRENA A. | Corpus Christi School |
| NAPONE, GABRIEL ANGELO D. | XUSHS |
| ROSALI, JASMINE ISABELLE F. | Mindanao State University General Santos City-Senior High School |
| TUNAY, PHOEBE CAMILLE EMMANUELLE M. | Philippine Science High School - Central Mindanao Campus |
| UROT, MA. JULIENNE REI G. | XUSHS |
| VIADO, MELANIER JOHN D. | XUSHS |
| VILLOS, RAYMART ANDREW P. | XUSHS |
| ZOZOBRADO, ANJELU C. | La Salle Academy |
* * * * *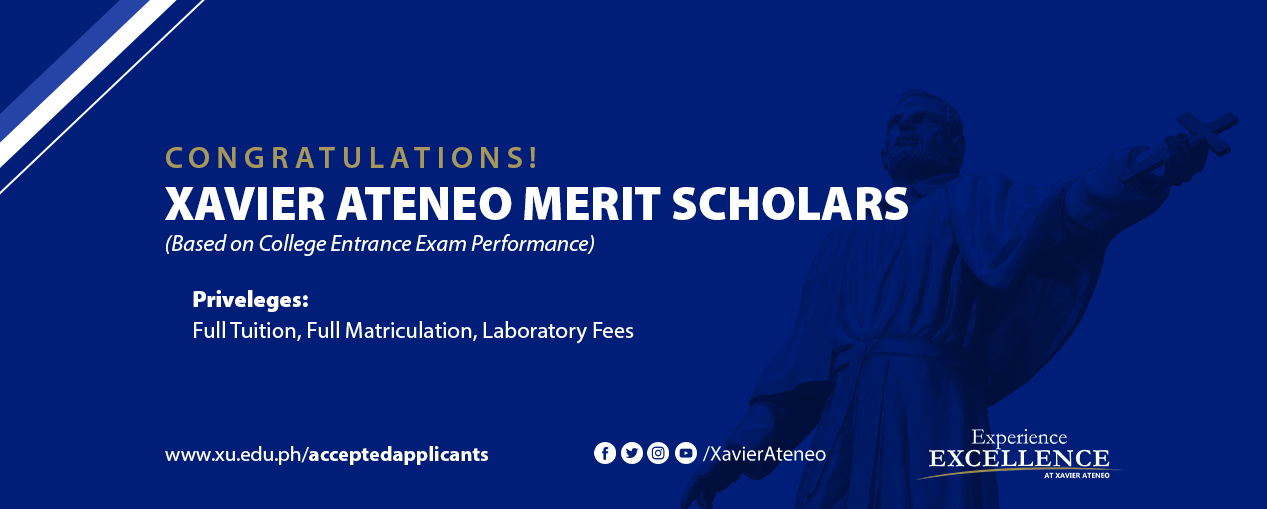 | | |
| --- | --- |
| NAME | SCHOOL |
| ABDULJABBAR, JOWAYRIYYAH H. | Ibn Siena Integrated School Foundation |
| AJOC, DANIKA GRACE A. | Father Saturnino Urios University |
| ALVEAR, JUSTIN MAR O. | XUSHS |
| AMEROL, JANNAH S. | Mindanao State University - Iligan Institute of Technology Integrated Developmental School |
| AWATIN, SEAN RAFAEL B. | XUSHS |
| BUSTAMANTE, FRITZ F. | XUSHS |
| CARBONILLA, CRISTIANE JOI B. | XUSHS |
| DEQUITO, REYNDALE MAIC A. | XUSHS |
| GERSANA, ZENIA FELIZE N. | XUSHS |
| KIERULF, CLAUDE CHARLES B. | Agusan National High School Senior High School |
| LAROGA, JOSEPHINE MARY M. | Gusa Regional Science High School |
| LUCES, VICTOR KARL ANDRE E. | XUSHS |
| NACION, ANGELO DAVID S. | Philippine Science High School - Central Mindanao Campus |
| OLOHOY, MICHAEL KENT A. | Gusa Regional Science High School |
| PAGAPONG, PEACHY C. | XUSHS |
* * * * *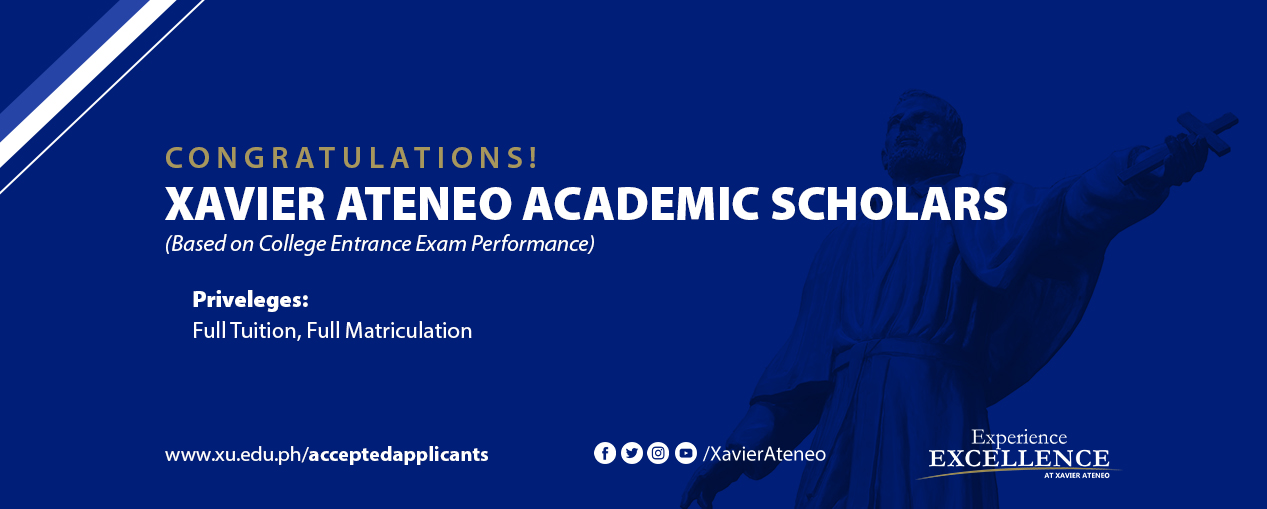 | | |
| --- | --- |
| NAME | SCHOOL |
| ACHAS, DAN PHILIP L. | Gusa Regional Science High School - X |
| ARANI, ABDUL KHALIQ M. | Philippine Science High School - Central Mindanao Campus |
| AREVALO, ARIANDA ANGELA R. | XUSHS |
| ATUPAN, RAVEN GALE T. | Philippine Science High School - Caraga Region Campus |
| BACULIO, TIM FLORENZ IAN C. | XUSHS |
| BAJUYO, DAVE A. | XUSHS |
| BALANDRA, SUNSHINE | XUSHS |
| BALENDRES, VICTORIA NICOLE B. | Philippine Science High School |
| BANTUG, ATHALIAH JENINE T. | XUSHS |
| BEDUYA, JAEZ BUENSON R. | Philippine Science High School - Central Mindanao Campus |
| BIOCO, ULAP A. | XUSHS |
| BOLACITO, ANGEL YANNI MIKAELA S. | XUSHS |
| BUCAY, SULTAN M. | MSU - Iligan Institute of Technology |
| CAGULADA, TRISHA MIKAELA L. | XUSHS |
| CALONGE, AXEL HOWARD A. | Liceo de Cagayan University |
| CHING, RISSA BELLE S. | Oro Christian Grace School |
| CHIONG, ALBERTO EMANUEL S. | Gusa Regional Science Highschool -X |
| CUAKI, ANDREW T. | Oro Christian Grace School |
| DAGONDON, MARIUS MATTHEW P. | XUSHS |
| DAGUIMOL, JEROMI D. | XUSHS |
| DAGUMBAL, LIEZL ALLOIZA B. | XUSHS |
| DANCEL, TOMY ROSE S. | Philippine Science High School - Central Mindanao Campus |
| DEAPERA, KRISTIN BELLE O. | XUSHS |
| DELIZO, IVAN D. | Philippine Science High School - Central Mindanao Campus |
| DITUCALAN, MOHAMMAD HASIM M. | MSU-IIT IDS |
| DOLAR, NATALIE L. | Gusa Regional Science High School - X |
| DY-CEZAR, CLINT ANTHONY D. | XUSHS |
| ESCAMILLA, LEO ROMEL JR. A. | XUSHS |
| GABALES, ZACCHAEUS KYLE S. | Philippine Science High School - Central Mindanao Campus |
| GOLOSINDA, KRYZLLE R. | XUSHS |
| GORDIEL, ZOE CATRICE U. | The Abba's Orchard |
| HERNAN, MARY ANTONETTE A. | AMA Senior High School |
| IBARRA, EVAN PAUL G. | Philippine Science High School - Central Mindanao Campus |
| IBARRA, JOHN WINDALE B. | XUSHS |
| JUBAS, PETER ANDREI L. | Philippine Science High School - Central Mindanao Campus |
| KADAVERO, TERESA JOY R. | Philippine Science High School - Central Mindanao Campus |
| LANTO, HANIYA-DAYYAANAH M. | MSU-Marawi Senior High School |
| LEE, JOHN COBBY L. | MSU-IIT INTEGRATED DEVELOPMENTAL SCHOOL |
| LEIBLING, RICO C. | XUSHS |
| LEOPOLDO, PETRUS JETHRO C. | Pagadian City Science High School |
| LOGARTA, ARRIANNE NORFELA A. | Philippine Science High School Central Mindanao Campus |
| LOGRONO, BRYLLE JOSHUA B. | XUSHS |
| LUAÑA, LEILA D. | XUSHS |
| MAGHUYOP, DAN RAPHAEL H. | Corpus Christi School |
| MANAOIS, DULCIE VITA B. | Corpus Christi School Pueblo Campus |
| MASUCOL, JANA LOU S. | Central Mindanao University Laboratory High School |
| MINODAR, AMER JAWAD R. | MSU Marawi Senior High School |
| MOLINA, CASSEY L. | XUSHS |
| NAYVE, KENNETH JAMES C. | XUSHS |
| PALARCA, LEVINA EUNICE O. | XUSHS |
| PARAISO, AUSTINE ANGELINE R. | XUSHS |
| PERALTA, GUALTIER LUKE P. | XUSHS |
| PILAPIL, MARCO C. | La Salle Academy - Iligan City |
| PINGOY, KEZIA MONICA V. | Gusa Regional Science High School - X |
| PLAZUELA, IRYLL DAVE M. | Gusa Regional Science High School - X |
| REVILLA, PIA ISABELLE C. | Central Mindanao University Laboratory High School |
| RICAZA, ADRIAN LYLE A. | XUSHS |
| RODRIGUEZ, KARL LOE B. | XUSHS |
| RUIZ, REYSONN JOSS LEIGH B. | Philippine Science High School - Central Mindanao Campus |
| SAGRADO, PAULAINE XYNA J. | XUSHS |
| SAGUISA, SACHIKA AZUMI | Caraga Regional Science High School |
| SALAPE, AMBER JET U. | Liceo de Cagayan University |
| SANGCAAN, SHAZNEI ALIAH N. | XUSHS |
| SIA, PAWENAKORN C. | Oro Christian Grace School |
| SICAT, ALESSANDREA GRACE G. | Philippine Science High School-Southern Mindanao Campus |
| SOLLOSO, AIRENE JOANNA B. | XUSHS |
| SULITA, FRANKLIN B. | XUSHS |
| TABLON, KYLE IAN S. | MSU-IIT Integrated Developmental School |
| TOLENTINO, ROMMEL JOHN G. | XUSHS |
| TORRES, DONETTA MAE R. | MSU-IIT-IDS |
| TY, RAFAEL MOSES S. | Father Saturnino Urios University, Morelos campus |
| VELASQUEZ, MAEGAN A. | Oro Christian Grace School |
| YAMSON, ALEXANDRA D. | XUSHS |