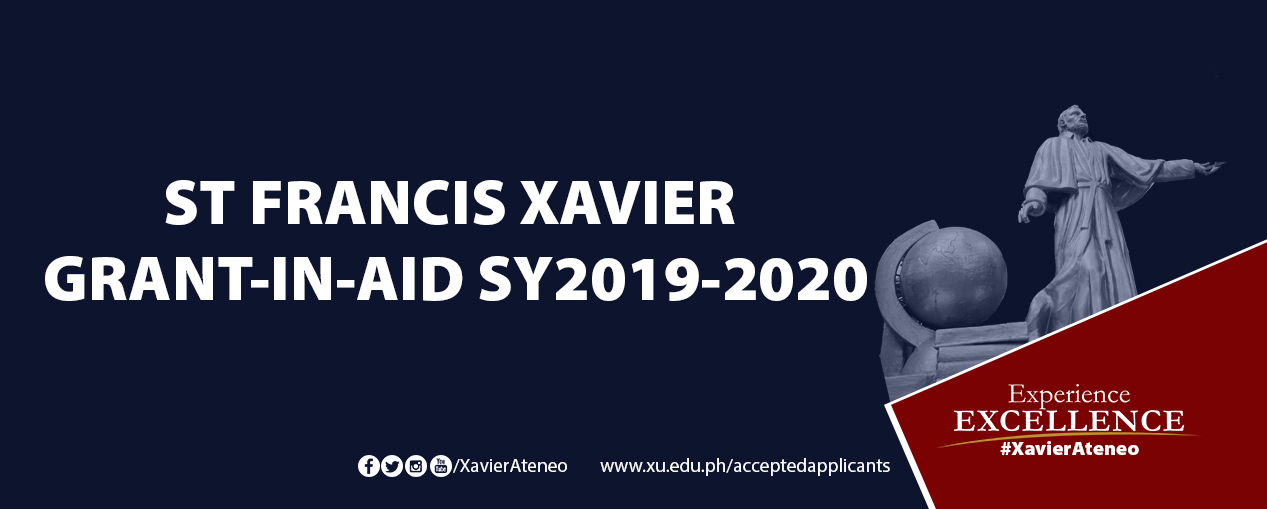 The St Francis Xavier (SFX) Grant-in-Aid provides a financial grant worth Php25,000.00/semester for RTCU exam takers with General Scholastic Aptitude (GSA) of 80-96% and whose academic performance in Senior High School is above average. To qualify, the grantee's family must have a total annual income not exceeding Php500,000.00 for a family of 5 (or per capita income of Php100,000.00) as evidenced by the parents' certified true copy of the latest annual Income Tax Return or when not applicable, a statement from BIR of Tax Exemption with attached Affidavit of Sources of Income.
The grant applicant needs to submit the following documents:
i. Two filled-out recommendation forms: one from the Senior High School Principal and one from Class Adviser/Guidance Counselor. Access your individual results and forms here: http://apply.xu.edu.ph/users/exam_results/ (available soon). Use the account and password given to you at the start of the examination.
ii. Income Tax Return (ITR) of both parents or if not applicable, BIR Statement of Tax Exemption with attached Affidavit of Sources of Income
iii. Latest 1x1 picture
iv. Printed Scholarship Offer Letter from the XU Admissions and Aid Office
v. Copy of the email of the Scholarship Award
vi. Download and submit the XU Confirmation Slip on or before the 1st week of March for the contract signing.
Disclaimer: The aforementioned requirements are requisites for the approval of your grant application. Bring the hard copy of the scanned documents for the interview with the Scholarship Board Committee. Keep posted for further announcements.
For inquiries, you may contact the Admissions and Aid Office through This email address is being protected from spambots. You need JavaScript enabled to view it.. Thank you.
| | |
| --- | --- |
| NAME | PREVIOUS SCHOOL |
| ABACAHIN, GWYNNETH S. | Liceo de Cagayan University |
| ABAN, JAN MIEL G. | |
| ABAO, ANGELIE NICOLE F. | Xavier University Senior High School |
| ABARABAR, FRANILYN C. | Liceo de Cagayan University |
| ABDUL MAJID, SARIMA M. | Xavier University Senior High School |
| ABECIA, GLYN B. | Liceo de Cagayan University |
| ABEJO, YOHANN UNO M. | Xavier University Senior High School |
| ABEJUELA, BELLE REVE B. | Xavier University Senior High School |
| ABELLA, EDSHERA MAE R. | Xavier University Senior High School |
| ABO-ABO, HANNAH JANE C. | Zamboanga del Sur NHS- SHS |
| ABOG, KIMBERLY JEAN P. | Gusa Regional Science High School |
| ABSIN, APPLE MAE S. | Xavier University Senior High School |
| ACENAS, RHEA PHINE E. | Gingoog City Comprehensive National High School |
| ACERO, MARSON CLIFFORD VAN B. | Father Saturnino Urios University |
| ACTUB, ANDRE Y. | MSU-IIT Integrated Developmental School |
| ACUÑA, JARRY DANE J. | Lantapan Stand- Alone Senior High Schol |
| ACUÑA, JUSTINNE RAPHAELL G. | Bukidnon National High School |
| ADARNA, ALEC TEODORO JR. K. | Oro Christian Grace School |
| ADO, JAZEER CARL D. | La Salle University - Integrated School |
| AGANAN, ESTHER JELENE Y. | Corpus Christi School |
| AGCOPRA, JOEBERT JR. F. | Corpus Christi High School |
| AGEAS, KIAN E. | St. Vincent's College Incorporated |
| AGUAM, BAE HANNA D. | Mindanao State University - Marawi Senior High School |
| AKUT, EDD LOUIS P. | Xavier University Senior High School |
| ALADANO, ANDRICK A. | Xavier University Senior High School |
| ALAMBAN, IZZABELLA MARIE C. | Xavier University Senior High School |
| ALAPAN, PAVEE PROSS J. | La Salle University - Integrated School |
| ALBIO, BRENDON JOHN D. | Sacred Heart School - Ateneo de Cebu |
| ALBIS, ENRIKA ROSE B. | Xavier University Senior High School |
| ALEGADO, GELMEIN BILL O. | |
| ALENTON, KRISTIANE DANIELLE H. | Central Mindanao University Lab HS |
| ALGUZAR, JOHANNA RIA A. | St. Joseph High School of Talakag Inc |
| ALI, MOHAMMAD HIZAM G. | RC- Al Khwarizmi International College Foundation |
| ALI, PRINCESS HALLIEAH F. | Xavier University Senior High School |
| ALI, SITTIE ASIYA R. | Liceo De Cagayan University |
| ALI, SITTIE JOBAISAH T. | Mindana State University Marawi - Senior High School |
| ALIDO, NICOLE ANN I. | Gusa Regional Science High School |
| ALIMPOLOS, JOSEP C. | Iponan National High School |
| ALKUINO, LILA LOUREEN M. | Xavier University Senior High School |
| ALMENDRA, TRISHA N. | Father Saturniño Urios University |
| ALONTO, AMEENA ALYANNA A. | La Salle Academy |
| ALVAREZ, ANNE ZETA U. | Xavier University Senior High School |
| AMER, JUNAIFAH L. | Mindanao States University-Iligan Institute of Technology-Integrated Developmental School |
| AMPATUA, AMER HASSAN M. | Xavier University Senior High School |
| AMPER, ANGELA H. | Xavier University Senior High School |
| ANCHETA, NICOLE ASUNCION D. | University of Science & Technology of Southern Philippines |
| ANDRES, COLEEN JESSICA L. | Nanuri International School |
| ANDRES, JAN CHRIS RUSSELL E. | Xavier University Senior High School |
| ANG GAEID, RHENZ DOUGLAS Q. | Xavier University Senior High School |
| ANGAS, ALDRIENA THEHANI T. | Notre Dame University - Senior High School |
| ANTILLON, BIANCA MARIE M. | Corpus Christi School |
| ANTIQUE, MARY JASTINE B. | Gusa Regional Science High School |
| ANTOLIN, MARIAN A. | Xavier University Senior High School |
| ANUNCIADO, ADRIANNE JAY M. | University of Science & Technology of Southern Philippines |
| APAL, JHOCO D. | Xavier University Senior High School |
| APARECE, TONI ANGIELENE N. | Xavier University Senior High School |
| APOR, KIM LUCAS O. | Xavier University Senior High School |
| APOSTOL, CARYLL M. | Xavier University Senior High School |
| ARADANI, SHARIFA D. | Zamboanga del Sur NHS- SHS |
| ARAÑA, ARVIN GEORGE G. | Iligan City East National High School |
| ARANDELA, JOHANNA LOREN B. | Xavier University Senior High School |
| ARBOLONIO, TRISHA GEM J. | Father Saturniño Urios University |
| ARCEO, SHANNEN PEARL N. | Xavier University Senior High School |
| ARCHE, JACIN B. | Libertad National High School |
| ARENAS, MAITA ANGELICA S. | Xavier University Senior High School |
| ARMAMENTO, MARK ANTHONY M. | Xavier University Senior High School |
| ARQUIZA, LILIA CECILIA C. | MSU-IIT IDS |
| ARRABIS, CHRISTIAN JAY M. | Xavier University Senior High School |
| ASIS, JANELLA JENE G. | Father Saturnino Urios University |
| ASLAYAN, SHERICA JANE | Bukidnon National High School |
| ASUM, WARDA H.U. | COC - Phinma |
| ATOS, ANDREA NICOLE R. | Misamis Occidental National High School |
| AURELIO, PATRICIA C. | Bukidnon National High School |
| AUSTRIA, HANS LAMAR J. | Philippine Science High School - Central Mindanao Campus |
| AVES, BUDZ LOUIS C. | Xavier University Senior High School |
| AWITEN, GABRIELLE C. | Xavier University Senior High School |
| AYING, JEL MAY ANNE G. | COC - Phinma |
| BABANTO, SHEM B. | University of Science & Technology of Southern Philippines |
| BACARRISAS, TISHA NAOMI RUTH A. | Xavier University Senior High School |
| BACAS, JAGIMAE D. | Xavier University Senior High School |
| BACASNOT, DOMINIC CYRIL V. | Xavier University Senior High School |
| BACAYAN, VINCENT ALNER J. | Xavier University Senior High School |
| BACAYANA, NIECEL LOU R. | Xavier University Senior High School |
| BACOLCOL, VINCE IAN T. | Fatima College of Camiguin |
| BACUNGAN, KYLA G. | Xavier University Senior High School |
| BACUS, NICOLE MARIE C. | Xavier University Senior High School |
| BADELLES, ELLAI KRISTOPHER P. | St. Michael's College |
| BADELLES, MARIECAR ANTONETTE C. | La Salle Academy |
| BADIC, JULIA MARIZ D. | Xavier University Senior High School |
| BADILLA, DIANNE ASHLEY S. | Xavier University Senior High School |
| BAGHOCAN, MARIE ROSE M. | Lala Nationa High School |
| BAGOLBOL, MA. LORENE JOY B. | Fatima College of Camiguin |
| BAGUIO, MARRIAH ALEXEI V. | Bukidnon State University |
| BAHUNSUA, XAVIER MYKE M. | La Salle Academy |
| BAJA, CREDENDA VALERIE U. | Philippine Science High School-Central Mindanao Campus |
| BAJAR, GLIZA JOY A. | Xavier University Senior High School |
| BALABA, IAN DOMINIC D. | Agusan National Comp HS |
| BALAMAN, VINCE JALIEL Z. | Xavier University Senior High School |
| BALANDRA, MIKHAELA ALLAINE S. | University of Science & Technology of Southern Philippines |
| BALANE, KARL GEO J. | Xavier University Senior High School |
| BALANGUE, ADELA S. | Corpus Christi School |
| BALTAZAR, JANIEZA ANGEL R. | Xavier University Senior High School |
| BALUT, AYNNEE V. | Merry Child School |
| BALVERDE, ROVICK L. | Gusa Regional Science High School |
| BANAAG, KAYLA MARIE M. | Philippine Science High School - Central Mindanao Campus |
| BANAAG, ZEANLEY KENN R. | Corpus Christi School |
| BANTUAS, DAN KHALIL T. | Xavier University Senior High School |
| BARNIDO, JULIA ALEXYSS T. | Pagadian City Science High School |
| BAROMAN, NOELLE FAITH U. | Philippine Science High School- Central Mindanao Campus |
| BARTON, CHESKA GRACE M. | Father Saturniño Urios University |
| BAS, MELANIE GRACE B. | Central Mindanao University Laboratory High School |
| BATOLINA, PRINCESS KRISHA AIMEE P. | Xavier University Senior High School |
| BATUGAN, SITTIE RAIYYAN M. | Mindanao State University - Marawi Senior High School |
| BAYETA, ANDREA MAE C. | Xavier University Senior High School |
| BAYGAN, IAN ANGELU A. | Xavier University Senior High School |
| BAYLON, CZAR VINCENT WAYNE S. | Xavier University Senior High School |
| BEHIGA, APRIL ROSE F. | University of Science & Technology of Southern Philippines |
| BELA-ONG, JANNEL C. | Xavier University Senior High School |
| BELCEÑA, LANCE M. | Xavier University Senior High School |
| BELOCURA, THERESE T. | Lanao del Norte National Comprehensive High School |
| BENEDICTOS, MONICA R. | Xavier University Senior High School |
| BENGZON, GWYNETH SARAH MARIE C. | Xavier University Senior High School |
| BENIGAY, BIANCA MARIE M. | Father Saturnino Urios University |
| BENTIC, KATE DOROTHY T. | Xavier University Senior High School |
| BERNALES, PATRICK SAMUEL R. | Xavier University Senior High School |
| BETOY, HAROLD | Xavier University Senior High School |
| BILDAN, JOHN PAUL ROBERT V. | Xavier University Senior High School |
| BOBADILLA, PATRICIA | Philippine Science High School - Central Mindanao Campus |
| BOLOS, ANGELA BEATRICE M. | Xavier University Senior High School |
| BONDOC, KAYE G. | Capitol University |
| BONGGOT, CHRIZZELLE JHEE P. | Central Mindanao University Laboratory High School |
| BONTUYAN, CHIEN LAI R. | Xavier University Senior High School |
| BORRES, ALIZANDRA C. | Xavier University Senior High School |
| BRAGA, ANGELICA JOIE N. | Xavier University Senior High School |
| BRAVO, ANGELICA GABRIELLE S. | La Salle Academy |
| BRUAN, LANCE MATTHEW D. | Xavier University Senior High School |
| BUCTUAN, RENWIL B. | Xavier University Senior High School |
| BUENBRAZO, MA. CARMELA L. | La Salle University - Integrated School |
| BUGTAY, KATTY MISIROSS D. | La Salle University- Integrated School |
| BUQUIS, RAYMOND M. | Xavier University Senior High School |
| BURGOS, TRINETTE ANNE B. | Corpus Christi School |
| BUTAO, LEAH MARIE T. | Father Saturnino Urios University |
| BUTIL, GEL T. | Central Mindanao University Laboratory High School |
| BUTONG, NESYL MAY O. | Gusa Regional Science High School |
| CABAG, JOSHUA VENICE P. | University of Science & Technology of Southern Philippines |
| CABAÑERO, NEIL BENEDICT A. | Xavier University Senior High School |
| CABEGIN, SANDRA VISSIA B. | Xavier University Senior High School |
| CABIGUIN, FRIGIBERT RON O. | Fatima College of Camiguin |
| CABRADILLA, JAY ANN R. | Xavier University Senior High School |
| CACHOLA, JAMES RYAN S. | Xavier University Senior High School |
| CADAVERO, HUEY LEWIS V. | Xavier University Senior High School |
| CADUSALE, MILKY JOHN ANTHONY R. | Xavier University Senior High School |
| CAERMARE, CRISZEL JESS R. | University of Science & Technology of Southern Philippines |
| CAGAMPANG, FEB ZANDY C. | Xavier University Senior High School |
| CAGULADA, CARL IVAN M. | Xavier University Senior High School |
| CAHANSA, CORYNNE MIKHAYLA E. | University of Science & Technology of Southern Philippines |
| CAHARIAN, JAMIE G. | Xavier University Senior High School |
| CAINHOG, ALYSSA KEANNA L. | Xavier University Senior High School |
| CAJILLA, REUBEN F. | Capitol University |
| CALAPE, KERR DAYNYALE A. | Gusa Regional Science High School |
| CALO, FAITH E. | Xavier University Senior High School |
| CALOG, VEANNSHE F. | Xavier University Senior High School |
| CAMAMA, MYCAH ALIAH R. | La Salle Academy |
| CAMARO, DANNAH CHLOE T. | Xavier University Senior High School |
| CAMBANGAY, MA. KATRINA THERESE G. | Gusa Regional Science High School |
| CAMBI, ROBERT NEAL L. | Gusa Regional Science High School |
| CANDIA, MEIDEN E. | Capitol University |
| CAÑETE, JO ANTONETTE M. | Corpus Christi School |
| CANIEDO, MEL EVAN Y. | Xavier University Senior High School |
| CANUNAYON, MENARD J. | Panabo National High School |
| CAPOTE, HEJKHARIE E. | St. Michael's College Basic Education Department |
| CARANG CARANG, ARLYN JAYNE P. | University of Science & Technology of Southern Philippines |
| CARBAJOSA, MARIA BIANCA D. | Xavier University Senior High School |
| CARBON, ESMERALDO JR. L. | University of Science & Technology of Southern Philippines |
| CARLOMAN, KRYSTELLE P. | MIsamis Occidental National High School |
| CARLOS, JUDE MARIANO JR. A. | Gusa Regional Science High School |
| CASCON, JHERRY MAE B. | Gusa Regional Science High School |
| CASSION, MARCO SPHINIX S. | Xavier University Senior High School |
| CASTAÑARES, AUDREY LOUISSE M. | Xavier University Senior High School |
| CASTAÑOS, KEVIN BRYAN G. | Xavier University Senior High School |
| CASTRO, MIKE NOSMAS L. | Holy Child's Academy of Pagadian |
| CAYANGA, ANNA VICTORIA B. | Xavier University Senior High School |
| CAYAS, HILARY JANE M. | Xavier University Senior High School |
| CELESTIAL, BLESS E. | Central Mindanao University Laboratory High School |
| CEMBRANO, ALODIA MARIE R. | Xavier University Senior High School |
| CENTURIAS, KARL VINCENT P. | Xavier University Senior High School |
| CHIN, NATALIE U. | Xavier University Senior High School |
| CHING, JEDD ZACHARY L. | Oro Christian Grace School |
| CHING, KRISTIEN RYAN C. | Xavier University Senior High School |
| CHING, LOUISE DANIEL A. | University of Science & Technology of Southern Philippines |
| CHIONG, DENNISON T. | Xavier University Senior High School |
| CHIU, GWYNETH W. | St. Michael's College- Basic Education Department |
| CHIU, NATHAN ED ANDRE C. | Oro Christian Grace School |
| CHUA, CASSAY MARIE C. | University of Science & Technology of Southern Philippines |
| CHUA, RITSLEY JEAN O. | Gusa Regional Science High School |
| CHUN, ELLISON DERRICK T. | Oro Christian Grace School |
| CIMENI, AINDREA JANN MARI G. | MSU-IIT Integrated Developmental School |
| CINCO, AUDREY YVONNE E. | Xavier University Senior High School |
| CIPRIANO, JERICKA FIFE M. | Mindanao State University - Iligan Institute of Technology Integrated Developmental School |
| COCJIN, MURIELLE DESIREE V. | Xavier University Senior High School |
| COLITA, JORDANE ARKEYO V. | Xavier University Senior High School |
| CONTINEDO, RONAMIE B. | Xavier University Senior High School |
| CORDOVEZ, JOSHUA DANIEL A. | |
| CORRALES, GABRIEL V. | Xavier University Senior High School |
| COSO, CAILA ISOBELLE T. | Xavier University Senior High School |
| CUARTERO, XAVIER GWYN B. | Father Saturnino Urios University |
| CUBILLAN, PRECIOUS GRACE NHITALLIE E. | Gusa Regional Science High School |
| CUBILLAS, FRANCZHES A. | Central Mindanao University Laboratory High School |
| CUE, PHOEBE MONIQUE ANNE V. | Xavier University Senior High School |
| CUEVA, HANNAH ANGELIE N. | Gusa Regional Science High School |
| CUEVAS, KLYDE ANDREW S. | Corpus Christi School |
| CUIZON, ROLDAN D. | University of Science & Technology of Southern Philippines |
| DABA, PAULINE MORANN M. | Rosevale School |
| DACER, APRIL JANE R. | Xavier University Senior High School |
| DACLAG, RHENE FRANCIS A. | Corpus Christi School |
| DADULO, AUBREY C. | Xavier University Senior High School |
| DAGALANGIT, ARHAMA M. | MSU- Marawi Senior High School |
| DAGARAGA, DIANA | Xavier University Senior High School |
| DAGCUTA, DONNA CHELSEY V. | University of Science & Technology of Southern Philippines |
| DAGOC, MIKKO ANTON G. | Oro Christian Grace School |
| DAHILOG, JULY FAYE A. | Xavier University Senior High School |
| DAHULORAN, VASIL JAY-AR S. | Bukidnon National High School |
| DALAGAN, MARIA RAFAELA JULLIANA Q. | Xavier University Senior High School |
| DALUPERE, PRINCESS MARIE L. | Xavier University Senior High School |
| DAQUIADO, MYCCA D. | University of Science & Technology of Southern Philippines |
| DARIMBANG, GEALIM G. | MSU-IIT Integrated Developmental School |
| DAROY, KYLE ANGELA B. | Xavier University Senior High School |
| DAYATA, RHENCE THEODORRE C. | Xavier University Senior High School |
| DAYOT, GABRIEL O. | MSU-IIT |
| DE GUZMAN, SHEM IVOR S. | Gusa Regional Science High School |
| DE LA CERNA, KEANNU C. | Xavier University Senior High School |
| DE LA VICTORIA, JEHEILE C. | Xavier University Senior High School |
| DE LEON, JOHANN RHOEL R. | Oro Christian Grace School |
| DE VERA, JOSEFE MARI LUIS A. | Liceo de Cagayan University |
| DECENA, MA. KEHLEY LARKIN R. | La Salle University- Integrated School |
| DEGAMON, AARON L. | University of Science & Technology of Southern Philippines |
| DEL ROSARIO, CARYLLE M. | Xavier University Senior High School |
| DEL ROSARIO, ENRIQUE M. | Xavier University Senior High School |
| DELA MANCE, CHARLES DARWIN M. | Xavier University Senior High School |
| DELA PEÑA, COZETTE MUMTAZ CHIELU M. | Oro Christian Grace School |
| DELOS REYES, DARIO JR. A. | University of Science & Technology of Southern Philippines |
| DELOS REYES, JOMARD SAM A. | Xavier University Senior High School |
| DEVALGUE, GANNUR MARC P. | Xavier University Senior High School |
| DIMAAMPAO, NABEL S. | COC - Phinma |
| DIMAKUTA, ABDUL MONIB JR. I. | Xavier University Senior High School |
| DIMAKUTA, MAUYAG II D. | MSU-Marawi Senior High School |
| DIMALNA, KHYRA AHMIL B. | Corpus Christi School |
| DIMAPINTO, FAIMA JEHAN A. | MINDANAO STATE UNIVERSITY-ILIGAN INSTITUTE OF TECHNOLOGY INTEGRATED DEVELOPMENTAL SCHOOL (MSU-IIT IDS) |
| DIMAPORO, MOHAMMAD P. | Xavier University Senior High School |
| DIMNATANG, JOHAYLIN M. | St. Michael's College/HS Dept - Iligan |
| DISOMIMBA, NORHAILYN D. | Xavier University Senior High School |
| DIZON, MATTHEW DOMINIC M. | Xavier University Senior High School |
| DUCOL, ARJUMAND S. | MSU- Marawi Senior High School |
| DUMADAG, VICENTE III L. | Xavier University Senior High School |
| DURAN, WYVENN SYLVESTER N. | Father Saturniño Urios University |
| EBLAMO, RAEVEN ANGELO O. | Corpus Christi School |
| ECHANO, ARA JANE P. | Liceo de Cagayan University |
| ECLEO, MYRRH JERRU G. | Xavier University Senior High School |
| EDLOY, JHOVALE RYAN A. | Xavier University Senior High School |
| EDMILAO, STEFANIE KRISTIANA C. | Xavier University Senior High School |
| EGAM, MARIELLE KATHERINE E. | MSU- IIT INTEGRATED DEVELOPMENTAL SCHOOL |
| EGUIA, RENEILA MAUREEN G. | Xavier University Senior High School |
| EGYPTO, AUBREY CAMILLE O. | Xavier University Senior High School |
| EHENG, BEVERLY G. | Xavier University Senior High School |
| ELANGO, LIANNA ANGELA A. | Xavier University Senior High School |
| EMBUDO, HELMAR JAY P. | Xavier University Senior High School |
| ENGANA, JOHN ERIC P. | Corpus Christi School |
| ENNIO, PAMELA LORRAINE O. | University of Immaculate Conception |
| ENRIQUEZ, JACK NIÑO C. | Xavier University Senior High School |
| ENTOMA, NIKKO REID B. | Central Mindanao University Laboratory Highschool |
| ENTRAMPAS, MARY LOUISE U. | Bukidnon National High School |
| ESCARDA, GLENN JR. B. | Corpus Christi School |
| ESLIT, LYNN CHANTAL S. | Xavier University Senior High School |
| ESPARRAGO, CRISTOPHER MOSES D. | St. Paul University of Surigao |
| ESPIGA, SAMANTHA MAYE L. | Holy Child's Academy of Pagadian |
| ESPIRITU, GIAN PATRICK L. | Xavier University Senior High School |
| ESPULGAR, VIEM M. | Xavier University Senior High School |
| ESTABAS, GLENN JOE C. | MIsamis Occidental National High School |
| ESTENZO, BLESSYL MAE Q. | MSU-IIT Mindanao State University |
| ESTRADA, SHACK GIL A. | Xavier University Senior High School |
| EVANGELISTA, ZYRIL L. | MIsamis Occidental National High School |
| FACTURA, IRA MARIE E. | Xavier University Senior High School |
| FAJARDO, LOUISE GRACE G. | Xavier University Senior High School |
| FAMACION, KYRA BIANCA R. | Xavier University Senior High School |
| FELICIO, FRANZ WILLIAM G. | Caraga Regional Science High School |
| FERNANDEZ, JULLIANA EZRA B. | Xavier University Senior High School |
| FERNANDEZ, LOUIE J. | Xavier University Senior High School |
| FIGUEROA, ALANA JASMINE R. | MSU-IIT Integrated Developmental School |
| FORTUN, TROY L. | Agusan National Comp High School |
| FRANCISCO, KYLE ISABELLE P. | Xavier University Senior High School |
| FRIAS, JEUELLE DENISE B. | Father Saturniño Urios University |
| FUERTES, G LADY ANN C. | Xavier University Senior High School |
| FULACHE, RAY RAPHAEL A. | University of Science & Technology of Southern Philippines |
| GABIA, PAUL VINCENT J. | University of Science & Technology of Southern Philippines |
| GABIANA, CARMELA EMMELINE C. | St. Mary's School |
| GACUS, MARIA ANGELICA | Xavier University Senior High School |
| GAITE, AYA SOPHIA A. | Pagadian City Science High School |
| GALEON, IAN R. | University of Science & Technology of Southern Philippines |
| GALIT, JOHN KENNITH P. | COC - Phinma |
| GALLA, SCVENSKA VION C. | Xavier University Senior High School |
| GALON, JAMES URIEL T. | Xavier University Senior High School |
| GAMALE, JEREMY G. | Xavier University Senior High School |
| GAMBITO, LORRAINE OLIVE R. | Gusa Regional Science High School |
| GANDAMRA, ALEXANDRIA AYESSA L. | Philippine Science High School - Central Mindanao Campus |
| GANI, FAISAL ALI M. | MSU-IIT Integrated Developmental School |
| GARCIA, JEHRAL JERICH P. | University of Science & Technology of Southern Philippines |
| GATUS, CLARK KENJI C. | Xavier University Senior High School |
| GERASMIO, MAR JOSEPH IAN D. | MSU-IIT IDS |
| GILLESANIA, JOHN PHILLIP S. | MSU-IIT Integrated Developmental School |
| GO, DANIELLE FAITH T. | Oro Christian Grace School |
| GO, NATHANIEL STEVEN R. | Kong Hua School |
| GOLEZ, SHILINA P. | Xavier University Senior High School |
| GOMEZ, JOEMARI T. | Corpus Christi School |
| GOMEZ, RAE DAWN R. | Corpus Christi School |
| GONZALES, APRIL GEM G. | University of Science & Technology of Southern Philippines |
| GONZALES, FAITH ANGELIE L. | University of Science & Technology of Southern Philippines |
| GONZALES, JOELLE GEMARIE L. | MIsamis Occidental National High School |
| GUEVARRA, JAMES BRIAN P. | Christ the King College |
| GUIMARY, FLORENCE RIVA M. | University of Science & Technology of Southern Philippines |
| GURO, NASRODEN JR. B. | University of Science & Technology of Southern Philippines |
| HADJINOR, COSAIRAH U. | Mindanao State University-Marawi Senior High School |
| HAGUTIN, NATHANIEL E. | University of Science & Technology of Southern Philippines |
| HALIBAS, PAULLENE GRACE T. | COC - Phinma |
| HAWAN, NONA NENITA M. | Gusa Regional Science High School |
| HIDALGO, ALYANNA NICOLE G. | Xavier University Senior High School |
| HORA, AMANDA MARIE B. | Xavier University Senior High School |
| HORA, JESSA NOEMIE A. | Sixto A. Abao National High School |
| HUERBANA, PRECIOUS D. | University of Science & Technology of Southern Philippines |
| IBRAHIM, JUNAID S. | MSU Marawi SHS |
| IDULSA, RETSEL L. | Old Damulog National High School |
| IGCALINOS, JERLENE MAE N. | COC - Phinma |
| IGLORIA, MARIELLE ALYSSA C. | Gusa Regional Science High School |
| ILIGAN, IVAN VERGEL M. | Xavier University Senior High School |
| IPULAN, DAVE CHANLER A. | Lourdes College |
| IRAN, NATHALIE JOY R. | Xavier University Senior High School |
| ISRAEL, KURT IAN KHALID I. | Gusa Regional Science High School |
| ITUM, GRAPESY G. | Xavier University Senior High School |
| JADOL, VINCENT J. | Xavier University Senior High School |
| JAJALLA, NYZA ALIANA B. | Xavier University Senior High School |
| JAMODIONG, BRUCE LEVI M. | University of Science & Technology of Southern Philippines |
| JARAULA, BON MICHAEL R. | Gusa Regional Science High School |
| JARAULA, MAY CAMILLE Y. | Xavier University Senior High School |
| JARDIOLIN, ROLAND LAURENCE B. | Xavier University Senior High School |
| JAYOMA, LANCE KELSEY C. | Gusa Regional Science High School |
| JUAN, JOSEPH AUGUSTINE B. | Xavier University Senior High School |
| KHO, JOAN EILAH A. | Xavier University Senior High School |
| KU, FRANCIS GREGORY L. | Xavier University Senior High School |
| LABNAO, AIKEN NIKKO P. | Andres Bonifacio College |
| LADAO, MAVEL ELIANE G. | Gusa Regional Science High School |
| LADERA, ROCHIAN LAWRENCE A. | Xavier University Senior High School |
| LADESMA, CHARLES EDWARD L. | Fatima College of Camiguin |
| LAGANGGA, LEN ALMIRA A. | Xavier University Senior High School |
| LAGAS, ANGELA KAREN MAE V. | Liceo de Cagayan University |
| LAGBAS, RAPHAELLA E. | Xavier University Senior High School |
| LAGUICAN, KIM NORMAN P. | Gusa Regional Science High School |
| LAGURA, DOMINIQUE MARIE E. | Xavier University Senior High School |
| LAGURA, MARTINI S. | Xavier University Senior High School |
| LAI, SEAN SHAQUILLE F. | Oro Christian Grace School |
| LAIHEE, CHRISTIAN N. | University of Science & Technology of Southern Philippines |
| LAMORIN, JOHN BENEDICT V. | Gusa Regional Science High School |
| LAMOSTRE, JOHN PHILIP C. | Agusan National Comp High School |
| LANGANLANGAN, SOPHIA A. | Timber City Academy |
| LANGCO, ELISSA AMNA R. | MSU Marawi Senior Highschool |
| LAPEÑA, DON KIM S. | Xavier University Senior High School |
| LAPID, NICHOLAS ANGELO P. | Oro Christian Grace School |
| LAPINIG, AL FRANCIS E. | La Salle University - Integrated School |
| LAPOJAPO, DAVE MILLER U. | MSU-IIT Integrated Developmental School |
| LAPURE, CARL BRIAN P. | Liceo De Cagayan University |
| LARIOSA, ALLAN GABRIEL A. | University of Science & Technology of Southern Philippines |
| LASANAS, BENEDICT C. | Corpus Christi School |
| LAUT, ALINOR H.A. | MSU-IIT Integrated Developmental School |
| LAYASAN, ALBERT C. | University of Science & Technology of Southern Philippines |
| LAZARO, SIMONE ALESSANDRA I. | Xavier University Senior High School |
| LEOP, IZA MARIE G. | Mindanao State University at Naawan Integrated Developmental School |
| LERIAS, KOBE CHRISTIAN S. | University of Science & Technology of Southern Philippines |
| LICAWAT, HARRIS YUSOPH S. | University of Science & Technology of Southern Philippines |
| LIGUTOM, WILLETE RIANE A. | Bukidnon National High School |
| LIM, ALRICK WYNTON T. | Kong Hua School |
| LIM, CARLL JONATHAN A. | Oro Christian Grace School |
| LIM, HANNAH STEPHANIE G. | Oro Christian Grace School |
| LIMBACO, JAY ANN MAE B. | Xavier University Senior High School |
| LINDAYAO, ALLEYA JYN K. | Gusa Regional Science High School |
| LITUAÑAS, JESSE MICHAEL G. | Gusa Regional Science High School |
| LIWANAG, JILLIAN I. | Xavier University Senior High School |
| LLAUSAS, JAN MARIE M. | BLESSED MOTHER COLLEGE |
| LLAVORE, JONELLE CHRISTIAN E. | Corpus Christi School |
| LLENARES, JANICA ISABELLE S. | Gusa Regional Science High School |
| LOGICO, NICOLE PAULINE S. | Xavier University Senior High School |
| LONOY, CHESKA C. | MSU-IIT Integrated Developmental School |
| LOPINA, EARL JOY B. | Xavier University Senior High School |
| LORONO, BILLY ANGELO C. | Kong Hua School |
| LUARDO, ANGELA C. | Gusa Regional Science High School |
| LUARDO, YUVI ROCIANDEL M. | University of Science & Technology of Southern Philippines |
| LUCERO, ANGEL MARC P. | BP. Pueblos Senior High School |
| LUCHANA, RYAN JOSHUA L. | Xavier University Senior High School |
| LUENGAS, COLEEN JOYCE S. | Agusan National Comp HS |
| MAAGAD, MARI GABRIEL V. | Xavier University Senior High School |
| MACABANDING, ABAD A. | RC- Al Khwarizmi International College Foundation |
| MACAIBAY, ERIKA FRANCE K. | Lourdes College |
| MACAOMBAO, ABDULJAMI G. | Philippine Integrated School Foundation Inc |
| MACAPONGGIS, MOHAMMAD RYAN C. | Xavier University Senior High School |
| MACARAMBON, ADJANI AL-AMIN G. | MSU Marawi Senior High School |
| MACARANAS, GIL PONCIANO JR. V. | Xavier University Senior High School |
| MACAUMBOS, NAIRA RAYHAN M. | MSU-MSHS |
| MACELLONES, LANCE ANGEL A. | Xavier University Senior High School |
| MADRIAGA, MATTHEW ROLAND E. | Gusa Regional Science High School |
| MADRID, CARMINE ANIELLO T. | University of Science & Technology of Southern Philippines |
| MADRID, HEWLETT XYRINE B. | Zamboanga del Sur NHS- SHS |
| MADROÑAL, RUBY MAE | Xavier University Senior High School |
| MAGALLANES, PHOEBE ANN M. | University of Science & Technology of Southern Philippines |
| MAGALLANES, RUVIN P. | Xavier University Senior High School |
| MAGALLONES, JOSE RICARDO V. | Xavier University Senior High School |
| MAGO, KARL EDZEL M. | Xavier University Senior High School |
| MAH, CHLOE GWYNETH R. | Father Saturniño Urios University |
| MAKILING, JOHN EDWARD E. | Caraga State University |
| MALINAO, VIANNA CHRISTINE P. | Xavier University Senior High School |
| MAMA, JAMEL RAHEEM S. | Gusa Regional Science High School |
| MAMACOTAO, MUHAMMAD D. | MSU-IIT |
| MAMALAMPAC, MOH. HANZALA C. | MSU- Marawi Senior High School |
| MANALASTAS, JAMES PATRICK A. | Liceo de Cagayan University |
| MANAN, MOHAMMAD ISMAEL O. | MSU IIT - Integrated Developmental School |
| MANGANDOG, MILANIE M. | Mindanao State University- Marawi Senior High School |
| MANGANDOG, PRINCESS AZIZAH M. | MSU Marawi Senior Highschool |
| MANGOTARA, ALYANNAH RAIFAH B. | MSU-IIT Integrated Developmental School |
| MANGUBAT, CLAIRE M. | Xavier University Senior High School |
| MANGUBAT, XENA B. | Corpus Christi School |
| MANTUA, LEILA ANGELIQUE P. | Xavier University Senior High School |
| MAPESO, RACEL NICOLE B. | Gusa Regional Science High School |
| MAROHOM, ALEYANESA A. | MSU-IIT Integrated Developmental School |
| MASACUPAN, REGINA LOUELLE A. | Gusa Regional Science High School |
| MASORONG, ASIYAH RAYANA P. | La Salle Academy |
| MATELA, RAMONA JOYCE M. | St. Paul University of Surigao |
| MCDONNELL, ANNABELLE MAE T. | La Salle Academy |
| MELENDEZ, PATRIZIA SOPHIA M. | San Isidro College |
| MENDEZ, JENECILLE P. | Xavier University Senior High School |
| MENDOZA, ANGELIE VIEN T. | Xavier University Senior High School |
| MENDOZA, AURELIO AKIA IV G. | Siliman University |
| MERCADO, JUSTINE GRACE L. | Lourdes College |
| MERCURIO, HANNAH ANDREA T. | Xavier University Senior High School |
| MEZO, JAN S. | Agusan National Comp High School |
| MICABALO, ERICKA G. | Misamis Occidental National High School |
| MINDALANO, MOHAMMAD YASSIN A. | |
| MINGUEZ, JAMES VINCENT B. | Central Mindanao University Laboratory Highschool |
| MIRADOR, JAMES-PHE E. | MSU-IIT Integrated Developmental School |
| MIRAS, DANELLE JAN B. | Xavier University Senior High School |
| MISA, REBEKAH GRACE T. | Xavier University Senior High School |
| MISSION, SETH JUSTINE | Central Mindanao University Laboratory High School |
| MOLO, DESIREE G. | Xavier University Senior High School |
| MONARES, SHELOW B. | Gusa Regional Science High School |
| MONGCAL JOSEFYN MAE Q. | Xavier University Senior High School |
| MONTEMOR, TRISTAN LEOME NESTOR B. | |
| MONTERAS, MA. EULA D. | Philippine Science High School - Central Mindanao Campus |
| MONTEROSO, KRISTA GAEL B. | Caraga State University |
| MOOG, CHRIS LAUREN G. | Corpus Christi School |
| MORADAS, THERESE ANGELA M. | University of Science & Technology of Southern Philippines |
| MORENO, JEREMIAH JOSHUA C. | University of Science & Technology of Southern Philippines |
| MORENO, NINA CHRISTINE FELICE A. | Xavier University Senior High School |
| MOTOL, LAURIE CLAIRE R. | Xavier University Senior High School |
| MUDAG, YARI AENDREA P. | MSU-IIT Integrated Developmental School |
| MUSNI, MARIE ANTOINETTE | Xavier University Senior High School |
| MUTI, MOH'D ISMAEL JR. M. | MSU Marawi Senior High School |
| NACASABOG, JEFFREY N. | MSU IIT IDS |
| NAGAMOS, KYLE ZEIYED C. | University of Science & Technology of Southern Philippines |
| NAGTALON, JOHANN DMITRI G. | Xavier University Senior High School |
| NALUGON, CYRIL JOHN S. | Regional Science High School |
| NAMATA, KRISTINE EMILIA M. | Oro Christian Grace School |
| NAMBATAC, ARJAY E. | Indahag National High School - Senior High School |
| NAVALES, YSABELLE B. | University of Science & Technology of Southern Philippines |
| NERQUIT, BERN MICHELLE B. | Xavier University Senior High School |
| NOOB, KARL ANTON J. | Xavier University Senior High School |
| NORTIZA, RHAJ JEFAYNE M. | Philippine Science High School-Central Mindanao Campus |
| NOVILLA, VINCE DANIELLE B. | Xavier University Senior High School |
| OLAZO, KYLLE S. | Xavier University Senior High School |
| OLINAN, MARIA ANGELA T. | Xavier University Senior High School |
| OLIVERIO, MARION SONX T. | Xavier University Senior High School |
| OMAR, AL-HANAFIE WAFA S. | Mindanao State University- Iligan Institute of Technology - Integrated Developmental School(MSU-IIT-IDS) |
| OMEGA, NATHALIE ANDREY P. | Xavier University Senior High School |
| OMONGOS, MAY GASELLE C. | MSU-IIT Integrated Developmental School |
| OMPOC, KATHRIAN P. | Gusa Regional Science High School |
| ORACION, ALLEN RAPHAEL R. | Corpus Christi School |
| ORATE, EULA MARIE VICTORIA V. | Central Mindanao University Lab HS |
| ORILLANEDA, JESANNE JADE | St. James High School |
| ORPILLA, GBRIEL RENZ C. | University of Science & Technology of Southern Philippines |
| ORPILLA, KHERSTEN A. | Xavier University Senior High School |
| ORTIZ, LUZCELL KAE T. | Liceo De Cagayan University |
| OSIA, ANNE KATHLEEN V. | Xavier University Senior High School |
| PAAYAS, REXZIL S. | Xavier University Senior High School |
| PABILLARAN, JUSTIN C. | University of Science & Technology of Southern Philippines |
| PABUA, SAMANTHA KYLE F. | Xavier University Senior High School |
| PACIENTE, KENNETH LLOYD U. | Bukidnon National High School |
| PACUIN, VINCENT LOUIE C. | Xavier University Senior High School |
| PADAYHAG, AQUILA JOAN S. | Xavier University Senior High School |
| PADEROG, LYCA SHENNA R. | University of Science & Technology of Southern Philippines |
| PADILLA, NATHALIE CANDACE C. | Xavier University Senior High School |
| PADLA, ALFE ANGELICA L. | Xavier University Senior High School |
| PADOLINA, ERNEST RANDEL A. | Xavier University Senior High School |
| PADUA, NEIL CHRISTIAN N. | Xavier University Senior High School |
| PAGURAYAN, SHIMEA L. | Xavier University Senior High School |
| PAIRAT, ED ALISON D. | Xavier University Senior High School |
| PAJARO, BIANCA ISABEL E. | Agusan National Comp HS |
| PAJUYO, KATE D. | Xavier University Senior High School |
| PALMA, JAMES DANIEL A. | Father Saturnino Urios University |
| PANDI, JASMIN G. | St. Mary's School |
| PANGARUNGAN, MUSRIFAH P. | Mindanao State University - Marawi Senior High School |
| PANGO, NUROL-AINAH P. | La Salle Academy |
| PANSAR, SITTIE AMERAH L. | Xavier University Senior High School |
| PANTILLO, KLINT IAN P. | Father Saturniño Urios University |
| PARCO, JEANA MARIE D. | University of Science & Technology of Southern Philippines |
| PAREJA, MATTHEW MIKHAIL S. | Xavier University Senior High School |
| PAROJINOG, JAMES PATRICK Y. | Xavier University Senior High School |
| PAYOT, ANA MARIE T. | Xavier University Senior High School |
| PAZ, GUENNETH R. | COC - Phinma |
| PEDARSE, KATHRINA KRISHA F. | Xavier University Senior High School |
| PEDROSA, RALPH ANTHONY A. | Xavier University Senior High School |
| PELPINOSAS, SHANNEN ANGELA A. | Gusa Regional Science High School |
| PEÑA, MARGAUX LYNZ L. | Father Saturniño Urios University |
| PENDIAMAN, NADJA B. | MSU Marawi Senior HS |
| PEPITO, GRIZZLY ANNE H. | Zamboanga del Sur NHS- SHS |
| PEPITO, VICTORIA ANGELIE P. | Xavier University Senior High School |
| PERALTA, TERRENCE HAMLET DANE S. | |
| PERRAL, JHAM WHITE G. | Xavier University Senior High School |
| PHUNG, NIKKI L. | Xavier University Senior High School |
| PIALES, MICHELLE S. | Alubijid National Comprehensive High School |
| PIIT, RALP JOEFIL G. | Xavier University Senior High School |
| PIMPING, AMER ESMAIL JR. P. | MSU-IIT Integrated Developmental School |
| PIÑERO, BIANCA YSABELLE A. | Oro Christian Grace School |
| PLA, KAMYLL MIGUEYL G. | Corpus Christi School |
| POLITO, ELIJAH RAMM S. | Xavier University Senior High School |
| PONGASE, SID ANTHONY E. | Xavier University Senior High School |
| PRECILLAS, PRESCILLA M. | Father Saturnino Urios University |
| PRESILLAS, HANNAH GRACE R. | Father Saturniño Urios University |
| PRICE, CHRISTELLE P. | Xavier University Senior High School |
| PULVERA, CHELSY KATE R. | Xavier University Senior High School |
| PUSPUS, PRECIOUS SWEETLENE | Xavier University Senior High School |
| QUIMADO, GARDSON Y. | Tukuran Technical-Vocational High School |
| RACHO, ERIKA MAY D. | University of Science & Technology of Southern Philippines |
| RADA, CANDY KHEYLL S. | Gusa Regional Science High School |
| RAFER, EFIE SHANE ANDREA C. | Xavier University Senior High School |
| RAFISURA, CHRISTEL KEITH A. | Lourdes College |
| RAGAS, KAREN CLAIRE B. | Xavier University Senior High School |
| RAGPALA, FIDE LYNN C. | Lanao del Norte National Comprehensive High School |
| RAIZ, RENEE JAMELLAH Z. | Jasaan Senior High School |
| RAMOS, JOSEPH D. | Xavier University Senior High School |
| RAMOS, MIKHAELA GENESIS P. | Xavier University Senior High School |
| RANARA, SHEIRRA MAE E. | University of Science & Technology of Southern Philippines |
| RANGIRIS, FARHANAH R. | MSU-Marawi Senior High School |
| REDONDO, FREDERICK JANSSEN B. | University of Science & Technology of Southern Philippines |
| REGENCIA, ROMAR JAY M. | Xavier University Senior High School |
| RELLIN, FRANCIS NIÑO S. | Xavier University Senior High School |
| RENGEL, GALILEO JR. G. | Xavier University Senior High School |
| REPOLE, ROSHAN PHILLINE D. | Zamboanga del Sur NHS- SHS |
| RETUYA, JULIANNE KRIZZIA T. | Xavier University Senior High School |
| REVILLA, KEVIN LLOYD D. | Gusa Regional Science High School |
| REYES, DANIELLE WILLIAM E. | Gusa Regional Science High School |
| REYES, VADA RAPHEALA M. | MSU-IIT Integrated Developmental School |
| RICACHO, KAYE NOREEN C. | Xavier University Senior High School |
| RIMANDO, JOHN LUCAS E. | Xavier University Senior High School |
| RINGIA, STEPHANIE JEMINA ADELAIDE A. | Cebu Institute of Technology - University |
| RIVAS, KEYCEE RHAYE T. | Xavier University Senior High School |
| RIVERA, IAN JOHN P. | Xavier University Senior High School |
| RIZON, MIGUEL FRANCISCO U. | Philippine Science High School- Southern Mindanao Campus |
| ROA, CHRISTIAN DAVE E. | Xavier University Senior High School |
| ROA, ENEN ISADYL E. | Oro Christian Grace School |
| ROA, JEREMY L. | Xavier University Senior High School |
| ROA, SHERMA JOY T. | Mindanao State University at Naawan Integrated Developmental School |
| RODELAS, IRISH KRISTINE N. | Xavier University Senior High School |
| RODRIGUEZ, ANGELA JEAN R. | University of Science & Technology of Southern Philippines |
| ROMERO, RUJ KYLE M. | Xavier University Senior High School |
| ROSADO, DAVID BRYAN P. | Gusa Regional Science High School |
| ROSALES, IVY D. | Xavier University Senior High School |
| ROSALES, LIANNE GAIL L. | Father Saturniño Urios University |
| ROSARIO, JENI ANNE G. | Agusan National Comp High School |
| RUEDA, JUSTIN T. | Xavier University Senior High School |
| RUFIN, RHONN DANIEL L. | University of Science & Technology of Southern Philippines |
| SAARENAS, KATE MARIE O. | Xavier University Senior High School |
| SAAVEDRA, CARL STEPHEN B. | Xavier University Senior High School |
| SABATE, JOANN H. | Zamboanga del Sur NHS- SHS |
| SABERON, DANIELLE JULIA S. | Xavier University Senior High School |
| SABIO, JASCHA MAY E. | Corpus Christi School |
| SABUERO, JOHN WESTLY S. | Gusa Regional Science High School |
| SAGUN, JULIA MAR C. | St. Columban College Senior High School Department |
| SAGUT, JULIENNE B. | Pagadian City Science High School |
| SAJONIA, X CEL YORI ZACK M. | St. Mary's School |
| SALADA, EARLDON JUSTIN S. | Xavier University Senior High School |
| SALARDA, MARK CLYDE O. | Lourdes College |
| SALAS, PRINCESS THERESE A. | Xavier University Senior High School |
| SALAZAR, REGINE KATE C. | Holy Name University |
| SALCEDO, STEVE KURT P. | Xavier University Senior High School |
| SAMBOLAWAN, JALANIE S. | Phillipine Integrated School Foundation Inc. |
| SAMPAL, ABDUL RAUF ALI B. | MSU - Marawi Senior Highschool |
| SANDOVAL, RIO L. | University of Science & Technology of Southern Philippines |
| SANSARONA, MUS'AB JEHAD C. | MSU- Marawi Senior High School |
| SANTOS, LOUIE C. | Xavier University Senior High School |
| SARAUSA, IBEZEA REL JVEN S. | Central Mindanao University Laboratory High School |
| SARIP, ASMERAH C. | Mindanao State University- Marawi Senior High School |
| SARIP, JANISA I. | MSU - Marawi Senior High School |
| SARIP, JOAIRIYA C. | Carmen National High School |
| SARIP, NOR-FATMAH A. | MSU-IIT IDS |
| SARRAGA, DJAKO SEBASTIAN F. | Xavier University Senior High School |
| SENO, TESHA ANGELA T. | Lourdes College |
| SESE, JASMINE NICOLE M. | Central Mindanao University Laboratory High School |
| SHEIK, SHAR JATHIYA A. | Mindanao State University General Santos City |
| SIMBAJON, JONATHAN REY C. | Xavier University Senior High School |
| SIMBAJON, KIMBERLEY LOUISSE D. | Liceo de Cagayan University |
| SIMON, ROVEN M. | Xavier University Senior High School |
| SISON, ELLEN MAE I. | Liceo de Cagayan University |
| SOLAIMAN, MARYAM HAFEESAH M. | MSU Marawi Senior Highschool |
| SOLARTA, JOHN HENRY D. | Lasalle Academy |
| SORIANO, GLISTER ZAN M. | Xavier University Senior High School |
| SORIANO, JUSTINE KENNETH B. | Agusan del Sur National High School |
| SORIANO, MARY ELIZABETH GABRIELLE M. | Xavier University Senior High School |
| SORRERA, JAMES REY AUGUSTIN E. | Xavier University Senior High School |
| SORRONDA, KAYE DANIELLE TERESE V. | Xavier University Senior High School |
| SUMANDAR, EZRA ALEXANDRIA | Xavier University Senior High School |
| SURIAL, ALCRIS JOHN E. | Xavier University Senior High School |
| SY, EDUARD MICHAEL JOONE L. | Xavier University Senior High School |
| SY, STACEY ROBYNE U. | Xavier University Senior High School |
| TABAMO, LEMUEL C. | Gusa Regional Science High School |
| TABAN, DANIELLE M. | Reagan Highschool |
| TABARANZA, DIANE A. | Xavier University Senior High School |
| TABIL, LIANE ENA B. | MSU-IIT IDS |
| TACCAD, RUTH N. | Xavier University Senior High School |
| TAGAAN, KRESKA EUSIL M. | Xavier University Senior High School |
| TAGAYUNA, REIGNA JEWELLE G. | Central Mindanao University Laboratory High School |
| TALAG, CARLOS EMANUEL B. | Xavier University Senior High School |
| TALINGTING, VIC III R. | Xavier University Senior High School |
| TALJA, MARIA ALESSANDRA R. | Xavier University Senior High School |
| TAMPOGAO, SITTIE JOHANNA M. | Mindanao State University - Marawi Senior High School |
| TAMPUS, ERINA RENEE S. | Xavier University Senior High School |
| TAN, IAN RALP D. | Xavier University Senior High School |
| TAN, KAITLYN CHEYANNE G. | Xavier University Senior High School |
| TAN, NARRYLM A. | Xavier University Senior High School |
| TANAEL, DANIEL JOSE T. | Xavier University Senior High School |
| TANGCALAGAN, JOSEPH JAN S. | Xavier University Senior High School |
| TANUA, HAZSNEE SUFFYAN P. | MSU Marawi Senior Highschool |
| TAPONGOT, EULA V. | Tagoloan Community College |
| TAYONG, SHAWN BRUARY S. | University of Science & Technology of Southern Philippines |
| TEDLOS, ALLEN BLESSIE D. | Xavier University Senior High School |
| TEJANO, ALEANO KIM L. | Xavier University Senior High School |
| TEJOR, WAYNE CHARLES B. | University of Science & Technology of Southern Philippines |
| TELERON, MARJIE ANNE THEZZA S. | Xavier University Senior High School |
| TELOW, JERED V. | Rosevale School |
| TEVES, PHERT JORICH M. | Xavier University Senior High School |
| TIANCO, JOHANNA NICOLE E. | |
| TILANDUCA, JACYNTHE PAZ G. | San Isidro College |
| TIMBAL, SHEENA AL M. | Xavier University Senior High School |
| TINGARA-AN, SITTIE-ANIMAH M. | Mindanao State University - Marawi Senior High School |
| TIROL, ILIANA MARIE C. | Xavier University Senior High School |
| TOLENTINO, MARIA VINCE VICTORIA M. | Xavier University Senior High School |
| TOREN, PAULINE THERESE D. | Liceo de Cagayan University |
| TORRE, CARLOS JOSETON PAOLO S. | Rosevale School |
| TORREPALMA, ARABELA B. | Xavier University Senior High School |
| TRINIDAD, MIRENELLE U. | Xavier University Senior High School |
| TRUGILLO, KRISHA DANE A. | La Salle Academy |
| TUBAON, APRIL JOYCE U. | Xavier University Senior High School |
| TUDTUD, ROMELLE VENN S. | Xavier University Senior High School |
| TULANG, SHEENA JANE R. | Gusa Regional Science High School |
| TUTANES, FRANCIS ELIJAH M. | Xavier University Senior High School |
| TUTOR, JENNIE LOU B. | Xavier University Senior High School |
| TY, HANZ CHRISTIAN GEORGE U. | Xavier University Senior High School |
| UBALDE, CLARISSE FIDELYN S. | Xavier University Senior High School |
| UNDAG, LLOYD KAYLE L. | Xavier University Senior High School |
| UNDAG, RONI ANNE VIDA Y. | Xavier University Senior High School |
| USMAN, MOHAMMAD FAISAL B. | |
| UY, CHLOE JIAN T. | Xavier University Senior High School |
| UY, FARLAINE FLOR L. | Xavier University Senior High School |
| UY, JHANDREA CHRISTIE THERESE G. | University of Science & Technology of Southern Philippines |
| UY, LYLE ANDREI Y. | Oro Christian Grace School |
| UY, RHUSLI P. | La Salle Academy |
| VALENCIA, CARLOS MIGUEL D. | Xavier University Senior High School |
| VALERO, DENISE PATRYZJA T. | Iligan City East National High School |
| VALLECER, MATTHEW ORLANDO IV V. | Xavier University Senior High School |
| VEGAFRIA, ALIZZANDRA CASSY D. | Corpus Christi School |
| VELAYO, KARL ANGELO D. | Xavier University Senior High School |
| VILLALVETO, GRACE JOY M. | University of Science & Technology of Southern Philippines |
| VILLANUEVA, EMIEL A. | Lourdes College |
| VILLANUEVA, RAOUL CARLOS R. | MSU-IIT Integrated Developmental School |
| VILLARIN, CATHERINE KATE E. | Xavier University Senior High School |
| VILLAROSA, JASPER | bukidnon national high school |
| VISAYAN, JOSHUA V. | Xavier University Senior High School |
| WONG, FAYE MEGAN L. | Xavier University Senior High School |
| YAÑEZ, JETHRO VINZ NOEL C. | Xavier University Senior High School |
| YAP, NEE JAN TRICIA C. | Xavier University Senior High School |
| YARES, TRICIA C. | Liceo de Cagayan University |
| YEBAN, ETHAN DUANE P. | Xavier University Senior High School |
| YEE, FE PAULINE C. | Xavier University Senior High School |
| YEPIS, FONZY R. | Corpus Christi School |
| YONGCO, SHEILA ADRIANNE S. | Xavier University Senior High School |
| YOSORES, FRANCHESKA EZZRHA G. | Bukidnon National High School |
| YOUNG, JOHN RUSSELL L. | La Salle Academy |
| YU, LLOYD ELTON C. | Xavier University Senior High School |
| ZABALLERO, JARRAH FRANCINE C. | Xavier University Senior High School |
| ZUBIRI, MAITE B. | Xavier University Senior High School |