After receiving an overwhelming number of scholarship test applications last December 2021 until January 2022, Xavier Ateneo is pleased to release the List of Incoming College Freshmen Scholars for SY 2022-2023.
Selection of scholars was based primarily on their performance in the Online College Scholarship/Entrance Examination, an assessment tool designed to gauge readiness of students for college life. Test takers who meet the cutoff of 90% are ranked based on their scores, and scholarships are awarded accordingly to the top qualifiers.
Qualifiers can head over to http://apply.xu.edu.ph/users/exam_results/ to view their test scores. Use your Registration ID to open your account.
An official advise will be emailed to all the qualifiers, so kindly keep posted.
Scholarships offered are the following:
President's Scholarship (Top 1-15 scorers) | 100% school fees and reimbursement of up to Php10,000.00 for books, uniform, and ICT related expenses
Merit Scholarship (Top 16-30 scorers) | 100% school fees
Academic Scholarship (Top 31-100) | Full tuition and matriculation
Our warmest congratulations to all the Xavier Ateneo Scholars for SY 2022-2023!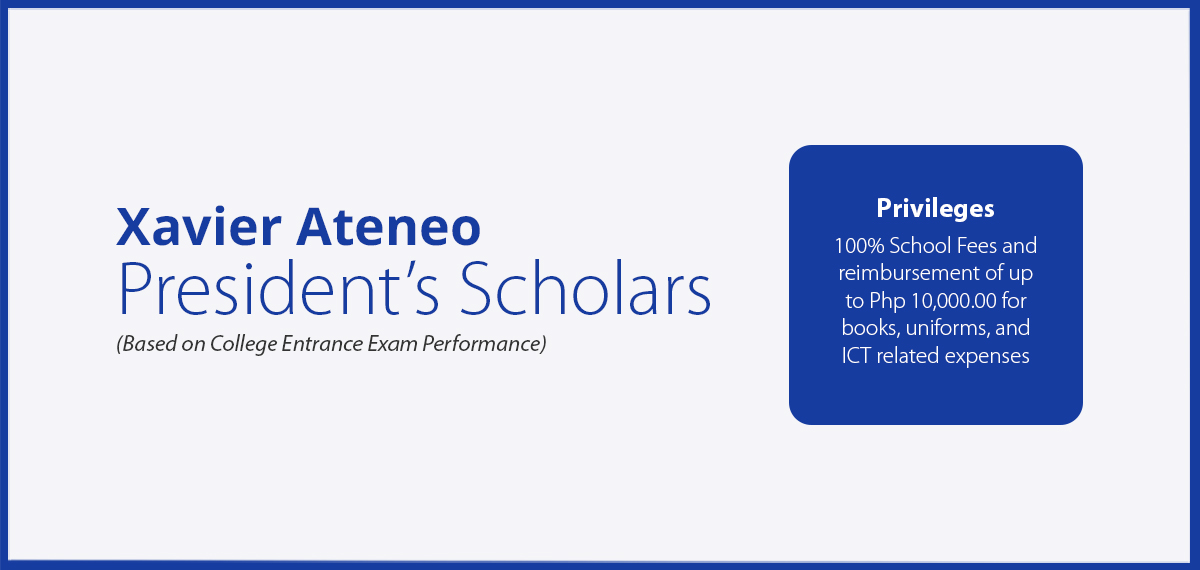 | | |
| --- | --- |
| Name | School |
| ALONZO, SOFIA JHYLIANNA R. | Xavier University Senior High School |
| AUSTRIA, ABIGAIL | University of Science and Technology of Southern Philippines |
| BATICA, ALEXIS JADE V. | University of Science and Technology of Southern Philippines |
| CABRERA, JACQUES GABRIEL C. | Xavier University Senior High School |
| CARBONILLA, CES LIANNE B. | Xavier University Senior High School |
| CINCO, ALTHEA JEWEL E. | Xavier University Senior High School |
| GABUTAN, VAL MATHEW R. | Xavier University Senior High School |
| GENIO, KENNETH NEIL Z. | Philippine Science HS - Central Mindanao Campus |
| LUSPO, DANZ LOUIS JOHN H. | Liceo De Cagayan University |
| MAGO, CHYLSEA EDZEL M. | Xavier University Senior High School |
| MINOZA, CHRIS MICHAEL Z. | Xavier University Senior High School |
| PICARDAL, MA. ADRIANNA O. | Jasaan National High School - Senior High School Department |
| ROLLON, RUTH MAE D. | Liceo De Cagayan University |
| TANGCALAGAN, DIEGO LUIS B. | Xavier University Senior High School |
| TINDOY, ABEGAIL M. | Saint James High School |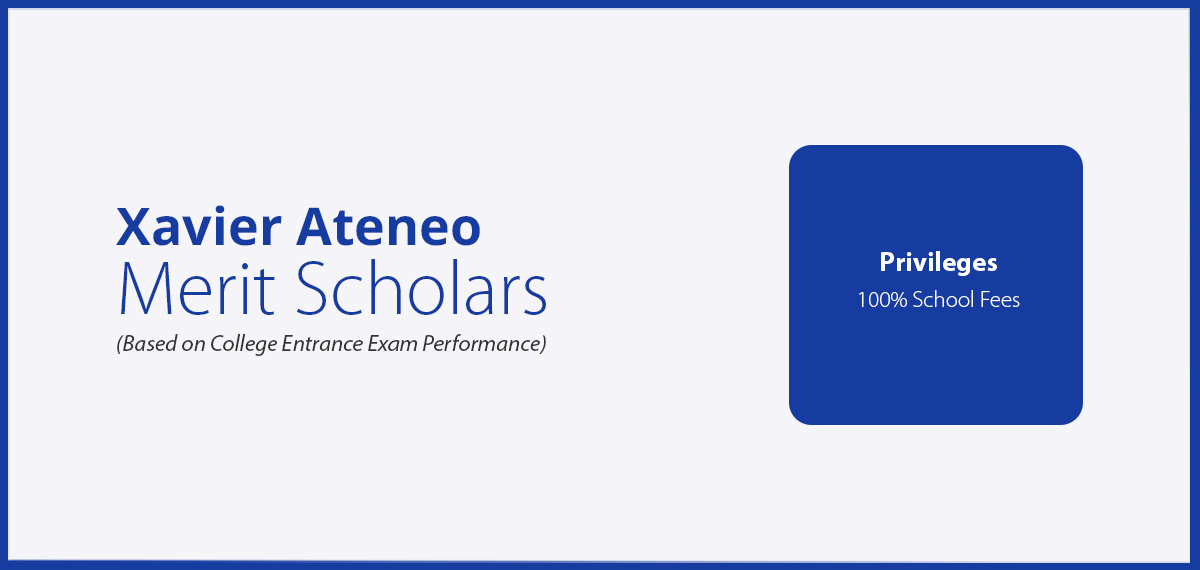 | | |
| --- | --- |
| Name | School |
| DECORION, JULIANA LAETECIA S. | Xavier University Senior High School |
| DELA CRUZ, LOUISE ANTOINETTE C. | Xavier University Senior High School |
| ESTIMOS, GEM KEVIN S. | Philippine Science High School Caraga Region Campus |
| FLORES, ELAIZA MAY | Xavier University Senior High School |
| FRANCISCO, KATE LOUISE P. | Xavier University Senior High School |
| IBALE, BRIAN MATHEW B. | Xavier University Senior High School |
| JAVIER, SEAN GABRIEL | Xavier University Senior High School |
| LAGURA, MARCO EENZO DOMINIC T. | Ateneo de Davao University Senior High School |
| MANABILANG, JOMAR G. | Xavier University Senior High School |
| MARAGUINOT, JAN CODY D. | Gusa Regional Science High School - X |
| NALUAL, JECRIS II D. | Gusa Regional Science High School - X |
| PALARCA, LUIS ANDRE O. | Xavier University Senior High School |
| PELLETERO, GABRIELLE C. | La Salle Academy |
| SAAVEDRA, HAILIE | Philippine Science High School-Central Mindanao Campus |
| TAN, FREYA NESAR G. | Bukidnon National High School |
| TUBAL, PHILIP ANTONN P. | Misamis Oriental Institute of Science & Technology |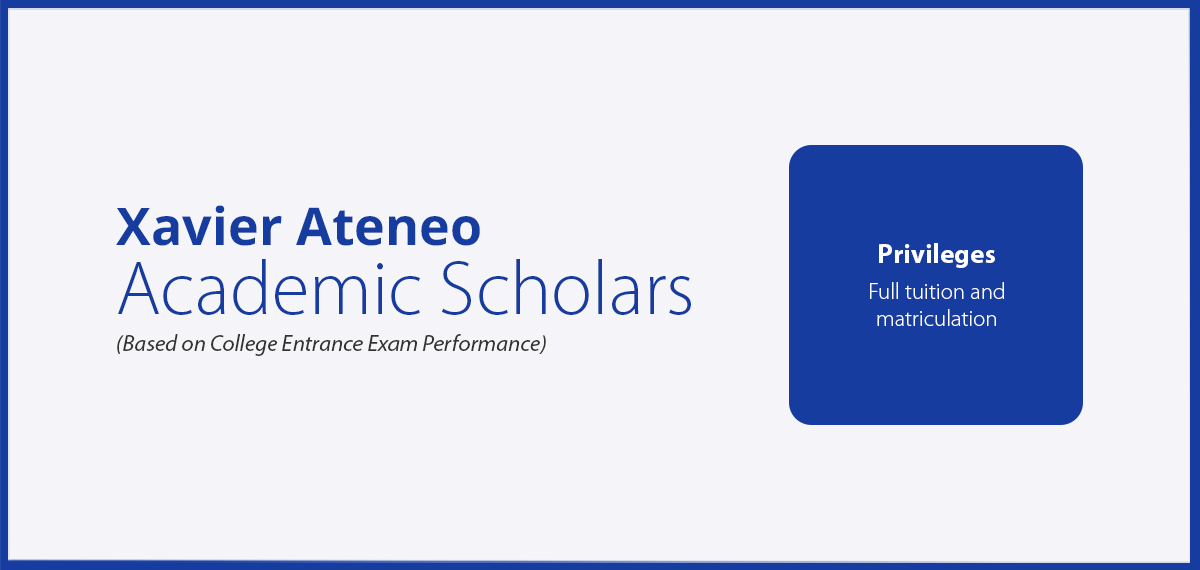 | | |
| --- | --- |
| Name | School |
| ABASOLA, GLENN NEHEMMIAH I. | Xavier University Senior High School |
| ABIOG, MIGUEL JOAKIM M. | Xavier University Senior High School |
| ALAYA-AY, MAWIN KANE M. | Central Mindanao University |
| AL-ZAHRANI, HAMOOD M. | Lourdes College Cagayan de Oro City |
| AMANSEC, JOHNWEL KYLE C. | Xavier University Senior High School |
| BASALLO, CLAIRE LOUISSE L. | Xavier University Senior High School |
| CAANGAY, ROEJULE PAUL D. | University of Science and Technology of Southern Philippines |
| CABALLO, ALLISON MAE M. | Xavier University Senior High School |
| CABANES, GWYN M. | Xavier University Senior High School |
| CABATO, ANNABELLA LYRIE | Philippine Science High School - SOCCSKSARGEN Region Campus |
| CAHARIAN, ELGAR JAMES L. | Xavier University Senior High School |
| CAPAO, KASSANDRA FAYE N. | Xavier University Senior High School |
| CELOCIA, FELICITY EM C. | Liceo de Cagayan University - Main Campus |
| CLEMENCIO, MITCH ANGELYN A. | Xavier University Senior High School |
| COMALING, MONICA ALTHEA N. | Philippine Science High School- Central Mindanao Campus |
| DAAMO, REINSIE LOUISZ E. | Xavier University Senior High School |
| DANGGA, GIULIANA MIKAELA N. | Xavier University Senior High School |
| DARAPA, MOHAMMAD KHOMAINE JR B. | Corpus Christi School |
| DAYATA, ALDRIN JERICHO A. | Xavier University Senior High School |
| DY, XI MING J. | La Salle Academy |
| FLORES, JEWEL A. | Xavier University Senior High School |
| GUINANAO, RICOFEL GABRIEL V. | Xavier University Senior High School |
| IGNACIO, MIKAELA SOFIA M. | Xavier University Senior High School |
| LIBAGO, ANYA LINRE G. | Xavier University Senior High School |
| LLUSALA, BRADLEY V. | Xavier University Senior High School |
| MACAPUNDAG, RICO OMAR B. | Central Mindanao University Senior High School |
| MAGAS, VIC DANIELLE T. | Initao National Comprehensive High School |
| MAÑUS, ADRIAN DANIEL T. | Xavier University Senior High School |
| MAQUITED, LORRAINE KAYE G. | Pagadian City Science High School |
| PABUA, ELVIN SEAN F. | Philippine Science High School - Central Mindanao Campus |
| PACTURAN, FRANCHESKA LORRAINE B. | Oro Christian Grace School |
| POJAS, DESIREE KLER G. | Gusa Regional Science High School - X |
| SALAINTO, HAILODEN J. | Mindanao State University - Marawi Senior High School |
| SUMALINOG, ALTHEA JESTHAN M. | Lourdes College |
| TABUNAN, DALE MIGUEL U. | Xavier University Senior High School |
| TUÑACAO, EOJJANN S. | Mindanao State University - Buug Campus |
| VALLEDOR, JASON ANTONI C. | Xavier University Senior High School |