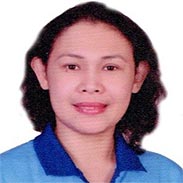 MA ESTRELLA LUZ R PEÑALOZA
This email address is being protected from spambots. You need JavaScript enabled to view it.
+63-88-853-9800 local 9354
Rank: Lecturer Instructor (Part-time)
Educational Background:
Master of Arts in International Development (with specialization in Economic Development Management and Policy, Rural and Regional Development), Nagoya University Graduate School of International Development, Japan.

Thesis: Tourism Characteristics of Island Tourism Economies towards Sustainable Development: The case of Camiguin Island, Philippines

Bachelor of Arts in Economics (Cum Laude), University of San Carlos.
Professional Experience:
Senior Economic Development Specialist, National Economic and Development Authority Regional Office 10, February 2004-Present
Faculty, Department of Economics, Xavier University, 2016-Present.
Professional Membership:

Member, Philippine Institute of Environmental Planners
Courses Taught:
Macroeconomics, Economics of Development, Project Development, Project Evaluation, International Economics.