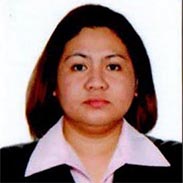 MICHELLE B ABARCA
This email address is being protected from spambots. You need JavaScript enabled to view it.
+63-88-853-9800 local 9354
Rank: Lecturer Assistant Instructor (Part-time)
Educational Background:
Master of Arts (major in Economics with specialization on Econometrics), Universita' Di Bologna, Italy.
Bachelor of Arts in Economics (Cum Laude), Xavier University-Ateneo de Cagayan.
Professional Experience:
Analytics Head of Plantation, Del Monte Philippines Inc., 2013-Present.
Faculty, Department of Economics, Xavier University, 2011-Present.
Courses Taught:
Microeconomics, Mathematical Economics, Econometrics.