As an institutional response to the call for assistance to Typhoon Odette-affected in Dinagat Islands and Surigao del Norte, Xavier Ateneo launched #XUTabangOdette relief operations before the Christmas break, with the Social Development Office as team-lead of the crisis mission and with University President Fr Mars P Tan, SJ as Chief of Mission. #XUTabangOdette is a three-pronged initiative: Relief Operations, Fund Drive, and Early Recovery Operations.
Following the positive response of the community on the call for donations, the XU team composed of Nestor Banuag Jr - Lead/SSIAP, Gail de la Rita - VPSD Office, Andre Robert Daba – CSG, Janet Ibale - Psychology Dept, Gemma Panal - College of Nursing, Joel Eroisa and Joseph Acebedo - XU Drivers, left for Dinagat Islands last December 26-29 for initial coordination meetings with Dinagat Islands Provincial LGU and Social Action Center Director of the Diocese of Surigao.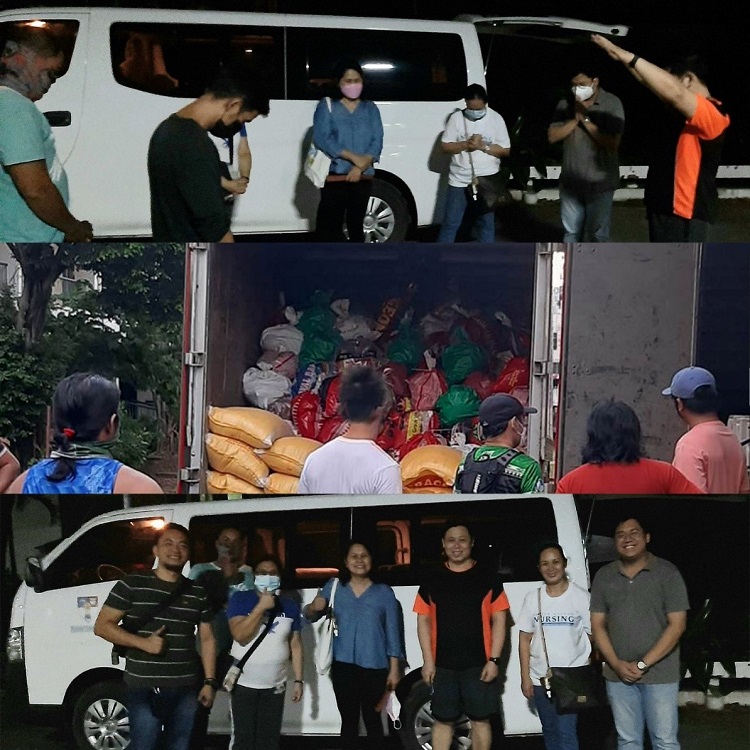 26 December- Loading of relief goods and a brief send off with Fr Mars P Tan, SJ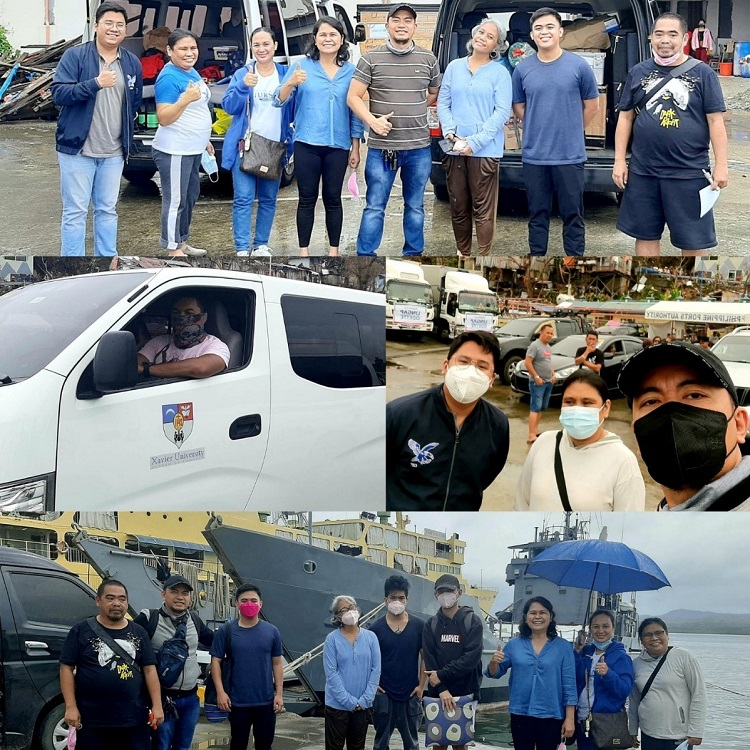 27 December -Arrival at Eva Macapagal Port at Surigao City for the scheduled trip to Dinagat Islands
The team was met and welcomed at the Surigao port by Mr Josel Gonzales, an XU alumnus and who now serves as the Chief of Staff of Governor Arlene "Kaka" Bag-ao of the Province of Dinagat Islands. He conducted an informal initial briefing and orientation on the state of the Province as they travelled to Dinagat via a Philippine Navy vessel. From a distance at the boat, the team saw for themselves the panoramic view of Dinagat battered by Typhoon Odette.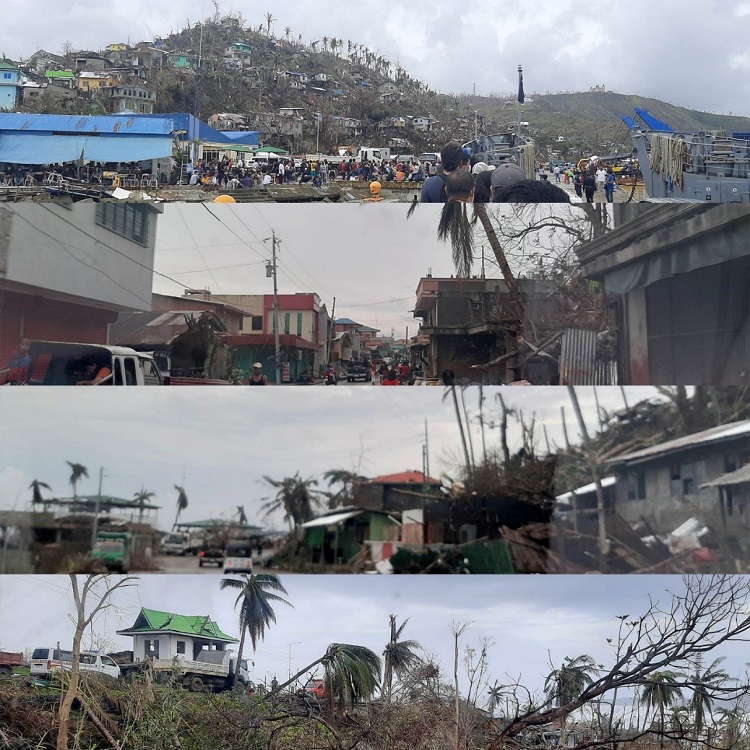 Photos of Dinagat Islands after Typhoon Odette
The XU Team joined the disaster response briefing session conducted by Governor Kaka Bag-ao and her team with various UN agencies, INGOs, LGUs and NGOs at the Provincial Disaster Risk Reduction and Management Office (PDRRMO) at San Jose, Dinagat Islands. The briefing provided the team with the updated status of the province and the needs and short-term plans under the #BayanihanDinagat operations.
Gov Bag-ao expressed her gratitude for the presence of the external stakeholders stating that their presence gives them sustained encouragement to continue rebuilding and becoming resilient.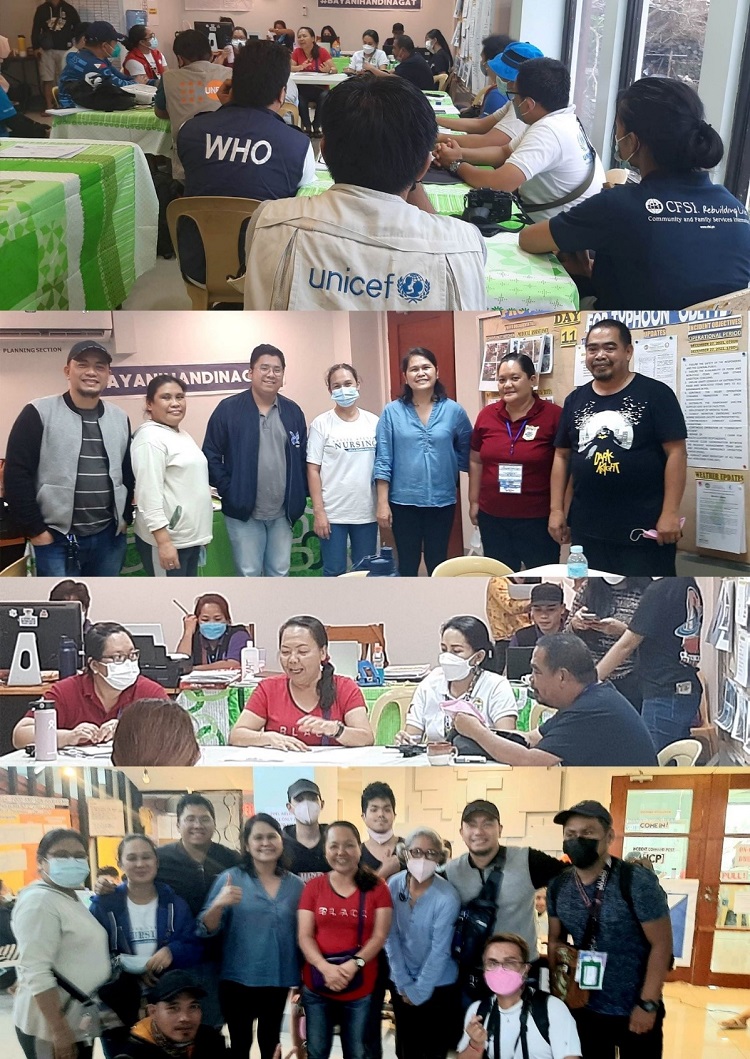 Photo Op with Governor Kaka Bag-ao and her team at the PDRRMO at San Jose, Dinagat Islands after the briefing.
Relief goods from XU arrived in Surigao City on December 27 at around 3:00 PM and were transported to Dinagat Islands for appropriation to the survivors. The first wave of relief goods (25 Sacks of rice, 100 Bottles of 10-liter Drinking Water, 600 Cans of Sardines) were transported to Surigao for Dinagat in coordination with the Archdiocese of Cagayan de Oro and Balaod Mindanaw.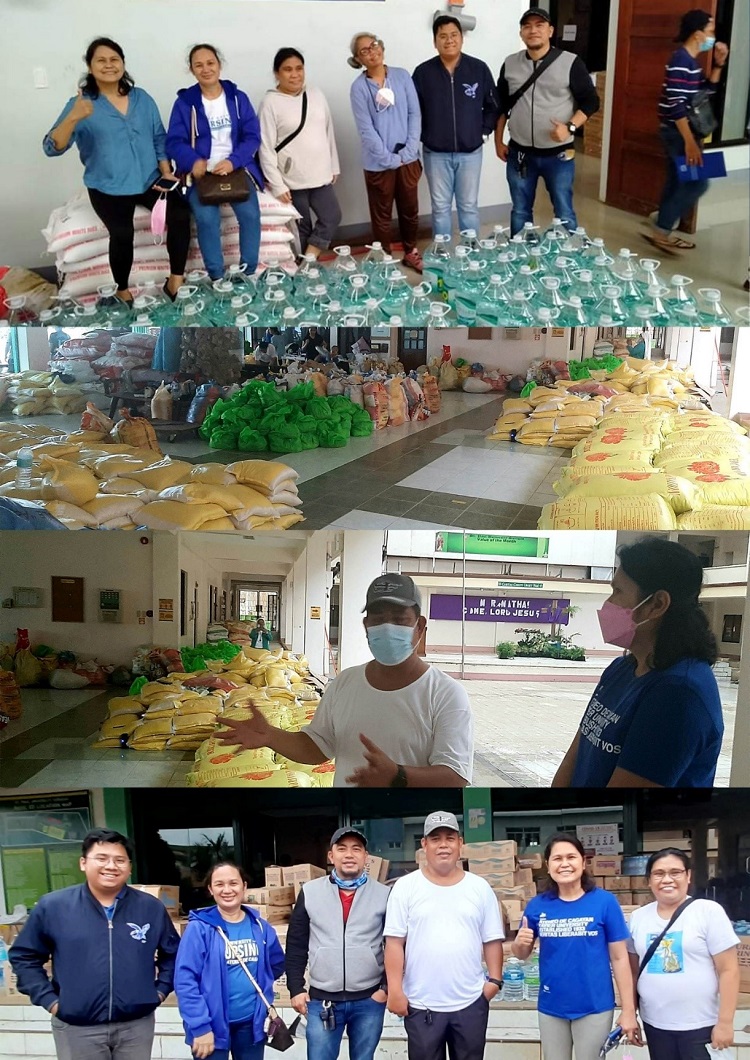 Relief goods from XU were stored at and distributed by the PDRRMO
The team left Dinagat Islands on December 28 for another coordination meeting with Fr Denish Ilogon, DCS, the Social Action Director of the Diocese of Surigao to explore how else XU can help in the relief and recovery operations for Surigao del Norte.
As SAC Director, Fr Denish established the relief operations of the Diocese at the campus of St Paul University (SPU) in Surigao City, in partnership with the St Paul de Chartres sisters. Various donors primarily of rice and bottled drinking water fill the SPU lobby and corridors, ready for dispatch to affected parishes in Dinagat Islands, Siargao Island, and Surigao mainland.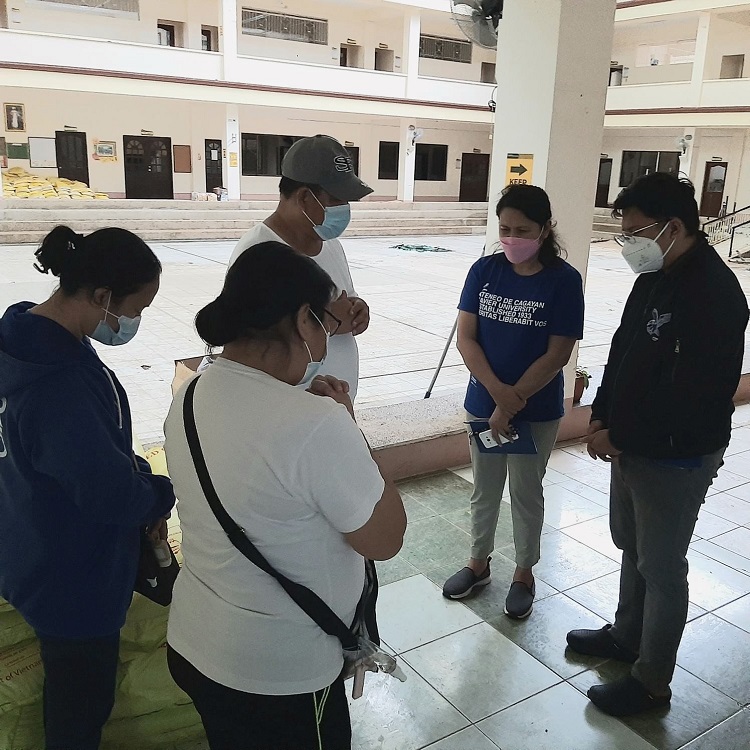 Fr Denish sends off the XU team with a prayer before leaving for CDO at 4:00 PM on Dec 28. The team arrived safely in CDO at 2:00 AM the next day, December 29
The team will meet with Fr Mars and Roel Ravanera, VP of the Social Development Cluster for for feedback giving and planning on how to proceed as one XU through our #XUTabangOdette Operations.
The call for cash and in-kind donations continues for both Dinagat Islands and Surigao City. Preferred goods are rice, bottled drinking water, and easy to open canned goods. Drop off point for in-kind goods is at XU main gate at the Corrales campus and will be manned 24 hours a day.
XU's Board of Trustees and Fr Mars made special calls to assist Dinagat Island sand Surigao del Norte, which are part of Mindanao being served by the Mindanao Consortium of Ateneos, among others.