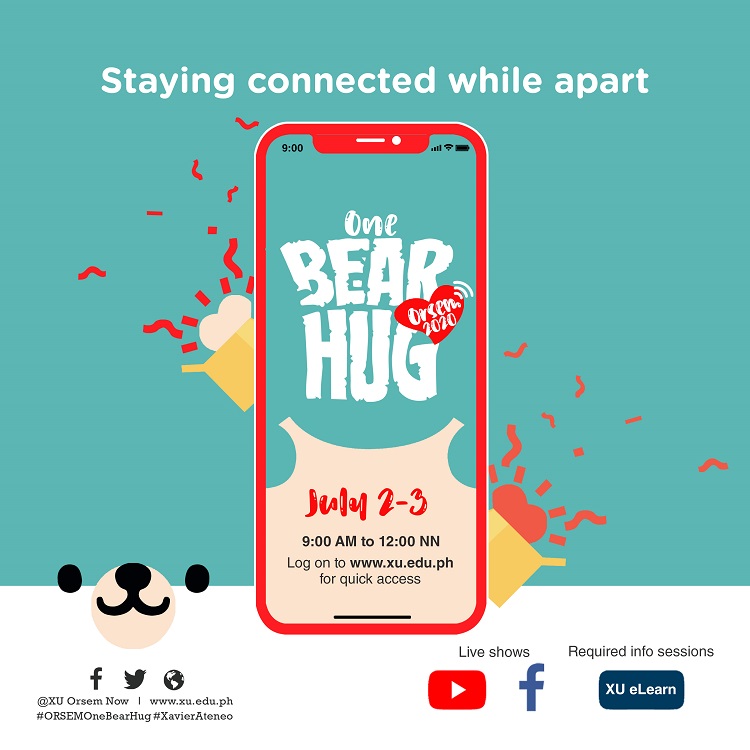 Xavier Ateneo ushers in the school year with the annual ORSEM on July 2-3, 2020 through online platforms. The celebration begins with a Mass at 8:00 AM at the University Church, with live streaming via Facebook.
New students can still expect a great line-up of activities such as the online talk show which will talk about some expectations for the school year, live info sessions which will tackle the salient points of the flexible learning, and an online talent expo which will feature performances of the upperclassmen from their homes.
Upperclassmen and alumni may participate in the activities via live streaming on Facebook and Youtube @XU Orsem Now and @Xavier Ateneo. Freshmen need to log-in to their eLearn accounts for the live info sessions at 9:00 am to 12:00 nn on July 2 and at 9:00 am to 12:40 pm on July 3.
Joining the Office of Student Affairs in spearheading this year's ORSEM are the Development Communication Department, Development Communication Society, Campus Ministries Office, University Chaplain's Office, Guidance and Counseling Office, Computing Information and Services Office, and the Central Student Government.
ORSEM 2020: One Bear Hug calls on everyone to stick together no matter what distance separates us. During this time of pandemic, we work even more as a family to show love, care, and compassion to students. Our love for students grows strong deep in our hearts no matter how times may get rough. And no matter how times may get tough, Xavier Ateneo will always be here to guide students and to journey with them.
During this time when we must stay apart, it's more important than ever that we stay close at heart. ONE BEAR HUG!
For more information on ORSEM, log-on to www.xu.edu.ph of follow us on Facebook and Twitter @XU ORSEM Now.