Xavier University Festival Days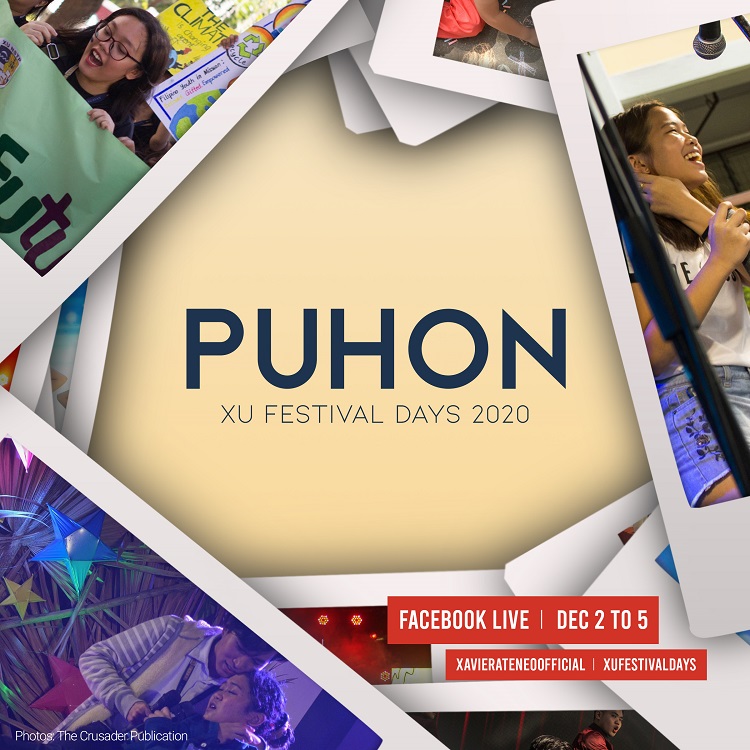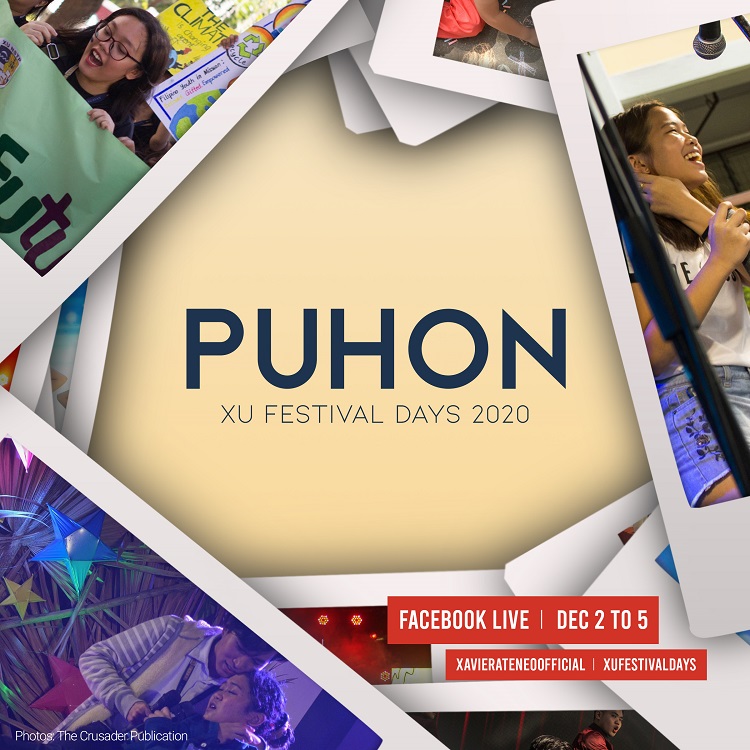 XUFD 2020: Puhon
by Alessandro Kennz Nioda
For years and decades, folks from within the Xavier University community and beyond have taken in the annual Festival Days. Booths, parallel events, and gimmicks, for people of all ages and backgrounds, surrounded by music and lights: these have been parts and parcel of what it means to honor the feast day of St. Francis Xavier, the patron saint of the University, and of how Xavier Ateneo's way to celebrate is of cultural significance among Kagay-anons.
In recent years, 2015 has hailed the University as "Our Common Home," while 2016 has considered it as the place to "Experience Excellence," the latter of which has been echoed in the 2017 slogan "Explore, Excel, Experience." By 2018, Xavier Ateneo celebrated its 85th year, placing importance on "Weaving [Its] Story" since 1933, the year of establishment, whereas in 2019, the same story was told, this time by the lenses of generations that have come and gone from its guidance and formation—simply put, "XU is You!" These themes have been felt without fail in the physical spaces of the Main Campus, shared among thousands, under one festive consciousness.
This year, from December 2–5, XUFD 2020 will focus on puhon, a word from Binisaya, the predominant language of Cagayan de Oro. As explained in the event's Facebook page, "[the word] gives a reassuring feeling that things will happen in God's perfect time." When one uses "puhon," they entrust everything to Him. Similarly, the emphasis of the word by Xavier Ateneo is all about its fate being under His mercy. The theme highlights the University's ever-dependent faith on God's word and will, and promotes to everyone that "we can only trust for [His] love to fill us and hope to feel the bliss again."
For health and safety reasons, XUFD 2020 will not be held on campus but will instead be online. In addition, and in the spirit of generosity, the event will be mainly about generating funds to support the flexible learning needs of the XU students and for the University's Tabang Luzon efforts, while putting out online programs that people should watch out for and gimmicks that they can participate in. Through the fundraising initiative, collaborative efforts are expected, and encouraged for the benefactors, as a way for them to gain back their normalcy (or, rather, to gain something that is even better than normal). As for the online programs and gimmicks, all will be revealed in the following days on XUFD's social media pages, especially its Facebook page (https://www.facebook.com/XUFestivalDays).
In spite of things beyond control, the life and essence of the XU Festival Days will remain shared this 2020 among thousands and thousands more, under one hopeful consciousness: the consciousness of puhon.
Details

Hits: 1777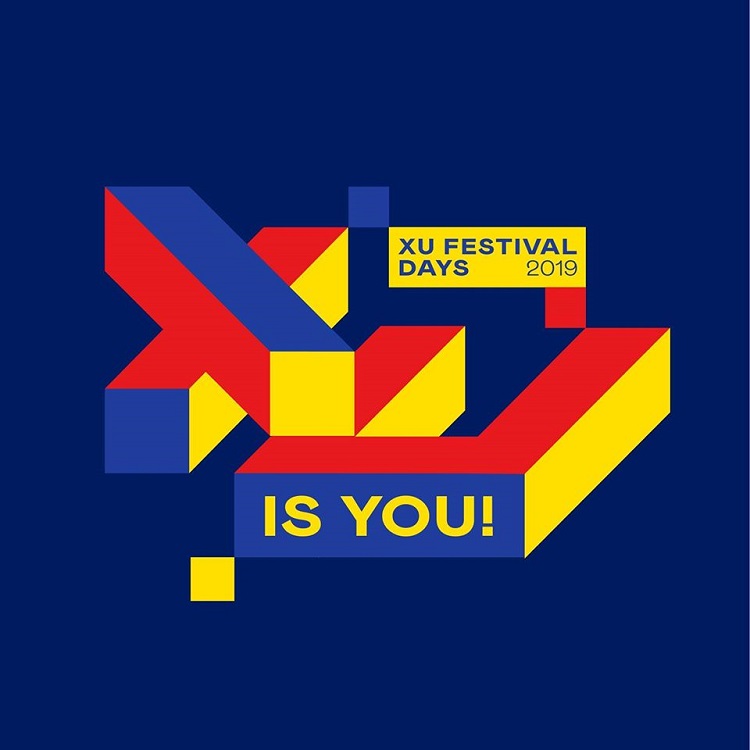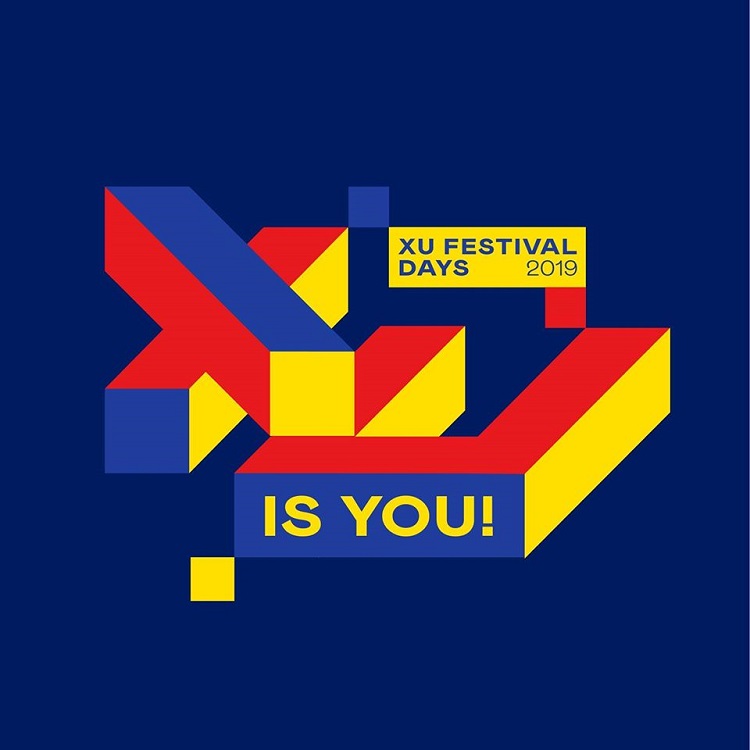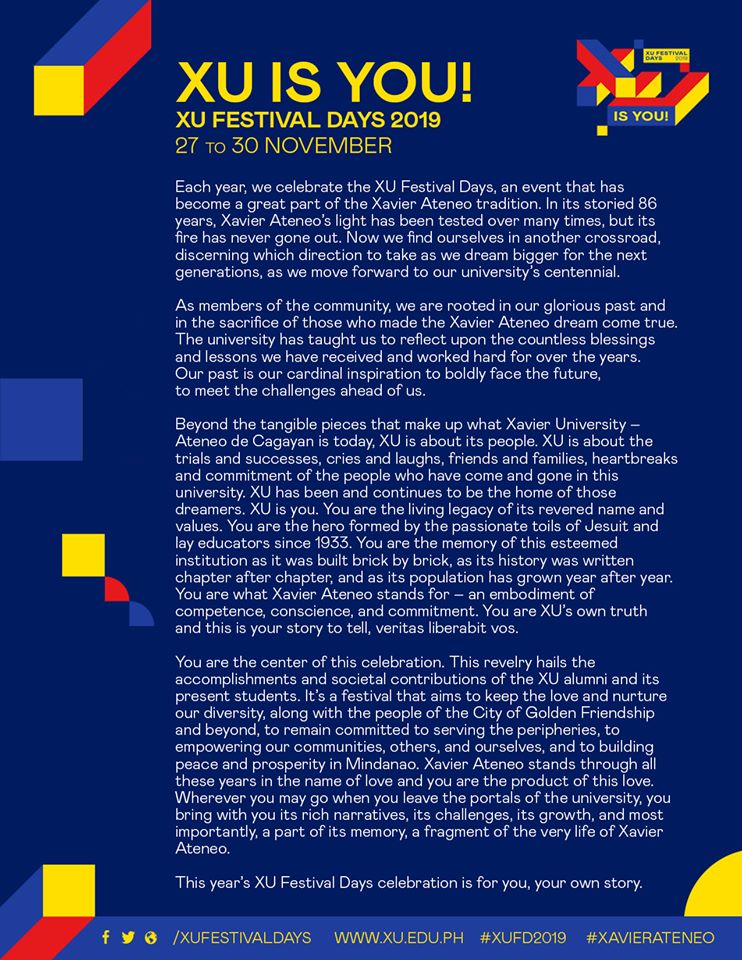 This year, YOU are the center of our celebration.
Xavier Ateneo stands through all these years in the name of love and you are the product of this love. Wherever you may go when you leave the portals of the university, you bring with you its rich narratives, its challenges, its growth, and most importantly, a part of its memory, a fragment of the very life of Xavier Ateneo.
This year's XU Festival Days celebration is for you, your own story.
Read on for the full write-up about this year's XUFD theme, XU is YOU!
See you this November 27-30!
#XUFD2019 #XavierAteneo #XUisYOU
Details

Hits: 5114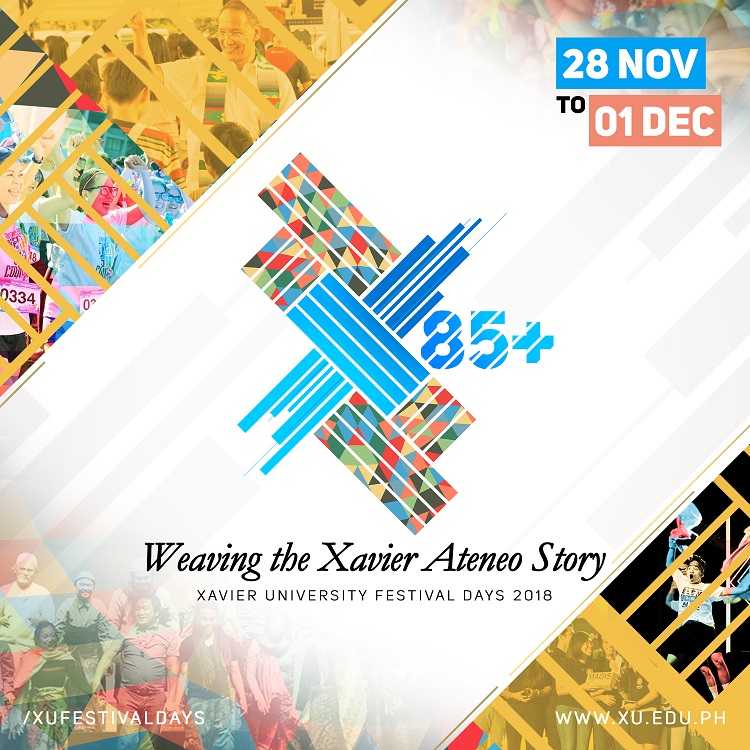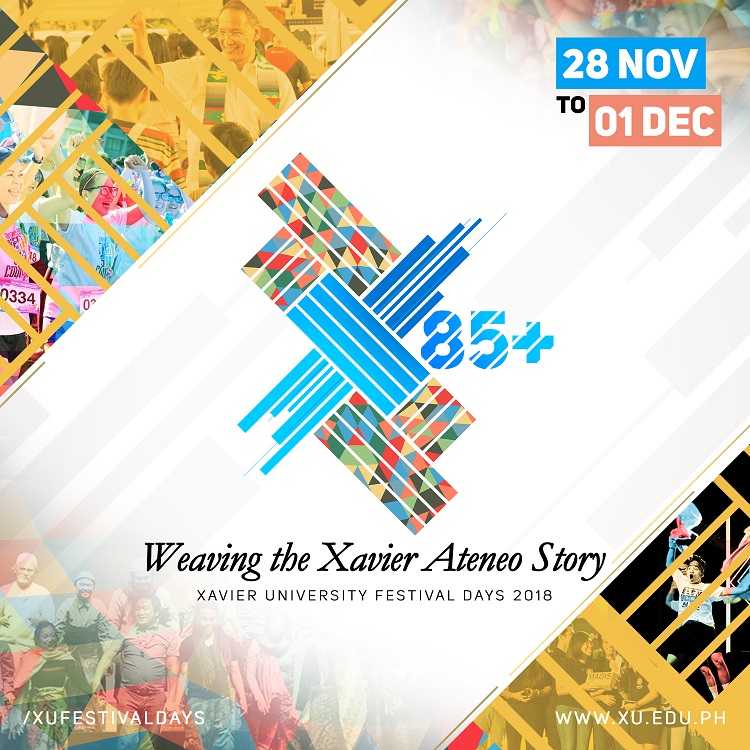 X85+: Weaving The Xavier Ateneo Story
It all started with a dream 85 years ago. The dream remains an open book up to today, packed
with characters, plot twists, arcs, settings, and lessons. From its modest beginning in 1933 to
becoming a leading ASEAN university, the story of Xavier University – Ateneo de Cagayan
proves to be as enduring as it takes on the greater heights.
GRATITUDE
Gratitude makes us accept the lessons of our past, brings joy to our present, and forms a vision
for the future. Gratitude has become a formidable force and catalyst for happiness in the
narratives of every Xavier Atenean. Gratitude is the completion of thankfulness after surpassing
the academic rigors, rising from our shortcomings, serving others with a genuine heart, and
learning from our experiences. The university has taught us to reflect upon the blessings we
have received and worked hard for. At times, in its storied 85 years, Xavier Ateneo's light has
been tested, but it has never gone out. The university has become our common home, chapter
after chapter, and in this story, Xavier Ateneo has shown us the power of generosity to break
barriers and establish unity amid differences, and the power of faith to transcend ourselves
during junctures of doubts. Gratitude is the center of life celebrations.
SERVICE
Love serves as the foundation of our dream — our love for knowledge, for wisdom, for service,
for diversity, and the love that continues to inspire us. Many love stories were created under the
wings of Xavier Ateneo. These love stories have built families; brought about change for the
best of the communities, particularly those in the peripheries; and enkindled our spirits to strive
for magis — of doing every undertaking with depth and purpose. We celebrate the love that
keeps us passionate to serve, to connect, and the love that keeps us strong and inspired
through storms and wars. Xavier Ateneo stands through all these years in the name of love.
HOPE
The Xavier Ateneo Story is intricately connected with the progress of Cagayan de Oro City and
the greater society. The university's vast resources of expertise have helped shaped the destiny
of the City of Golden Friendship. CDO and XU have grown side by side for over many decades
now. XU's alumni continue to lead in different fields and contribute to sustainable
development. Xavier Ateneo is a "project of social transformation" in line with this year's theme
of the International Association of Jesuit Universities (IAJU). As a precursor of social
transformation, we "seek wisdom and aim at universal citizenship." We participate in rendering
quality education, forming civic and servant leaders, advancing an integrated economic and
environmental justice approach, and promoting interfaith and intercultural dialogue to build
peace and prosperity.
* * *
Xavier University – Ateneo de Cagayan invites us all to revel in the biggest and longest festival
in Cagayan de Oro City to celebrate gratitude, service, and hope — weaved together as THE
XAVIER ATENEO STORY. Experience Gratitude. Experience Service. Experience Hope.
Experience XU Festival Days!
Details

Hits: 4881