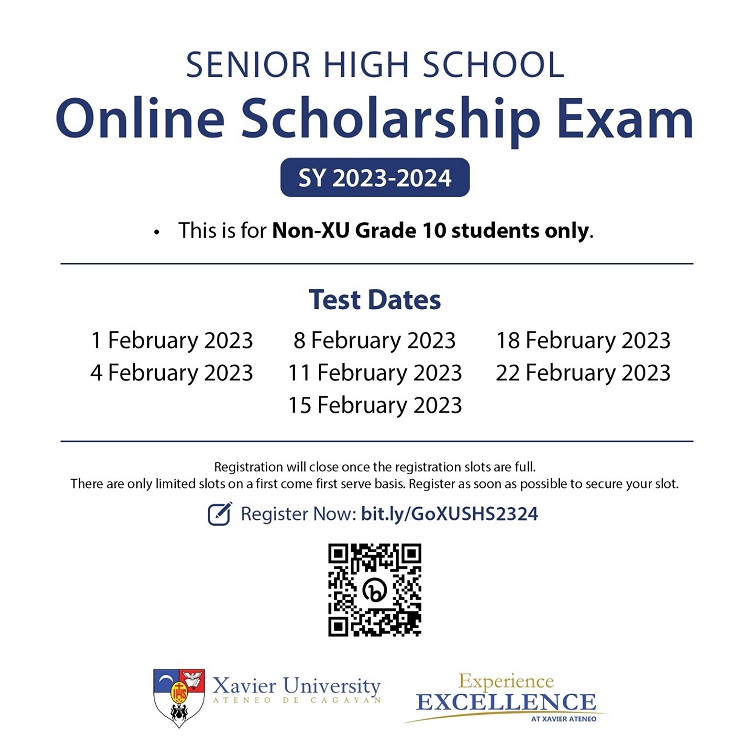 Xavier University Online Scholarship Exam for Senior High School for SY 2023-2024
NOTE: The result of this exam can also be used to apply for admission in the Senior High School.
Who is eligible to take this exam?
> Currently enrolled Grade 10 students who are Incoming Grade 11
>Grade 10 Completers in SY 2022-2023 who have not enrolled in any Senior High School
> Non-XU students
Registration Process:
1. Choose a preferred online scholarship exam date.
There are seven (7) online scholarship examination dates, but we can only accommodate up to 200 examinees each time. Please choose one preferred date from the following: February 1, 4, 8, 11, 15, 18 & 22, 2023.
2. Pay the exam fee.
Applicants can pay the 170 pesos exam fee either through the:
XU Finance Office

. Pay at the XU Main Campus Finance Office during business hours, Mondays to Fridays. (The dress code and IATF protocols need to be observed for campus access).

Bank.

Bank payment can be Over the Counter or through Online Fund Transfer to the University account at the Bank of the Philippine Islands (BPI)

Account Name: Xavier University
Account No. BPI 9330-0016-55,
Note: Payment through the bank will still be verified (in 2-3 days).
* The testing fee is NON-REFUNDABLE.

3. Prepare a scanned copy of the following exam registration requirements:
a. Deposit slip or proof of payment (please write your complete name on the receipt)
b. 1x1 recent photo (with white background)
c. Student school ID (back-to-back) or report card with 1x1 photo or scanned copy of a Certification of Enrolment from the School Principal with 1x1 photo.
4. Register for online testing. Click at https://bit.ly/GoXUSHS2324 for the online registration form, and follow the steps.
Please take note that after you have successfully uploaded your Proof of Payment and other documents and have submitted your Registration Form, XU Finance Office will verify and process your payment within 2-3 working days. Please ensure also that your complete name is indicated in the receipt. NO INDICATED COMPLETE NAME ON THE RECEIPT, NO PROCESSING/CLEARING OF PAYMENT
5. Once your registration application has been approved, wait for an email from the SHS Testing Admissions & Scholarship Office (TASO) containing your Permit-to-Exam(processing may take 7-10 working days, excluding weekends and holidays).
Further details about the exam will be indicated in the Permit-to-Exam.