Responding to the Marawi Crisis
On Tuesday, May 23, bloody clashes between the extremist Maute Group and the Armed Forces of the Philippines jolted the capital of the province of Lanao del Sur — Marawi City — leaving in its wake curtailment of lives, destruction of public and private establishments, and displacement of thousands of civilians.
These challenging circumstances have called for our synergy, unity, and compassion to which Xavier University – Ateneo de Cagayan responded with the #TabangMarawi relief operation, involving her community members as organizers and volunteers.
Xavier Ateneo's Social Development Office and XU Central Student Government are manning the relief operation at the XU Peace Park. Your donations, however big or small, will come a long way.
The donation drive accepts the following relief goods for our brothers and sisters in Marawi City:
Halal food (canned or packed)

Donors are encouraged to give Halal food, which includes beef, fish, and chicken.

For hygiene

Toothbrush
Toothpaste
Soap
Shampoo
Sanitary napkins
Towels and tissue papers
Buckets and dippers
Sanitizers (alcohol)

Clothing and household needs

Shirts, pants, and underwears
Malong or blankets
Hijabs and taqiyah
Mats and pillows
Mosquito nets
Fans

Medicines and vitamins
Drop-off center: Social Development Office, Room A103, Ground Floor, Agriculture Building, XU Main Campus, Corrales Avenue, Cagayan de Oro City, 9000
Contact number: 853-9800 local 9160
For cash donations, you may deposit them at BPI
Account Name: Xavier University
Account No: 9331013363
Email the scanned copy of your deposit slip to This email address is being protected from spambots. You need JavaScript enabled to view it..
#TabangMarawi on Social Media Channels
Xavier Ateneo Official
XU Social Development Office
XU Central Student Government
The Crusader Publication
I Am Mindanao Campaign
Further readings
Philippine Provincial of the Jesuits: A message on the recent violence in Marawi and the imposition of Martial Law
Ateneo presidents on Marawi and Martial Law
Endorsement of Open Letter to Senators on Death Penalty
Jesuit leader says martial law 'fraught with danger'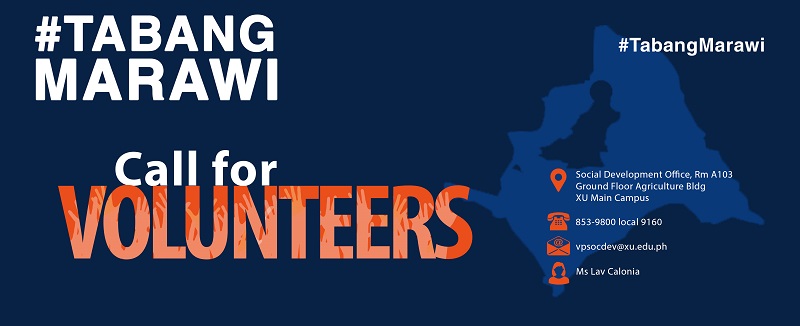 For those who are interested to volunteer, kindly contact the person mentioned on the poster above or visit the #TabangMarawi relief operation headquater at the Xavier Ateneo Peace Park. Thank you.