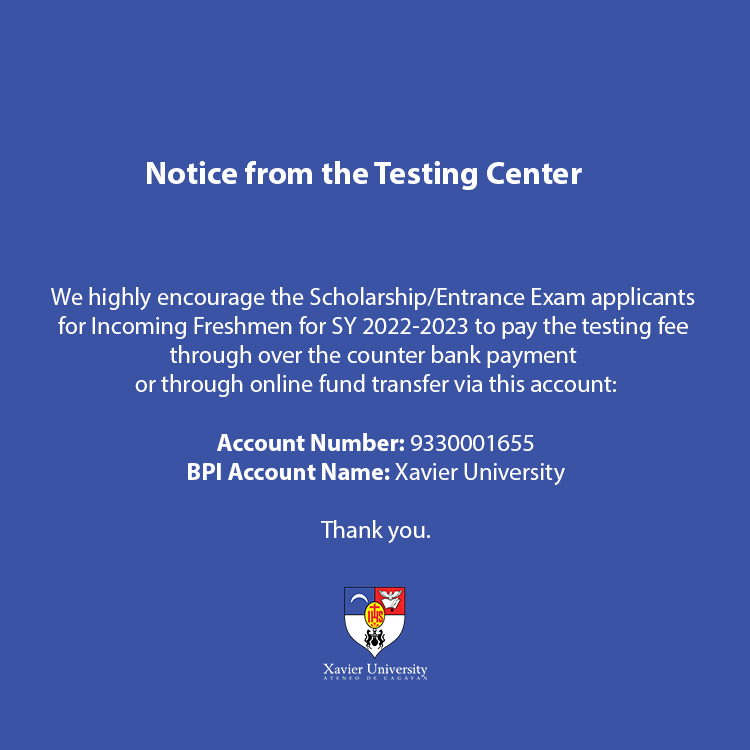 Xavier University Online Scholarship/Entrance Exam for Incoming Freshman for SY 2022-2023

Interested graduating SHS Grade 12 applicants may take the XU Online College Scholarship/Entrance Exam for SY 2022-2023.
1. Pay the amount of170 pesos as exam fee through two options:
Pay at the XU Main campus Finance Office during business hours, Mondays to Fridays (dress code and protocols need to be observed for campus access. This may change depending on the IATF guidelines and/or University Finance Office Advisory).

For bank payment, you may pay over the counter or through online fund transfer via either of these accounts:
Account No. BPI 9330-0016-55
BPI Account Name: Xavier University
Please take note that after you have successfully uploaded your Proof of Payment and submitted your Registration Form, XU Finance Office will verify and process your payment within 2-3 working days. Please ensure also that your complete name is indicated in your receipt and payment was made via Bills Payment.
2. Prepare the following:
Scanned copy of deposit slip or proof of payment (please write your complete name on the receipt)
Scanned copy of recent photo (with white background)
Scanned copy of valid school ID (back to back) or scanned copy of a Certificate of Enrolment from the School Principal with student's photo.
3. Fill out the registration form through this link https://forms.gle/8ZerrhFrCG1VfNej8
4. Once your registration application has been approved, wait for an email containing your Permit-to-Exam(processing may take 7-10 working days, excluding weekends and holidays).
5. Attend the virtual exam orientation.
6. Take the exam.
a. Prepare your Permit-to-Exam.
b. Prepare your exam environment and devices.
c. Prepare yourself for the exam. Sleep early the night before your exam schedule. Set the alarm for your wake-up time. Take a good meal before the start of your exam.
d. Set yourself up at least 30 minutes before the exam time.
e. Pray
f. At exam time, click on the Google Meet link provided for you. Meet the Proctor and follow preliminary steps. Your proctor will provide the link to your exam.
g. Take the exam.
7. View your score.
Exam results may be viewed on 8 April 2022. Please check on the link provided to you by the University Testing Center and your Permit-to-Exam for the detailed instructions on how you can view your score.