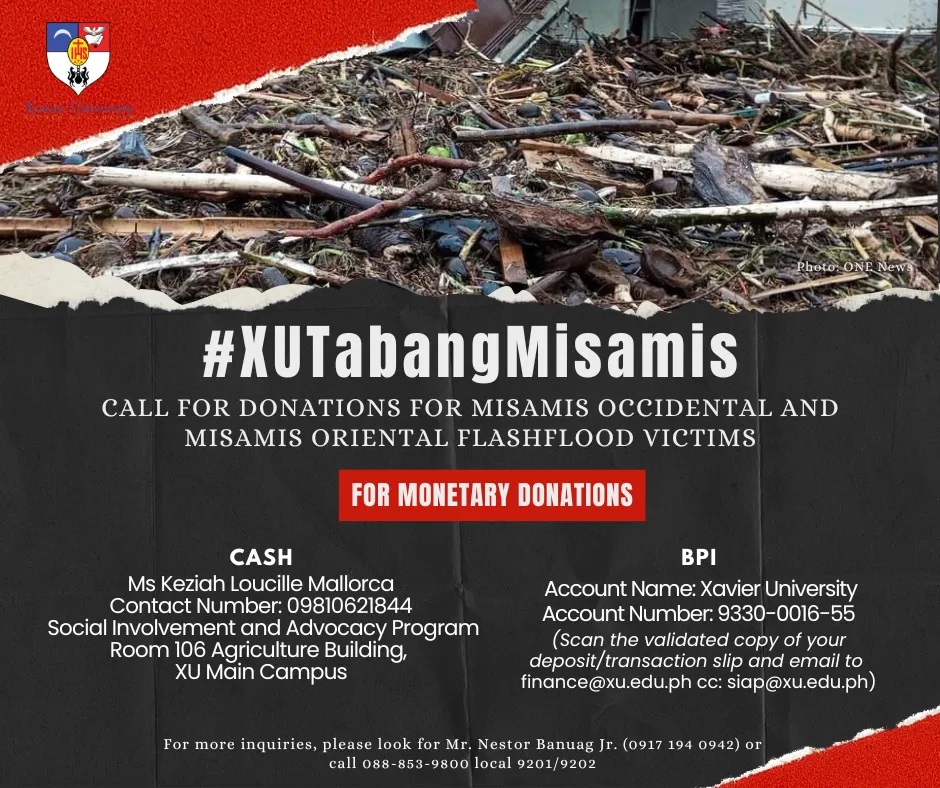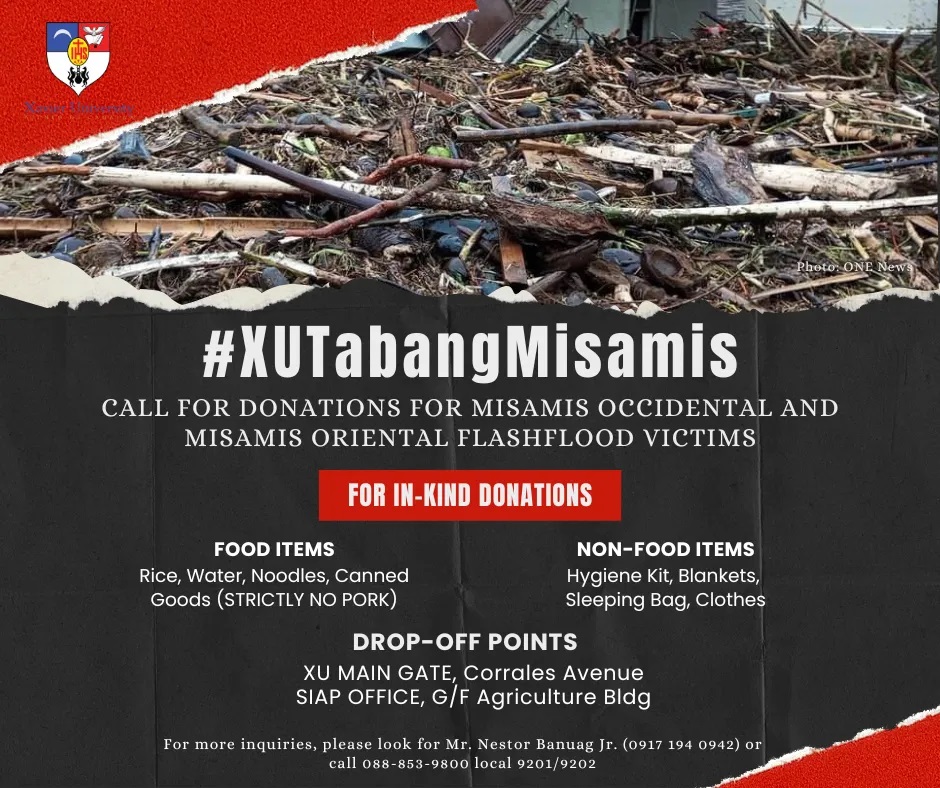 CALL FOR HELP!
Xavier University - Ateneo de Cagayan, through the Social Involvement and Advocacy Program (SIAP) is asking for cash and in-kind donations for our brothers and sisters who are heavily affected due to the recent flash floods and landslides in Misamis Occidental and Misamis Oriental.
For 𝗶𝗻-𝗸𝗶𝗻𝗱 𝗱𝗼𝗻𝗮𝘁𝗶𝗼𝗻𝘀 (food and non-food items), you may drop off your donations at XU Main Gate or SIAP Office, G/F Agriculture Building. Please leave your name for proper acknowledgment and documentation.
For 𝗺𝗼𝗻𝗲𝘁𝗮𝗿𝘆 𝗱𝗼𝗻𝗮𝘁𝗶𝗼𝗻𝘀, you may send them through the following:
𝘾𝘼𝙎𝙃
Name: Ms. Keziah Loucille Mallorca (wil issue acknowledgment receipt)
Contact No.: 0981-062-1844
Location: SIAP Office, A106, G/F Agriculture Building
𝘽𝙋𝙄
Account Name: Xavier University
Account Number: 9330-0016-55
(𝘚𝘤𝘢𝘯 𝘵𝘩𝘦 𝘷𝘢𝘭𝘪𝘥𝘢𝘵𝘦𝘥 𝘤𝘰𝘱𝘺 𝘰𝘧 𝘺𝘰𝘶𝘳 𝘥𝘦𝘱𝘰𝘴𝘪𝘵/𝘵𝘳𝘢𝘯𝘴𝘢𝘤𝘵𝘪𝘰𝘯 𝘴𝘭𝘪𝘱 𝘢𝘯𝘥 𝘦𝘮𝘢𝘪𝘭 𝘵𝘰 𝘧𝘪𝘯𝘢𝘯𝘤𝘦@𝘹𝘶.𝘦𝘥𝘶.𝘱𝘩 𝘤𝘤: 𝘴𝘪𝘢𝘱@𝘹𝘶.𝘦𝘥𝘶.𝘱𝘩)
For more inquiries, please look for Mr. Nestor Banuag Jr. (0917 194 0942) or call 088-853-9800 local 9201/9202.
#XUTabangMisamis
#XavierAteneo
#CallForDonations
#ReliefPH