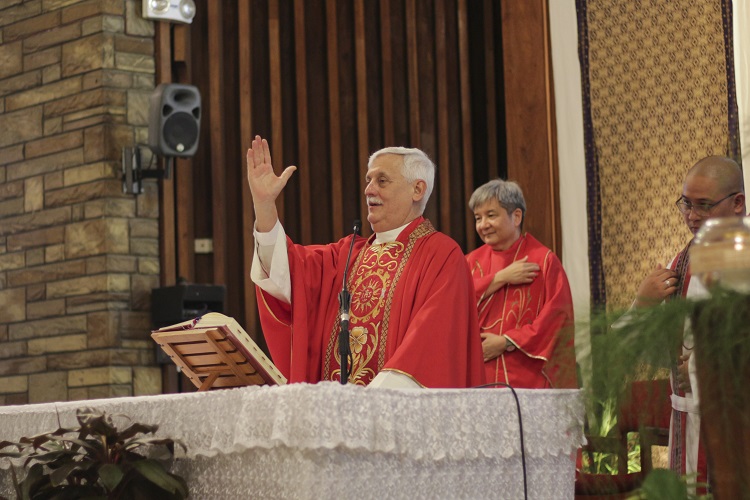 This is the full text of the homily of the Superior General of the Society of Jesus, Fr Arturo Sosa Abascal SJ, during the Holy Eucharist with Mindanao Jesuits and collaborators on the 13th day of December 2018 at the University Church of the Immaculate Conception of the Blessed Virgin Mary at Xavier University - Ateneo de Cagayan.
Recently, I had the privilege of attending the Synod on Young People. During the opening session, Pope Francis gave a wonderful speech, which ended with an unusual, very striking, but very meaningful phrase. He said that our work during the Synod was to "frequentare il futuro." That's very hard to translate into English, but it means something like to "spend time with the future," to "visit the future," to "go often to the future." It means not just seeing the future, but somehow living, experiencing the future already in the present.
I thought of this phrase, "frequentare il futuro," when I reflected on our readings from the Word of God today. Prophets Isaiah and John the Baptist were both people who did not remain imprisoned in the present but frequented, lived in and from the future. In other words, they were men of hope and messengers of hope. During this season of Advent, the prophet Isaiah shares with us a magnificent vision of a future that God is creating. The afflicted and the poor are cared for; the desserts become fertile gardens where life is abounding. And in our Gospel readings these past few days, we have heard the proclamation of John the Baptist, whom Jesus calls a new Elijah, announcing the coming of the promised Savior.
I believe the Word of God is reminding us of our call to be people and messengers of hope in our world, at a time when fear and anger seem to be the strongest emotions of many people. GC 36 was very insistent on this for the Society of Jesus. In Decree One, we find these words: "The Congregations calls the entire Society to a renewal of our apostolic life founded on hope. We need more than ever to bring a message of hope, born of consolation from our encounter with the risen Lord. This renewal focused on hope includes all our diverse apostolates." (Decree 1, No. 32) Here in Mindanao then, we need to become schools and universities of hope, parishes of hope, seminaries of hope. This afternoon, I listened to so many things being done by you to help build up hope in this island. Let me now just share three points that might help you persevere and deepen this mission of hope.
First, I agree very much with Pope Francis when he says that the first enemy of hope is not outside us, but is within us. (General Audience, 20 Sept 2017) There are many voices of hate, fear, discouragement, despair around us. We hear them on the radio, on the TV, on the internet. If we are not careful, the voices outside become voices inside us, feeding the darkness, telling us nothing can change. The response to this has to be constant, deep prayer, nourishing our spirits with the Word of God, listening to the voice of God, which is the voice of hope. I am always struck by how Pope Francis, despite all the challenges and opposition he is experiencing, always remains smiling, positive, and energetic. I am sure this is because he is a man of prayer. In prayer, we realize we are not alone, and we hear what God says through the prophet Isaiah: "Fear not. I will help you."
Second, the way to have hope is to try to build hope for others and with others. "Build" means doing something, no matter how seemingly small, to bring meaning, food, shelter, education, peace, understanding to others, especially those who are excluded and suffering. Those who complain about the present and do nothing to help change it will remain trapped in despair. But, if you build and work with others who are trying to respond positively, who are not simply complainers but are dreamers and builders, even if they belong to different faiths or have no faith, you will infect each other with hope and encourage one another.
Third, learn patience. By patience, I do not mean simply waiting and doing nothing. Patience, in its deepest meaning, is the ability to bear suffering with courage. In our Gospel today, Jesus says something that we all know is true: "From the days of John the Baptist until now, the Kingdom of Heaven suffers violence." When we try to build hope, not everyone will thank us or praise us. Many will criticize or even persecute us. This is part of life, this is the way the Kingdom of God is built: through the cross. There is no other way. What is important for us is to learn how to bear the crosses that will come, with the Lord, without giving up, trusting that the resurrection of our Lord means that, as Pope Francis says beautifully, "no evil is infinite, no night is without end." (General Audience, 4 Oct 2017).
Brothers and sisters, during this beautiful season of Advent, let us ask the Lord for the grace of being men and women who, like Isaiah and John the Baptist, "frequentare il futuro," who live and share the great gift of hope, especially for Mindanao.∎