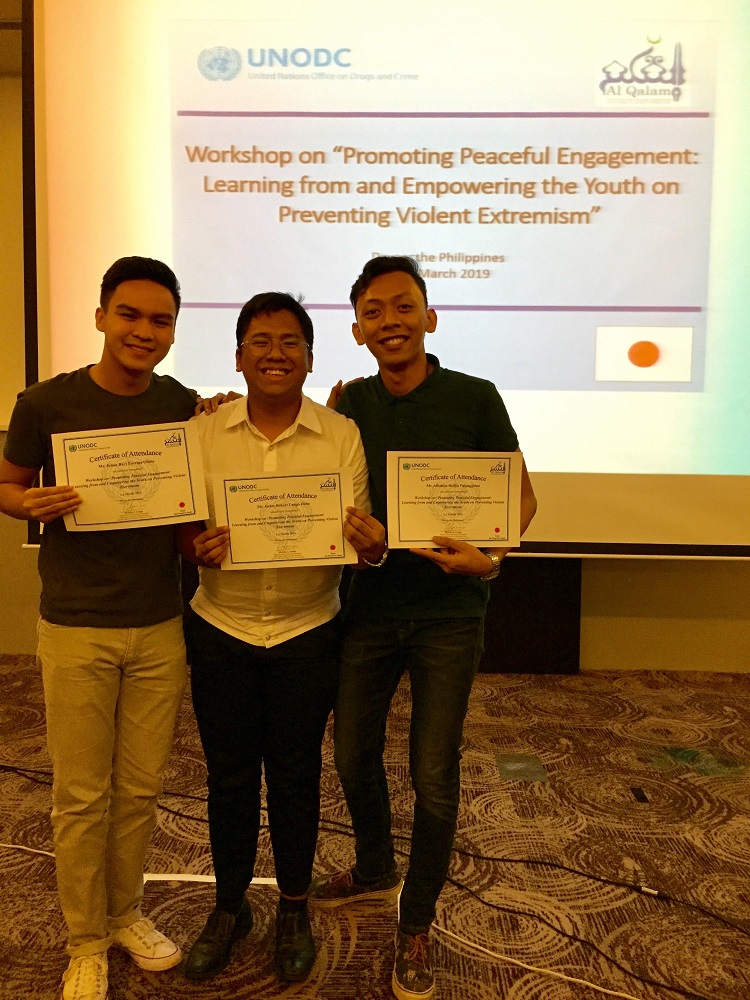 TEAM XAVIER ATENEO. Students Julian Burt Olano (left), Andre Robert Daba (center), and Alhakim Palanggalan (right) represent Xavier Ateneo at the UNODC workshop in Davao City. Supplied photo.
Report by Hakim Palanggalan
The United Nations Office on Drugs and Crime (UNODC), and the Al-Qalam Institute for Islamic Identities and Dialogue in Southeast Asia of Ateneo de Davao University (Al-Qalam) joined together to gather youth from 14 different universities in Mindanao for the workshop "Promoting Peaceful Engagement: Learning from and Empowering the Youth on Preventing Violent Extremism," held from March 1 to 3 in Davao City.
Three college students, namely Andre Robert Daba (AB Socio), Julian Burt Olano (BS Accountancy), and Alhakim Palanggalan (BS Development Communication), represented Xavier Ateneo at the UNODC workshop.
During the first day of the workshop, Atty Florentino Manalastas of the Anti-Terrorism Council delivered the opening remarks on behalf of the Philippine Government. He shared his experiences in countering terrorism and highlighted the famous line from our National Hero Dr Jose Rizal, "Ang kabataan ang pag-asa ng bayan." He believes the youth is not just our future but also our present.
Resource speaker Krister Fahlstedt, peace and development officer of the UN Philippines Resident Coordinator's Office lectured on the challenge of understanding violent extremism.
He said that ideology is the people's "driving force to perform violent acts and that people see things differently from one another with strong stands based on their beliefs."
Fahlstedt went on to say, "Making a change is about reaching out, reaching out with your community."
The workshop became an eye-opener and an inspiration to the youth participants because of the inspirational speakers who advocated for peace and touched people's lives.
Fatima Star Lamahan, the project coordinator of the Salaam Movement of Ateneo de Davao, said, "We are part of the problem, we are vulnerable but the good thing is we are part of the solution."
Agnes Lopez Reaño or Lola Agnes, president of People's Advocacy for Collaboration and Empowerment (PEACE), shared her story of change. She emphasized the importance of education in helping our nation.
"Kung gusto mong pagsilbihan ang bayan, pagsilbihan mo muna ang iyong magulang, pagsilbihan mo ang iyong mga kapatid, magtapos kayo ng pag-aaral," she said.
Lola Agnes is a former member of the New People's Army (NPA) who decided to change her life and dedicate it to making a change to achieve peace.
"Kung para ka sa bayan dapat tugma yang ginagawa mo sa sinasabi mo," she added.
After the workshop, the participants were encouraged to start making changes in their own communities.∎