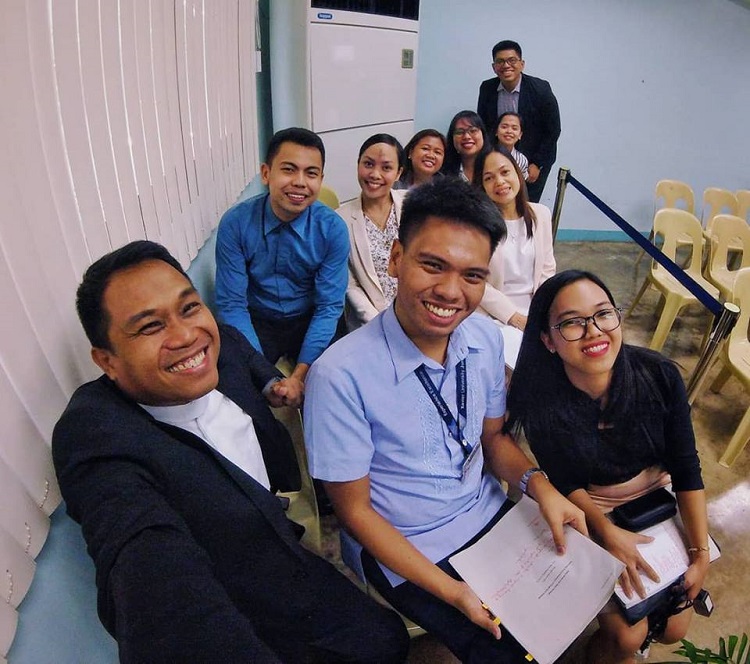 By Samuel Macagba III
Xavier University Junior High School held its 3rd Annual Action Research Conference on March 9, featuring nine studies coming from various offices and departments of the said unit.
The event was organized by the XUJHS Formation Council with the aim of providing the faculty and staff with opportunities to make research and scientific driven decisions to improve different areas of the school.
Dr Pamela Pajente, principal of XUJHS, mentioned that this program encourages the improvement of the research culture of the unit, promotes the school personnel's professional growth and nurtures research as one of the best practices to improve the school.
Pajente also acknowledged with pride how research practices of the unit evolved from its humble beginnings to its expansion. The action research studies of the unit have been presented last year in national and international venues, sharing with other academic practitioners their insights and reflections on various interventions that they have implemented to improve their school practices.
It has even been announced during the event that one of the nine studies has already been qualified to be presented in a National Research Conference in April to be held at University of the Philippines.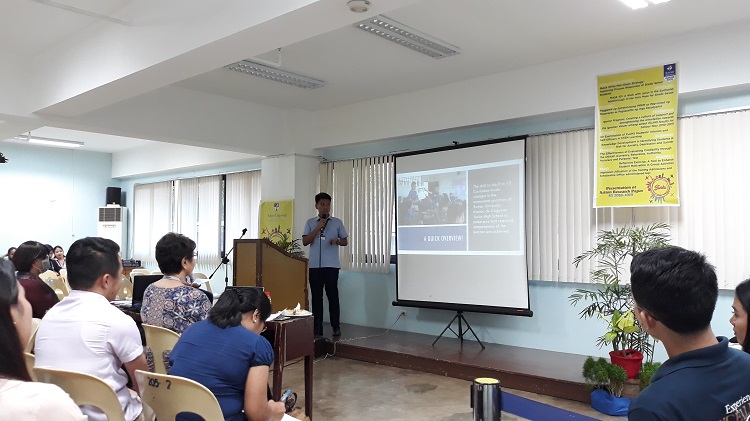 The judges of the said event included VP for basic education Dr Dulce Dawang, assistant principal for administration in ALGCIT Dr Libby Josephine Abesamis, and XU School of Education senior faculty member Dr Kathleen Morales. They commended the unit for its promising outputs and even challenged the unit to publish their work in reputable journals.
The nine action research titles for this year are as follows with their corresponding authors:
Quick Write-Pair-Share Strategy: Improving process responses of Grade 7 Students (Macagba, S. and Neri, M.)
Mass 101: A walk with Jesus in the Eucharist (Nebrao, A.)
The effectiveness of evaluating credibility through the CRAAP (Currency, Relevance, Authority, Accuracy, and Purpose) Test (Esparrago, A.)
Paggamit ng estratehiyang PREM sa pag-unlad ng kasanayan sa pagsasalita ng mga estudyante (Millan, M. and Pajente, P.)
Igsoon Program: Creating a culture of support and strengthening the orientation towards the Ignatian values among select XUJHS faculty for School Year 2018-2019 (Macagba, S.)
Knowledge development in identifying students at risk for anxiety, depression, and suicide (Macesar, K., Pacamalan, M., Reymundo, I., Roa, J, and Yatoc, F.)
An examination of XUJHS students' interest and self-efficacy in STEM learning through a School Maker Faire (Emata, L., Galupo, A., and Neoniz, E.)
Reflective exercise: A tool to enhance student motivation in group activities (Bonior, B., Godmalin M., and Hibaya, B.)
Improved utilization of the Testing Admissions and Scholarship Office administered tests results through a consultative meeting (Macagba, S. and Pacamalan, M.)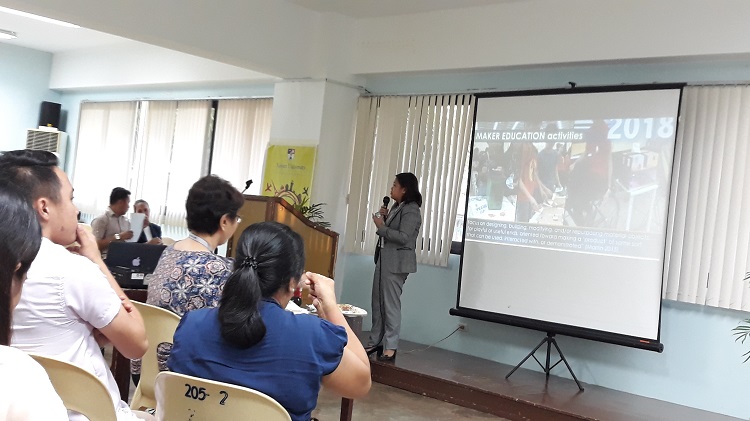 These 9 studies competed in three categories, namely, Best Research Paper, Best Research Presentation, and Best Research Abstract. Winners received monetary prizes.
The winners are the following:
Category

Place

Study

Best Research Paper

Champion

Paggamit ng estratehiyang PREM sap ag-unlad ng kasanayan sa pagsasalita ng mga estudyante (Millan, M. and Pajente, P.)

1st Runner-up

The effectiveness o evaluating credibility through the CRAAP (Currency, Relevance, Authority, Accuracy, and Purpose) Test (Esparrago, A.)

2nd Runner-up

Reflective exercise: A tool to enhance student motivation in group activities (Bonior, B., Godmalin M., and Hibaya, B.)

Best Research Abstract

Champion

Igsoon Program: Creating a culture of support and strengthening the orientation towards the Ignatian values among select XUJHS faculty for School Year 2018-2019 (Macagba, S.)

1st Runner-up

Paggamit ng estratehiyang PREM sap ag-unlad ng kasanayan sa pagsasalita ng mga estudyante (Millan, M. and Pajente, P.)

2nd Runner-up

Quick Write-Pair-Share Strategy: Improving process responses of Grade 7 Students (Macagba, S. and Neri, M.)

Best Research Presentation

Champion

The effectiveness o evaluating credibility through the CRAAP (Currency, Relevance, Authority, Accuracy, and Purpose) Test (Esparrago, A.)

1st Runner-up

An examination of XUJHS students' interest and self-efficacy in STEM learning through a School Maker Faire (Emata, L., Galupo, A., and Neoniz, E.)

2nd Runner-up

Quick Write-Pair-Share Strategy: Improving process responses of Grade 7 Students (Macagba, S. and Neri, M.)
Even in the early years of action research in XUJHS, the unit remains hopeful that the culture of research will continue to flourish toward the development of the school's practices and welfare of the students.∎