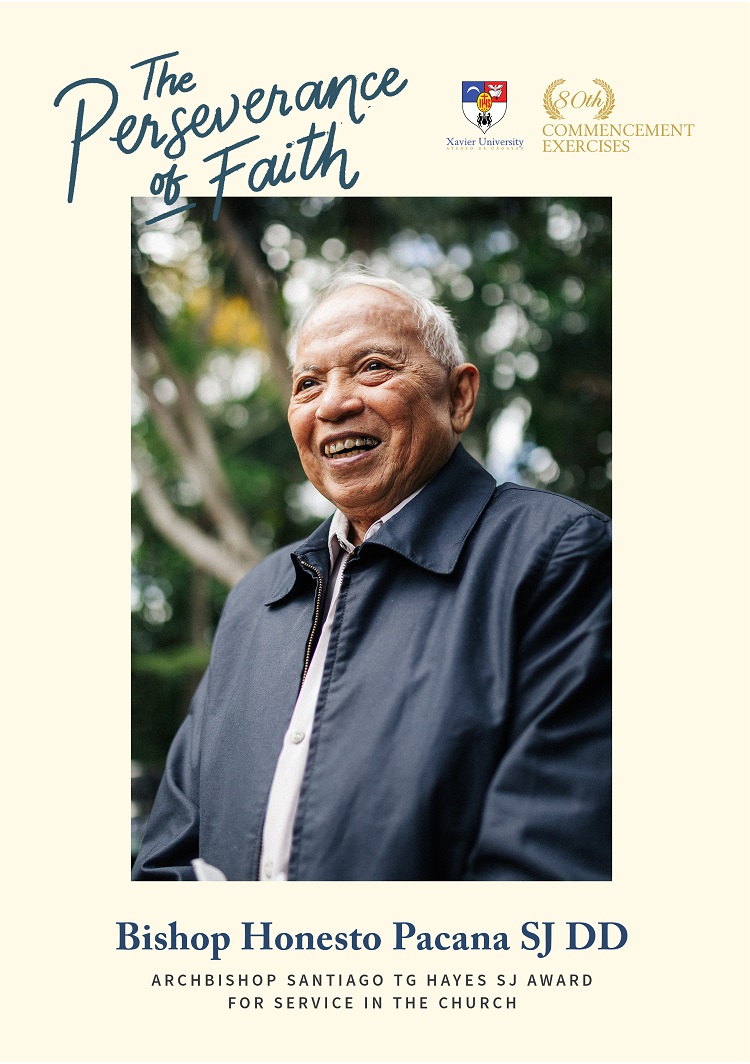 BISHOP HONESTO CHAVEZ PACANA SJ DD
BISHOP EMERITUS OF MALAYBALAY, BUKIDNON
ARCHBISHOP SANTIAGO TG HAYES SJ AWARD FOR SERVICE IN THE CHURCH
Xavier University - Ateneo de Cagayan
28 March 2019
"If you want to be a leader in the Church, you should have a strong faith of your own, because as we say
'you cannot give what you don't have.'"
He catches his breath as he speaks, pausing in between sentences, yet his words still hold strong conviction and passion. Bishop Honesto "Oni" Chaves Pacana SJ is the Bishop Emeritus of Malaybalay, who spent over 16 vivid years of shepherding the Diocese of the capital city of the Province of Bukidnon. This man dedicated his life to the service and ministry of catechesis. In 1969, he established the Bukidnon Institute of Catechesis and when he was still the Bishop, he served in the Episcopal Commission on Catechesis and Catholic Education, leading the catechists who are "quietly toiling the vineyard of the Lord."
Bishop Honesto, son of Vicente Pacana and Felisa Chaves, was born and raised in Kauswagan, Cagayan de Oro City. At an early age, he was influenced by the Jesuits to embody the Ignatian values and to go and serve the poor and the marginalized in the peripheries of Mindanao. Bishop Oni finished his secondary education at the Ateneo de Cagayan High School in 1951, during the time of rehabilitation in the aftermath of the Second World War.
He then proceeded to his novitiate and juniorate from 1951 to 1956 at the Sacred Heart Novitiate in Novaliches, Quezon City. He took his bachelor's degree in Sacred Theology at the Woodstock College in Maryland, USA (1962-1966) and MA in Religious Education at the Catholic University of America in Washington DC (1966-1969). He was ordained a deacon at Woodstock College in May 1965; ordained a priest at the Fordham University Chapel in Bronx, New York by His Eminence Francis Cardinal Spellman DD; and took his final vows at Chapel of Xavier University before Superior General Pedro Arrupe SJ on April 22, 1978.
On January 12, 1994, the Vatican officially named Honesto as the Bishop of Malaybalay. As the church leader in a diverse province, Bishop Oni saw his role as a great opportunity to facilitate interreligious and intercultural dialogues, build peace, and form the lives of the youth.
"There is no place like home," he tells of Mindanao. "My first assignment was here in Malaybalay and I have been here for more than 50 years now."
Under his tutelage, the Bukidnon Institute of Catechesis has become an important catechetical hub not just in Mindanao, but in the Philippines, providing for the educational and logistical needs of young catechists. He made an incredible impact in the lives of the clergy, religious educators, and lay ministers in this part of the country that his name is uttered with great respect and admiration. Most of his students and friends would describe him as being true to his name — "honest" in his commitment to the Church and service for God's greater glory.
"The importance of faith is really something that you cannot underestimate, because today, the root of many problems in our society, in the church, and in various communities is the lack of catechesis, the lack of faith," Bishop Oni says. "The education on faith should begin in the families and the parents especially should take the role to be the first catechists of their children."
Before becoming the Bishop of Malaybalay in 1994, Honesto had several Jesuit assignments such as Parish Priest of Maramag and of Malaybalay, Director of San Agustin Institute of Technology in Valencia, Director of the Jesuit Retreat House in Malaybalay, Superior of the Bukidnon Mission District, and Rector of the Saint John Vianney Theological Seminary. In 2010, he retired as the Bishop of Malaybalay but continues to do pastoral and retreat ministry in Bukidnon.
Now 86 years old, he shares one great lesson from his experiences in life to the youth of today: "The virtues of endurance and perseverance, even if you encounter problems and failures in life, tell you never to give up. We must remember that, ultimately, your success, our success, comes from the Lord. If He didn't give you that capacity, you will not be able to reach your goals. We have to thank God for everything comes from Him."
In recognition of his heartfelt commitment to serving in the peripheries of Mindanao; his unyielding determination to glorify the Lord by forming religious leaders, educators, and young catechists to walk with the People of God; and for being a commendable inspiration for many Mindanawons, Xavier University - Ateneo de Cagayan is pleased and honored to confer
the Archbishop Santiago TG Hayes SJ Award to
Bishop Emeritus Honesto "Oni" Chaves Pacana SJ.

Words by Stephen Pedroza
Photo and layout by Billy Jo Macale