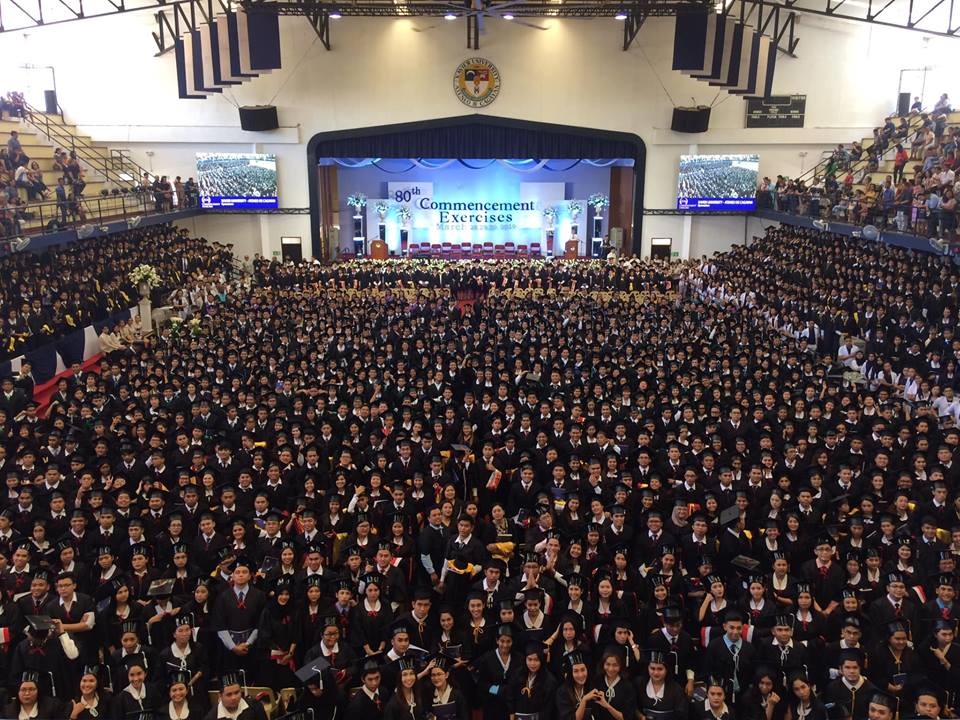 (Note: This is the full text of the closing remarks of Xavier Ateneo president Fr Roberto "Bobby" C Yap SJ at the Academic Convocation during the 80th Commencement Exercises on March 28, 2019. Photo by Rogelio Amarille.)
FR ROBERTO "BOBBY" C YAP SJ
President, Xavier University - Ateneo de Cagayan
Closing Remarks at the Academic Convocation
28th March 2019
If you ask five Jesuits from five different countries to sum up Ignatian spirituality, which is based on the life and teachings of their founder, St Ignatius Loyola, they would probably say the same thing: "Finding God in all things." What does it mean? Simply put, God is to be found not only in obvious places – like church liturgies, reading the Bible, and private prayer – but God is to be found everywhere and in everything: in creation, in our busy workplaces, in our quirky families, and even when we are by ourselves, feeling sad or joyful.
Inspired by Ignatian spirituality, Jesuit education acknowledges God as the Author of all reality, all truth, and all knowledge. God is present and working in all of creation: in nature, in history, and in persons. Jesuit education, therefore, affirms the radical goodness of the world "charged with the grandeur of God," and it regards every element of creation as worthy of study and contemplation, capable of endless exploration.
My good friends, this morning, Xavier University - Ateneo de Cagayan is profoundly privileged to honor two Ateneans: Bishop Oni Pacana, Ateneo de Cagayan HS'51 and Mr Dado Banatao, Ateneo de Tuguegarao HS'61. Faithful to their formation as Ateneans, they have tried to see the hand of God in all things and have regarded all of creation as worthy of study and exploration and have been comfortable with questioning and exploring within an expansive world view. Thank you so much, Bishop Oni Pacana and Mr Dado Banatao … for being true and inspiring Ateneans. Daghan kaayong salamat! Good friends, let us give a round of applause to our awardees.
Honesto Pacana's pathway to finding God has been through his vocation to the Jesuit priesthood. He entered the Society of Jesus in 1951 after he completed high school in Ateneo de Cagayan. After the usual course of Jesuit studies, he was ordained a priest in 1965. He had several Jesuit assignments including Parish Priest of Maramag and of Malaybalay, Director of the Jesuit Retreat House in Malaybalay, Rector of the Saint John Vianney Theological Seminary. In 1994, he was named Bishop of Malaybalay. Bishop Oni spent over 16 years shepherding the local Church of Bukidnon. He saw his role as a great opportunity to facilitate interreligious and intercultural dialogues, build peace, and form the lives of the youth. In 2010, he retired as the Bishop of Malaybalay but continues to do pastoral and retreat ministry in Bukidnon.
In conferring Xavier Ateneo's Hayes Award for service to the Church in Mindanao, we not only recognize Bishop Oni's faithful pastoral work but also most especially his many years of dedicated attention to the ministry of catechesis. In 1969, he founded the Bukidnon Institute of Catechesis and directed this Institute until 1991. As Bishop, he served in the Episcopal Commission on Catechesis and Catholic Education. By honoring Bishop Oni, XU is also honoring the many dedicated catechists quietly toiling in the vineyard of the Lord. In Evangelii Gaudium (164), Pope Francis wrote, "On the lips of the catechist the first proclamation must ring out over and over: 'Jesus Christ loves you; he gave his life to save you; and now he is living at your side every day to enlighten, strengthen, and free you.' This first proclamation is called 'first' not because it exists at the beginning and can then be forgotten or replaced by other more important things. It is first in a qualitative sense because it is the principal proclamation, the one which we must hear again and again in different ways, the one which we must announce one way or another throughout the process of catechesis, at every level and moment." Bishop Oni is a kind pastor and faithful friend of catechists. Mga igsoon, pakpakan nato pag-usab si Bishop Oni Pacana.
Mr Diosdado Banatao's journey has been through technological innovation and entrepreneurship. From Cagayan Valley to Silicon Valley, Dado Banatao established a name in the tech industry. He who used to walk barefoot along the dirt roads of Barrio Malabbac, Iguig town has cofounded three tech startups namely Mostron, Chips and Technologies, and S3 Graphics. Mr Banatao is likewise the founder and managing partner of the highly successful Silicon Valley-based Tallwood Venture Capital.
Consider this: without Dado's innovations, the computing power we have today would not exist! Dado is the man who invented a graphical chipset that took us from black screens with green writing to the colorful dynamic displays we have today. He brought GPS to consumers, and then created the PCI Bus which paved the way for "plug and play" with our computer hardware peripherals.
Dado Banatao is not only an inventor and entrepreneur, he is also a philanthropist. He is the founder of the Philippine Development Foundation, Dado Banatao Educational Foundation, and Banatao Filipino American Fund. Mr Banatao envisions the eradication of poverty in the Philippines through education, innovation, and entrepreneurship.
Mr Banatao is a scientist who has channeled efforts in creating technology for the common good. With his technological entrepreneurship and compassionate generosity, he is a fine example of what Pope Francis said in Laudato Si' (131), "Human creativity cannot be suppressed. If an artist cannot be stopped from using his or her creativity, neither should those who possess particular gifts for the advancement of science and technology be prevented from using their God-given talents for the service of others." In a talk to scientists, Pope Francis challenged them to the 'charity of knowledge', "May your research benefit all, so that the peoples of the earth will be fed, given to drink, healed and educated; may politics and economics draw indications from you on how to advance with greater certainty towards the common good, for the benefit especially of the poor and those in need, and towards respect for our planet." Dado Banatao is a Silicon Valley visionary, tech luminary, and accomplished global Filipino in pursuit of sustainable and inclusive development in the Philippines. Mga kaibigan, bigyan natin muli si Dado Banatao ng mainit at malakas na palakpakan!
Bishop Oni Pacana and Mr Dado Banatao: Thank you very much for gracing us with your presence and for accepting University Awards from Ateneo de Cagayan. By your acceptance, you have given honor to Xavier and it is really XU's pride and joy to consider you as models of leaders, competent, compassionate, and courageous, true Ateneans. XU is so happy to claim you from now on as full-fledged members of our Xavier Ateneo community.
Xavier Ateneo Class of 2019, may the inspiration you have received from our awardees this morning, always be a source of strength as you begin your mission to be men and women for others. May you seek God in the goodness of creation and find God in all things. Panalanginan kamo sa Ginoo kanunay. God bless you always.∎