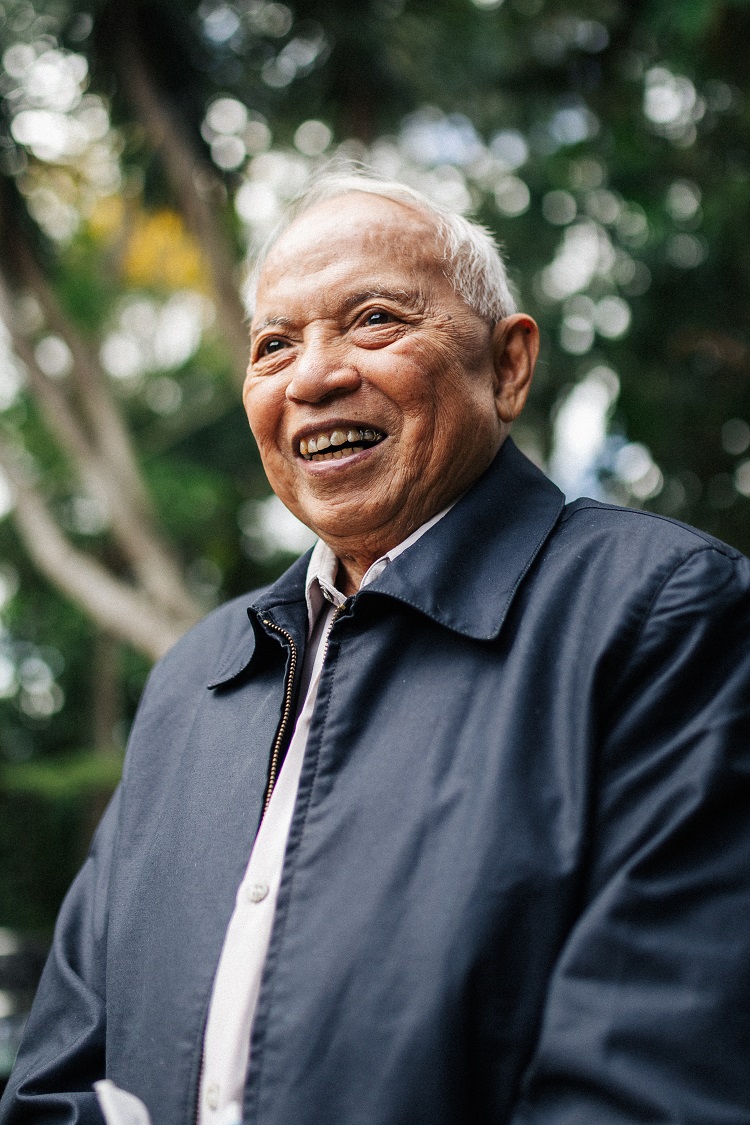 (Editor's note: This is the full text of the Message to the Graduates from the 2019 Archbishop Santiago TG Hayes Award Recipient at the Academic Convocation during the 80th Commencement Exercises of Xavier University - Ateneo de Cagayan on March 28 at the XU Gymnasium. Portrait by Billy Jo Macale.)

BISHOP HONESTO CHAVEZ PACANA SJ DD
Bishop Emeritus of Malaybalay, Bukidnon
2019 RECIPIENT, ARCHBISHOP SANTIAGO TG HAYES SJ AWARD
FOR SERVICE IN THE CHURCH

Father President Roberto Yap, Your Excellency Archbishop Antonio Ledesma of the Society of Jesus, Board of Trustees, Reverend Fathers and Sisters, distinguished visitors, graduates, ladies, and gentlemen, good morning!
I am deeply honored to have been chosen as an awardee in honor of the great Archbishop TG Santiago Hayes SJ of the Diocese of Cagayan de Oro. It came as a surprise but a pleasant one. I guess the board's choice of me was also based on being the oldest living Filipino Jesuit missionary and perhaps the last Jesuit bishop of Malaybalay?
I remember an American Jesuit, Fr George Kirkgessner who was a recipient of the same award some years back. He was known for his dedicated service in the mission this part of Mindanao besides having been the secretary or chancellor of Archbishop Hayes. The story goes that in his response after receiving the award, he said something to this effect: "I have been trained as a Jesuit not to aspire for fame and power. For after all," he said "all this just passes by like water poured over a duck's back. ... "But," he added with a big smile, "the duck likes it!"
I can resonate with Fr George in that with this difference, this duck likes it more.
My dear graduating students, before leaving your Alma Mater, I would like to remind you of the very important Exhortation Letter of Pope Francis called "Gaudete et Exultate," Rejoice and be Glad. In that Letter, he emphasized the fact that each of us, Christian without exception, is called to holiness.
You need not change your life for you to become holy. Holiness is to be attained in your specific life situation, as parents, students, professionals or businessmen or politicians. In short, all of you are called to live your faith effectively from where you are. You need to be molded by the word of the Lord into becoming like Jesus in your thoughts, words, and deeds
If you are a doctor, be a good one living the example of Jesus, the divine physician. If you are a nurse, model your life after the life Jesus who cared lovingly for the sick and dying. As an engineer, be a model of conscientiousness and responsibility. For those called to work in the business world, make your profession an opportunity to help people better their lives. And if you choose to be a politician, set a good example of honesty and integrity. For all others, be exemplars of what it means to serve with love and commitment in your profession for the greater glory of God and, thus, to bring others close to our Lord.
To live like Jesus and make him the center of your life, is no easy task. Hence, in prayer, you must always listen to God's word in Scripture to be strengthened in living your faith and grow in your love for him and for the people entrusted to you. It is by listening to the Lord in prayer that you learn to live your profession according to God's will.
I would like to see the graduates imitate the Lord in the life of perseverance and endurance in all your aspirations and to be grateful to God at all times. When you are confronted with what seems to be an impossible challenge, never give up. Like Jesus, be strong, persevering and enduring in following your decision to be like him. He endured many trials in his life and he persevered through them all up to the end.
Endurance and Perseverance
In the movie, 6 Below, Joel was trained in childhood by his father not to give up in the face of failure. One day lost in the woods deep in snow, he strived to survive. He was finally saved by a rescue team but at great cost: He lost both legs. The movie ends showing him standing on iron legs before hockey players coaching them never to give up in defeat. It was the same lesson that Joel had learned as a boy that he taught the young players, to persevere and endure in all challenges and difficulties…. and never to quit.
Another model of endurance and perseverance close to home is about a young Filipina, Carina Dayondon of Don Carlos, Bukidnon.
The (PCG) Philippine Coast Guard (to which she belongs ) says that "Dayondon is the first Filipina to finish the task of climbing the seven highest mountains in seven continents. She conquered Mount Denali in North America (2006), Mount Everest in Asia (2007), Mount Elbrus in Europe (2013), Mount Kosciuszko in Australia (2014), Mount Kilimanjaro in Africa (2015), Mount Aconcagua in South America (2018) and Mount Vinson Massif in Antartica (2018)."
Her endurance in climbing mountains and crossing vast seas have inspired many young Filipinos "to emulate her to conquer the mountains of their own self-doubts and fears and to go beyond their self-limits."
Aside from being an adventurer, Dayondon's example might help other young people "not to give in in the face of difficulties." She succeeded in pursuing the demanding task no matter the hardships and difficulties. She said that the young can, "With perseverance do what they aspire for no matter how harduous. Of course with prayer," she says.
Ric Warren says the call to endure suffering has a redemptive value. "To suffer for the benefit of other people is what Jesus did for you! When he died on the cross, he wasn't paying for his sins, because he didn't have any. He was paying for your sin and my sin.
It's not all going to be good in your life, but I (God) can use it all for good and fit it into the plan — even the hurts and the sins of other people, even when you're an innocent person and you've been hurt by others.
"Because God is a good God, he loves you so much that he can bring good out of bad if you strive to love him with all your heart. Anybody can bring good out of good. Only God brings good out of the bad for those who love him."
Finally in Romans 5:3, the Scripture tells: "We can rejoice, too, when we run into problems and trials, for we know that they help us develop endurance" (NLT). You can be happy even in the midst of pressure and trials, troubles, and tribulation. Why? Happiness in life depends on what you know, not what you go through. You can put two people through the same circumstances, and one of them can be happy while the other is devastated. Why? Because it's what you know that makes a difference."
Finally, "Give thanks in all circumstances; for this is God's will for you in Christ Jesus." (1 Thessalonians 5:18). Remember, your success or achievement comes from the Lord even if it caused you plenty of sweat and many tears. For every good gift comes from God. Without giving you the capacity to do the hard work of studies and thesis-writing and research, you will not be here today.
As graduates and students of Xavier University do not forget what you've learned about being men and women for others whose generosity will
serve the Lord as he deserves,
give and not to count the cost,
fight and not to heed the wounds,
toil and not to seek for rest,
labor and not to seek reward.
May God bless you! Be always thankful to God in all circumstances: happy or sad, pleasant or unpleasant, success or failure, defeat or victory. Always aim high for excellence ... for competence wherever you are. Endure and persevere. NEVER QUIT! For all the blessings and success, congratulations! And God bless you all!∎