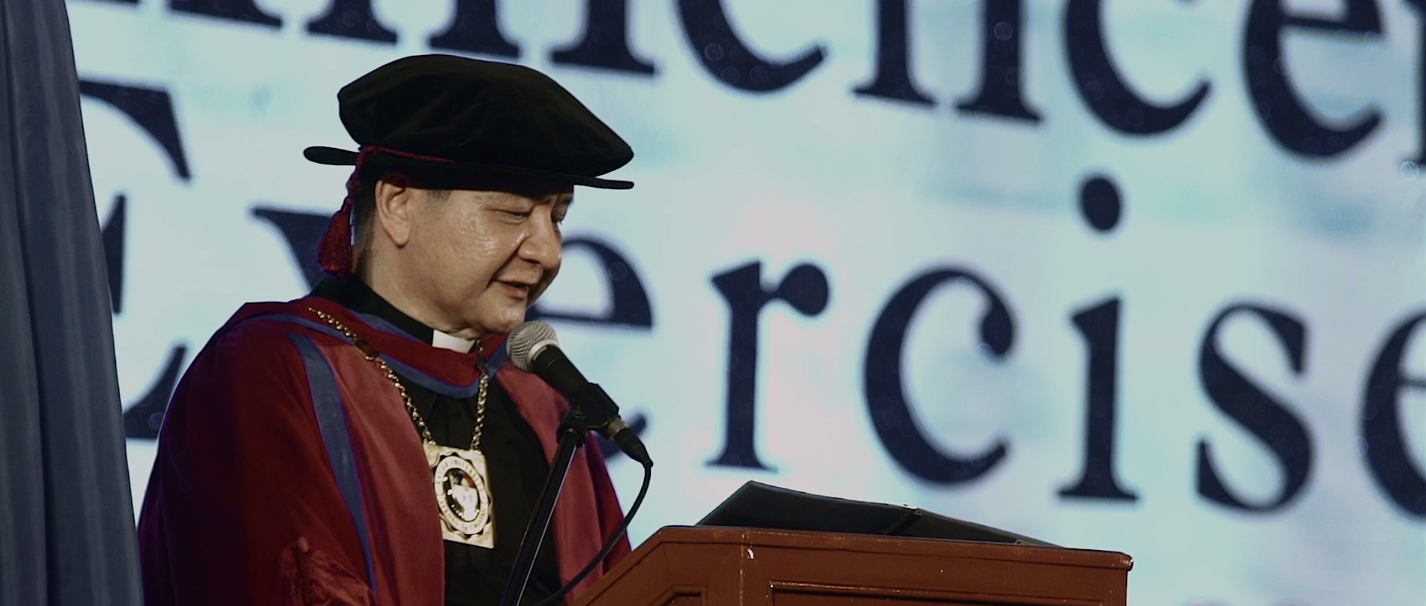 Parting Message and Benediction
80th Commencement Exercises
Fr Roberto "Bobby" C Yap SJ
29 and 30 March 2019
It is my real joy and pleasure to greet the Graduates of 2019. I am very happy that you have completed your college years at Xavier Ateneo under my guardianship and guidance.
In the countdown of the Catholic Bishops Conference of the Philippines to 2021, the 500th anniversary of the arrival of Christianity in the Philippines, this year 2019 is dedicated as the Year of the Youth. The Year of the Youth coincides with the Universal Church's activity for youth, marked by two events: the Vatican Synod on Young People conducted in October 2018 and World Youth Day celebrated in Panama in January 2019.
Recently Pope Francis shared his reflections on youth in a book entitled God is Young. He explained: "God is young! God is the Eternal One who has no time but is able to renew and rejuvenate Himself and all things continually. The most distinctive attributes of the young are also His. He is young because He makes all things new and loves innovation; because He astonishes and loves astonishment; because he dreams and wants us to dream."
Let me draw from the wisdom of Pope Francis as my pabaon for you tonight: Be forever young! Make all things new. Love astonishment. Dream always.
Be forever young: make all things new. Never be content with the status quo, the known, the tried, the already existing. For the Atenean, frontiers, boundaries, and peripheries are not obstacles or ends, but new challenges to be faced, new opportunities to be welcomed. Indeed, have a holy boldness responding to the greater need, where greater fruit is likely to be reaped … to what is more urgent … to what is of more lasting value. Xavier Ateneans, forever young: making all things new!
Be forever young: love astonishment. Our God is a God of Surprises. For Ignatius, God is Deus semper maior, God who is always greater, a God who always surprises us, because his thoughts and his ways, his love and his dreams, are always beyond ours. This is one test of magis: whether we are still being surprised by God, if we are still being called to growth. This is what magis really means. A person who lives the magis is one who has space in his heart for the ever-greater God, who listens to the God of surprises, who allows this God to lead him out of his comfort zones, to greater freedom, greater love, greater service, greater joy. Xavier Ateneans, forever young: loving astonishment!
Be forever young: always dream! Always dream and strive for a world where every creature is cherished with love and respect. Dream and strive for a world where all can relate tenderly with every human person as an image of God, a child of God, like another self, especially the poor and the downtrodden. Dream and strive for a world where all may touch God's creation with respect, with reverence, even with awe, as a gift of God not to be clutched possessively but shared generously. Dream and strive for a world where all have compassionate concern for others reflecting the tenderness of God. Xavier Ateneans, forever young: pursuing dreams!
Xavier Ateneo graduates, be forever young: make all things new, love astonishment, always dream. I hope this pabaon will nourish your journey as you leave the portals of XU and begin a new chapter in your life.
Before we part, please allow your University President to give you a final blessing. My dear Xavier Ateneo graduates of 2019, please rise.
My good faculty, formators, and staff, please also rise and kindly join me in imparting a blessing to our graduates by raising your right hand over them.
Graduates, please bow your heads and pray for God's blessing:
God be in your head
and in your understanding
God be in your eyes
and in your looking
God be in your mouth
and in your speaking
God be in your heart
and in your thinking
God be at your end
and at your departing
May the Lord bless you and keep you.
May His face shine upon you and be gracious to you.
May He look upon you with kindness
and give you his peace.
Amen. Amen.
Experience Excellence, Xavier Ateneo Class of 2019!
Congratulations! Mabuhay!