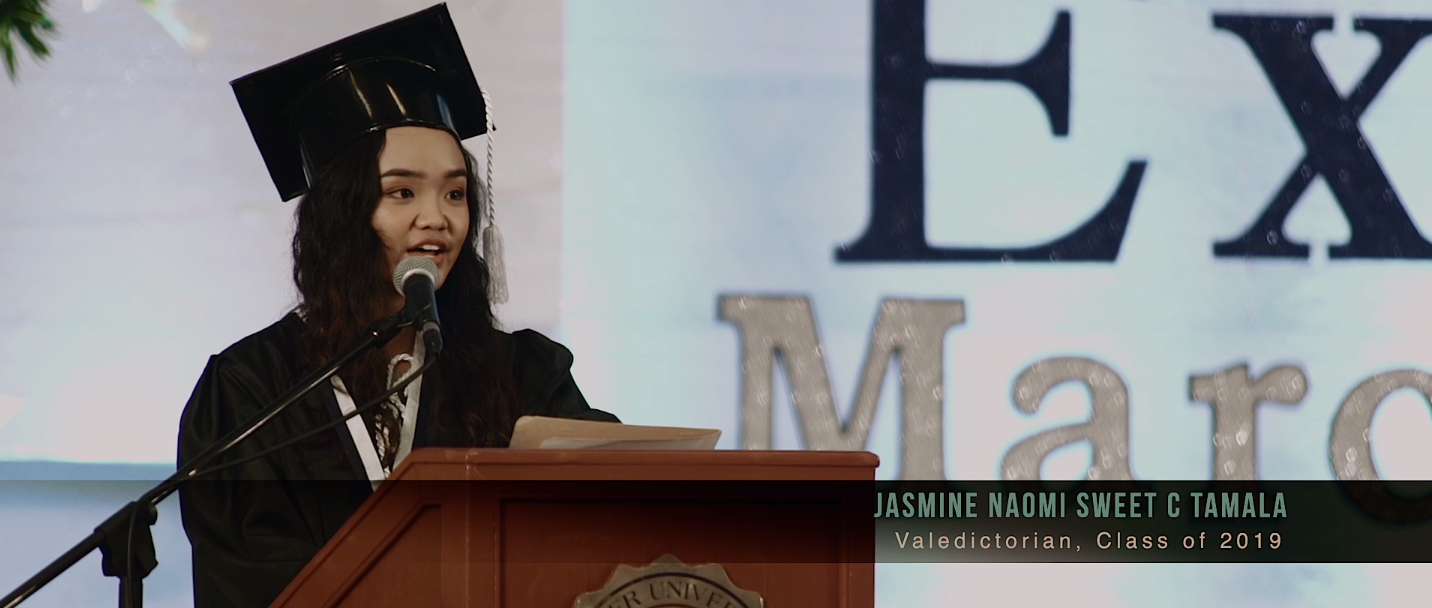 (This is the valedictory speech of Jasmine Naomi Sweet C Tamala, Bachelor of Science in Psychology, Class of 2019 Valedictorian of Xavier University - Ateneo de Cagayan, delivered during the Academic Convocation on March 28 at the XU Gymnasium.)
To our University President, Father Roberto C Yap SJ; our guests, the Archbishop of the Archdiocese of Cagayan de Oro, Archbishop Antonio J Ledesma SJ, Doctor of Divinity; the Bishop-Emeritus of Malaybalay City, Bishop Honesto C Pacana SJ, Doctor of Divinity; Engr Diosdado P Banatao Jr, Doctor of Science Honoris Causa; Chair of the Board of Trustees, Mr Francisco Guerra III, our University Vice Presidents and to all administrators, faculty, staff, parents, and to all the guests. Ladies and gentlemen, good morning.
Up until the university came up with the list of graduating students, some of us were still defending our thesis; taking delayed exams, or waiting with bated breath for our grades to appear in SLMIS. But here were are today, in our togas proudly wearing the colors of our colleges. We made it, Batch 2019!
We have our tigers from the College of Arts and Sciences, who roar to protect the humanities and strengthen the pillars of the sciences. Our warriors from the College of Engineering, who fight for innovation and technology; the eagles from the School of Business and Management, who soar the high skies to uphold the integrity and value of social entrepreneurship; the Aggie bulls from the College of Agriculture who mightily charge to empower our farmers and the agricultural sector; the phoenixes from the School of Education who rise to provide and promote equal access to quality education; the pythons from the College of Nursing, who strike to provide us with quality health care. The wizards from the College of Computer Studies, casting magical innovations to embed modern technologies; the knights of the Center of Integrated Technologies who champion the cause of the skilled workforce; the legion of Lady Justice, from the College of Law, who advocate and stand for the Rule of Law; and, our professionals from the Graduate Schools, who continually pursue knowledge to strengthen our academe and industries.
My fellow graduates, Xavier Ateneo has empowered us to be active members of society. We have been given the strength to advance our advocacies – to be the voice of those who cannot be heard. Just like the heroes that we grew up reading about or seeing in movies like the Avengers and the Justice League. And real life champions, like Malala Yousafzai, who won the 2014 Nobel Peace Prize at 17 for her fight against child suppression and in her call for equal rights to education. They all stand up for the common good. And just like them, we Ateneans, spark up movements addressing issues on the environment, health, human rights, urban development, and many others. And we don't just stop there, we offer sustainable solutions to these problems.
As a Psychology student, I was given the opportunity to hear the stories of those who have been wronged by society. So when I was given a venue to write a bill on Basic Legal Education at the Cagayan de Oro Young Leaders' Parliament, I asserted my advocacy on education and empowerment of the youth. That bill won and is now being lobbied to the Philippine Congress. As a community, XU has stood its ground on environmental concerns. We were one of those who immediately implemented the garbage segregation system and the enforcement of the Green Campus Agenda. And I am sure that in one way or the other, you all have involved yourselves in giving aid to victims of calamities, providing free tutorials to street children, or promoting social and political awareness through your organizations' activities.
But these advocacies will not end here today with our graduation. Magis moves us to continue. We are called to a higher mission that is to serve humanity. But how can we bring this mission to a bigger world? Fellow graduates, I invite you to ponder on these three C's as we face a new beginning.
The first C is connecting with our core. Some of us may tend to forget our values when we are overwhelmed by the promise of positions, salaries, and reputations. That is why we need to constantly remind ourselves to never forget our core; what we really stand up for; what moves us to be of service to others. Let us not allow the thirst for wealth and fame to destroy our humanity. Let us not lose our inner Ateneans. Remember that we are heroes in our own ways. We have a mission and we know what needs to be done.
The second C, challenge the status quo. Advocacies are all about breaking habits, challenging beliefs, and opening emotions. And to make change happen, we need to be courageous. Batch of 2019, let us be steadfast in our Atenean conviction, and inspire other people to seek and serve the common good. Let me quote former US President Barrack Obama who said, "Change will not come if we wait for some other person or if we wait for some time. We are the ones we've been waiting for."
And the third C is care for the self. Constantly looking after the welfare of others is not easy. It can be overwhelming and draining. Hence, we might forget that we have needs too. Let us also take the time to take care of ourselves. We need a healthy mind, body, and spirit to be able to serve others. Think MAGIS. M - Meditate; A- Avoid too much negativity; G - Give yourself some time to relax; I - Ignite your passion; and S - Sleep right. That's MAGIS.
After today, we put our Atenean education to the test. And in facing these tests, let us invoke our Atenean spirit of Magis and cura personalis. Like heroes, let us continue to fight against oppression and injustice. And in so doing, let us wield the weapons within all of us, the 3 Cs: connection with our core, challenging the status quo, and care for the self.
This time, wearing not just our colleges' colors, let's put on our heroes' capes and the colors of Xavier Ateneo and be the generation of leaders with character who will serve as men and women for others. This may seem daunting, and living for others may make us "seem weak in the eyes of the world" but, as Pope Francis said, "it is exactly in giving our lives that we find the truest meaning of our existence, that in the logic of God, it's what makes us truly victorious." Ad majorem Dei gloriam.∎