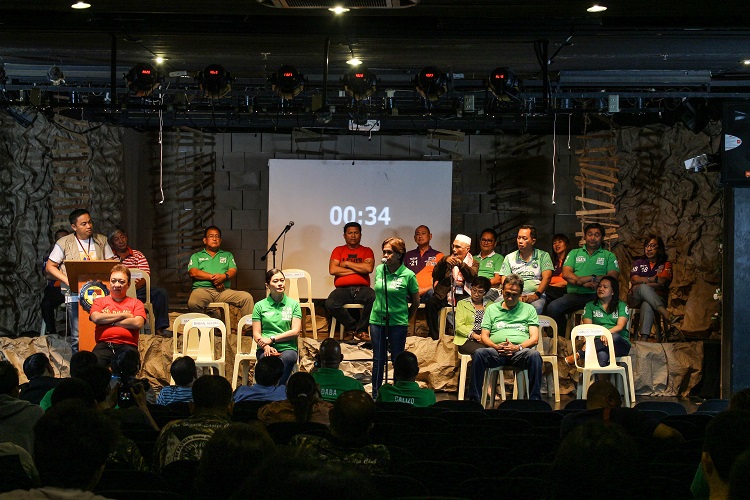 ISSUES AND PLATFORMS. Candidates vying for the city council meet at the PAG-ILA, a series of local candidates' fora on issues and platforms, held at the XU Little Theater.
Report by Rafhael Jabongga
Photos by James Pabonita
Kagay-anons need leaders who have the vision and zeal to serve the people and the City of Golden Friendship.
On April 16, the Commission on Election (Comelec), in partnership of LIHUK 2019 Movement - Misamis Oriental, organized PAG-ILA, a series of local candidates' fora on issues and platforms, held at the Xavier University (XU) Little Theater.
Thirty-one candidates vying for the city council, both from First and Second Districts, presented their platforms and advocacies.
LIHUK 2019 Movement - CDO MisOr coordinator and XU Social Development Cluster advocacy coordinator Nestor Banuag said that "Pag-ila" means "a process of discernment."
"Candidates are given the opportunity to speak up in public to present their platforms and how will they resolve current issues in the city," he said. "It also provides a venue for voters to listen to the candidates in hopes that we will have an honest and meaningful election."
For a brighter CDO
Each candidate was introduced and given time to present their plans and priorities for the next three years in the city council.
From District 1, Roger Abaday said that through his experiences in the political arena, he will work on expanding the benefits for the senior citizens and persons with disabilities (PWDs).
Celso Bagaw emphasized on road rehabilitation and farmers' welfare should he be elected.
Romero Calizo said, "I will work [toward the] reduction of criminality by having an appropriate force, equipping them with a better plan and mobility [in resolving] the main causes of crimes."
Rhona Canoy believes that quality education should be afforded to the people. "I say this as a challenge not only for the city but as well as to the Department of Education (DepEd)," she said.
Dok Boboy Daba, for his part, said that "akong pagabuhaton na ibalik nato ang kahadlok sa mga bata sa Diyos ug kahadlok sa bala-od."
Jundabs Daba focuses on farmers and fisherfolks in the city. "Naay mga programa nato sa mga mag-uuma, pati na pod sa mga mangigisda kay sila ang backbone sa atong komunidad."
For Inday Dahino, she highlighted on strengthening family values. "Kung paglig-onon ang pamilya ug ang values, these would help us to be respectful sa atong pamilya ug sa komunidad, and we can prevent ang mga krimen sa komunidad."
Manny Darimbang proposes solving the traffic as his number-one platform. He said, "This problem is continuing, this problem is worsening."
George Goking will focus on developing the business sector and income generation that will result to more revenue and more jobs for Kagay-anons and the protection of consumers. "More money, more funding and if there are more businesses, more jobs."
Aside from business, infrastructure was brought up by Jojo Illana, saying, "Paningkamotan nato og butang sa skyways ug flyovers kung dili masolbad ang trapiko at least ma-minus minusan." He plans on putting up gymnasiums, livelihood programs, and sports development facilities for the youth.
For Meneleo Navarro, health is his main concern because he said, "it is also the most neglected sector." He added: "More doctors should be assigned in the barangays. This is to deliver health services to the doorsteps of the people, especially those in the hinterland barangays."
"Ipadayon ang kabag-ohan" was the center of Zaldy Ocon's presentation during the forum.
Jay Pascual said, "Ipalambo nato ang turismo sa kabukiran kay para maka-generate og funds para makahimo pa ta og roads and services ug makahatag og livelihood program sa kabukiran."
Jerry Sabanal shared, "Unsa-on raman nato nang balaod kung pipila lang ang makakuha ug pipila lang ang mga makabenepisyo ana, paningakamotan nato na bag-ohon ang hulagway sa pulitika kay hugaw man." He also encouraged the youth to get involved, "magsugod nata karon labi na sa mga batan-on."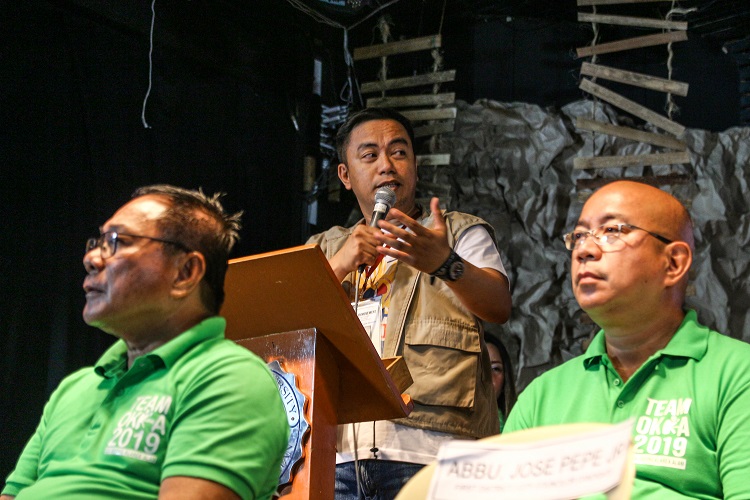 PAG-ILA. LIHUK 2019 Movement - CDO MisOr coordinator Nestor Banuag said that "Pag-ila" means "a process of discernment."
Platforms and voices
For the second district, Nixon Baban presented his Kagay-anon First Policy that deals with employment and business opportunities in the city toward sustainable development.
Former newscaster Girlie Balaba said, "Tagaan nato og tingog ang mga igsoon nato na kabos, ang marginalized sectors."
For Edgar Cabanlas, housing is his primary concern, "mag-focus ta ani ug mangita ta og pamaagi."

Suzette Daba, the current chairperson on Committee on Education, emphasized the role of education in poverty alleviation.
Mary Ann Fernandez's platform is focusing on establishing livelihood projects.
Malou Gaane said, "There is sustainability in Philhealth implementation through the infusion of the Universal Health Care," adding that she supports the smoking ban in line with the Executive Order 26 and Republic Act 9211.
Bong Lao's platform focuses on local public transport program. Lao said, "Kini ang gamiton for vital ordinances na mahapsay ang dagan sa trapiko ug mag-establish og new routes na mo-connect sa mga kabarangayan sa tibuok dakbayan sa Cagayan de Oro."
In resolving cases of kidnapping, Hamji Macamuod Manalisig believes he can help solve them through his platform.
For Ebod Melliza, agriculture is his priority. "Dako kaayo ang kakulangon sa agrikultura ug subsidiya sa farmers na maong importante."
Ian Mark Nacaya said, "Maghimo ta og ordinansya na makasuporta ug pag-institutuonalize sa atong opisyal apil ang mga personnel, para mulihok tanan sa pagpalambo sa atong kabatan-onan."
For Nanette Roa, "akong i-revive ang tourism sa s'yudad … many don't know that tourism is a global industry," adding that, "we must also put peace and order."
Bebot Rodriguez said, "Ang akong programang tutukan kay ang panglawas, dili lang panglawas pod pati na ang mental, sosyal … tuguti ko ninyo para makaserbisyo sa katawhan."
For Eric Salcedo, the barangay tanods are his main concern. "Nakita nako sa tulo ka termino as kapitan na gipasagdan na lang ang mga barangay tanod taliwala nga gi-risk nila ilahang kinabuhi para ma-maintain ang kahusay ug kalinaw sa atong barangay ug sa Cagayan de Oro."
Ramon Tabor shared, "Akong ipursige ang akong nasugdan na before my term ended … i-institutionalize ang Task Force Oro in order to address kidnapping, drugs, and high crimes, and to maintain peace and order."
Roger Tolod told the crowd that, "Kung i-enhance nato sa atong barangay ug unya ato silang ilailahon nato, makatrabaho sila sa dagko na kompanya ang atong skilled workers instead mag-drive sila og sikad, makatrabaho na sila."
Morito Yee's platform highlights the welfare of the vendors in Cogon Market.
Candidates' conversations
Aside from the candidates' presentation of their political platforms and priorities, they also answered questions from the audience during the open forum.
The candidates were challenged to address the issues the city is facing.
Among those present during the event were representatives from Alert 10, Archdiocese of Cagayan de Oro, CLEAN 10, National Movement for Free Election (Namfrel), Parish Pastoral Council for Responsible Voting (PPCRV), XU - Social Development Office, CDO Press Club, Comelec, Kapisanan ng mga Brodkaster ng Pilipinas (KBP), and the Philippine National Police (PNP), as well as local media outlets.
Xavier Ateneo's Social Development Cluster hopes that in the upcoming local elections, the Kagay-anon voters will choose leaders based on discernment and their capabilities to bring Cagayan de Oro City to greater heights.∎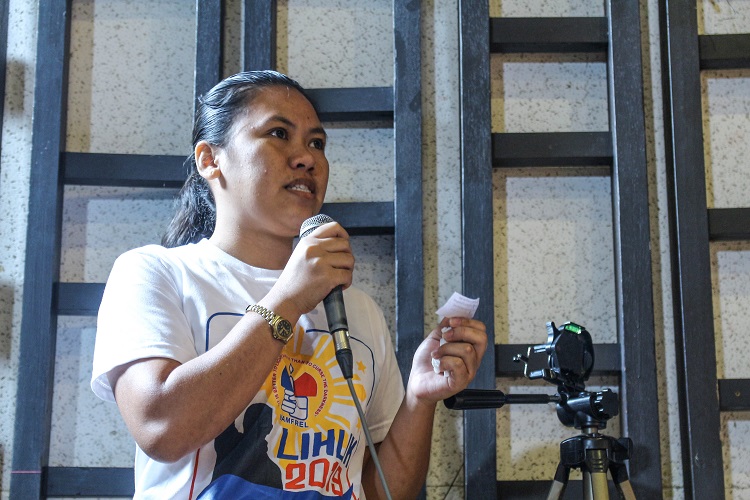 LOCAL ISSUES. Aside from the candidates' presentation of their political platforms and priorities, they also answered questions from the audience during the open forum.