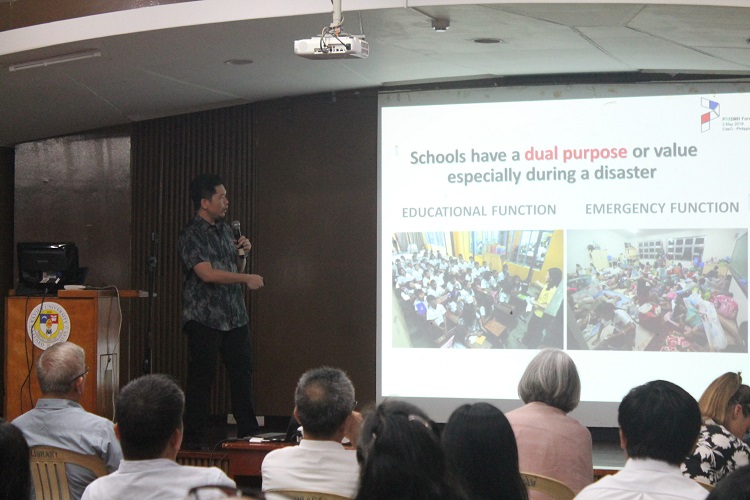 SCHOOLS' DUAL PURPOSE. "Schools are powerful symbols of progress and development," says XU Civil Engineering faculty Engr Dexter Lo on why the main focus of the PRISMH Project is the resilience of schools.
Report by Therese Mole
Photos by Rogelio Amarille
In 2015, Xavier University - Ateneo de Cagayan's Engineering Resource Center (XU-ERC), in coordination with the Department of Education - Region 10, conducted a rapid structural assessment study of more than 200 school buildings in the nine central schools of Cagayan de Oro City.
The XU-ERC team used widely-accepted methodologies that were tailored to the Philippine setting by structural engineering experts from the De La Salle University - Civil Engineering Department (DLSU-CED).
Results showed that more than half of the existing buildings, many of which were built before the seismic provisions of the current structural code, may be at risk when exposed to high-magnitude earthquakes. This means that a more detailed review of both the structural and functional systems of the schools is highly recommended.
To this aim, the Earthquake and People Interaction Centre (EPICentre) at the University College London (UCL), DLSU, and XU-ERC collaborated for a joint research project on "Safer Communities through Safer Schools" (SCOSSO) in CDO.

FORUM PARTICIPANTS. The participants of the forum include representatives from the local government unit, Office of the Building Official, City Engineer's Office, City DRRM Department, City Social Welfare and Development, Oro Trade, Investment, and Promotion Center, Department of Science and Technology, Department of Public Works and Highways, Commission on Higher Education, Department of Education, Mines and Geosciences Bureau, National Resilience Council, UN-Habitat, Environmental Science for Social Change, United Architects of the Philippines, local construction practitioners, University of Science and Technology of Southern Philippines, Liceo de Cagayan University, and Cagayan de Oro College - Phinma, among other guests.
SCOSSO's objective is to develop an innovative, advanced, multi-hazard risk assessment framework for school infrastructures in the Philippines. As a result, the SCOSSO mobile application is now downloadable for free and may be used to conduct rapid visual surveying and vulnerability assessment of schools against strong winds, floods, and earthquakes.
"The app is more convenient, it is easier to use, and the information can be assessed faster," said UCL Structural and Earthquake Engr Arash Nassirpour, one of the applications designers. The app gives instant simplified physical vulnerability estimation and its data can be easily extracted from the spreadsheet.
Other features of the app included a detailed photographic survey guide, high precision location indicator, Cloud backup of all surveyed data, and full offline capabilities. To date, the app has been used to survey more than 300 schools in five countries around the world.
To enhance and harmonize the physical and social vulnerabilities in terms of resilience of school infrastructures subjected to multiple hazards in the Philippines, the UCL-EPICentre, DLSU, and XUERC have again joined hands for a project called PRISMH or Philippines Resilience of Schools to Multi-Hazard, to investigate the effectiveness of building retrofit measures, early warning provisions, and social preparedness measures as means of preventing casualties, reducing economic losses, and maintaining functionality of school infrastructures and its role in the community during disasters.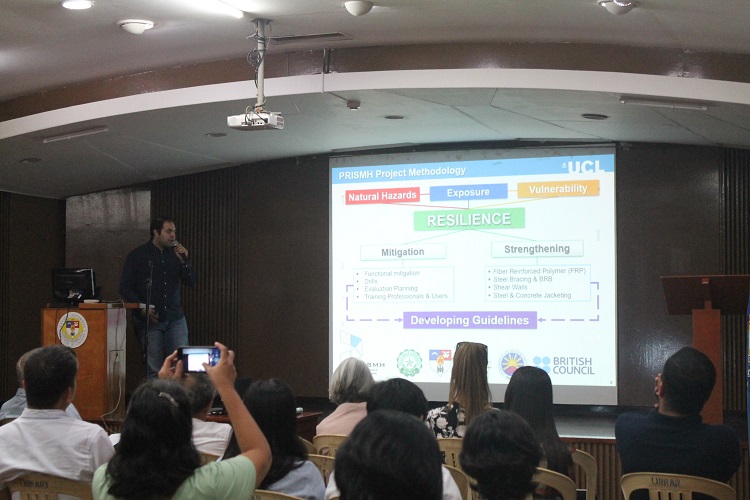 SCOSSO APP. Dr Arash Nassirpour of UCL and EPICentre introduces the SCOSSO mobile application, which is downloadable for free. The app can be used to conduct rapid visual surveying and vulnerability assessment of schools against strong winds, floods, and earthquakes.
On May 2, 2019, PRISMH was introduced to stakeholders, students, and representatives from different schools and offices in the city during an event held at Xavier Ateneo. The discussion on PRISMH focuses on CDO schools' risk-to-resilience stories, including their vulnerability and risk to natural and man-made hazards.
UCL PhD candidate Rebekah Yore presented initial findings of the study which were determined by space, usability, and building integrity; personal possession and security; and school function and original purpose.
For UCL's Prof Dina D'Ayala, the purpose of this study is to determine and quantify the parameters that influence vulnerability in school buildings and increase the resilience of school buildings when used as shelters during disasters.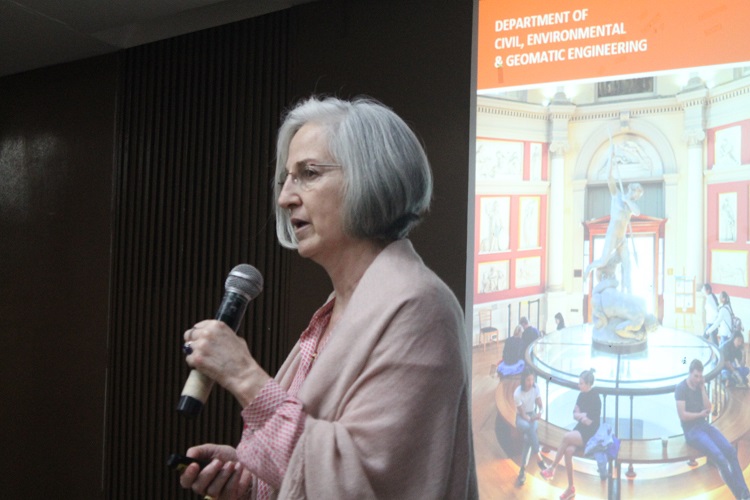 PROJECT LEADER. Dr Dina D'Ayala of UCL and EPICentre serves as the primary investigator and team leader of the PRISMH project.
The project aims to develop an innovative and advanced multi-hazard resilience assessment framework and guidelines for the effective role and function of school infrastructures in promoting resilient communities in the Philippines.
"Schools are powerful symbols of progress and development," answered XU Civil Engineering faculty Engr Dexter Lo on why the main focus of the PRISMH Project is the resilience of schools.
"Schools represent our children which are the nation's hope for the future."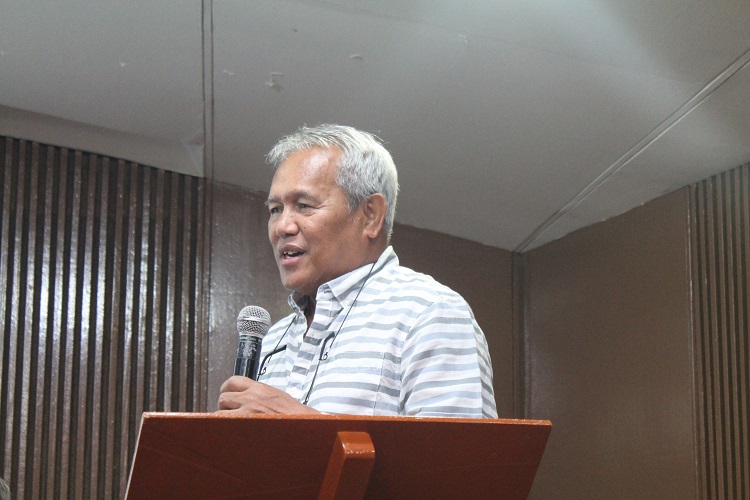 CITY MAYOR. Cagayan de Oro City Mayor Oscar Moreno, in his message, says that schools must be conducive for learning and safe from disasters.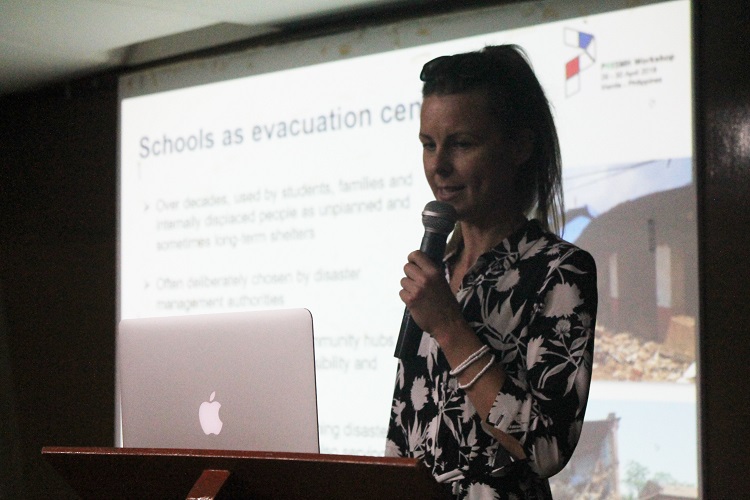 CRITICAL PARAMETERS. Rebekah Yore (PhD Candidate at UCL) of Rescue Global shares on what key parameters are critical to maintaining the function of schools as teaching space while also used as temporary shelters during disasters.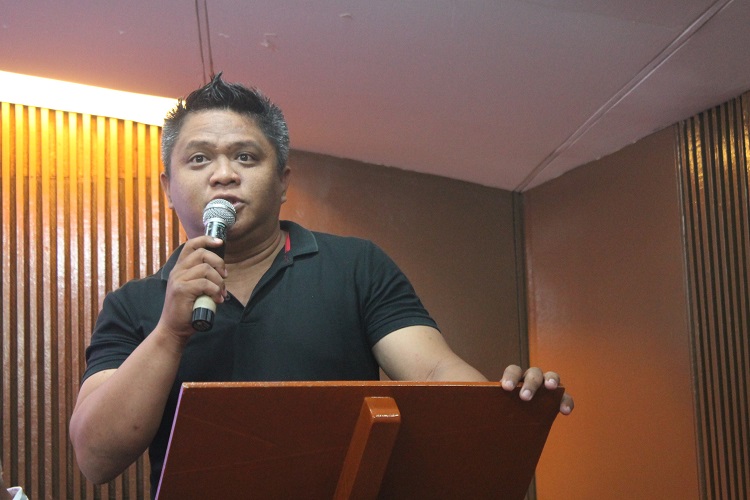 SCHOOL INFRA. DepEd's DRRM point person expresses his appreciation that the PRISMH project focuses on school infrastructures.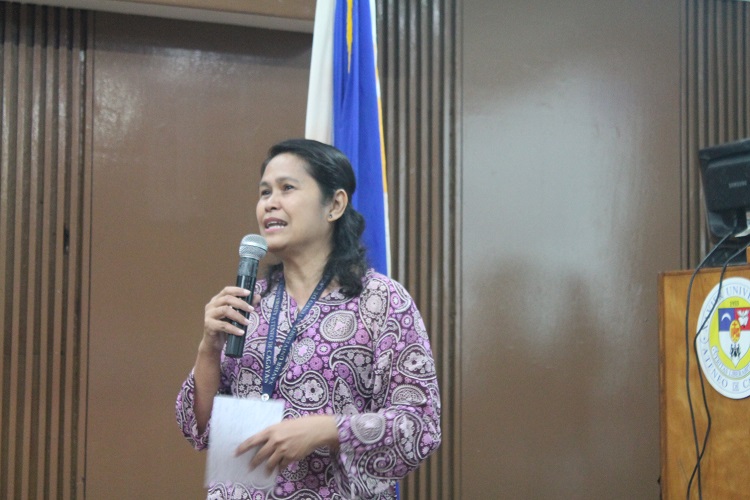 SYNTHESIS. Engr Gail de la Rita of XU Social Development Cluster gives the synthesis of the forum.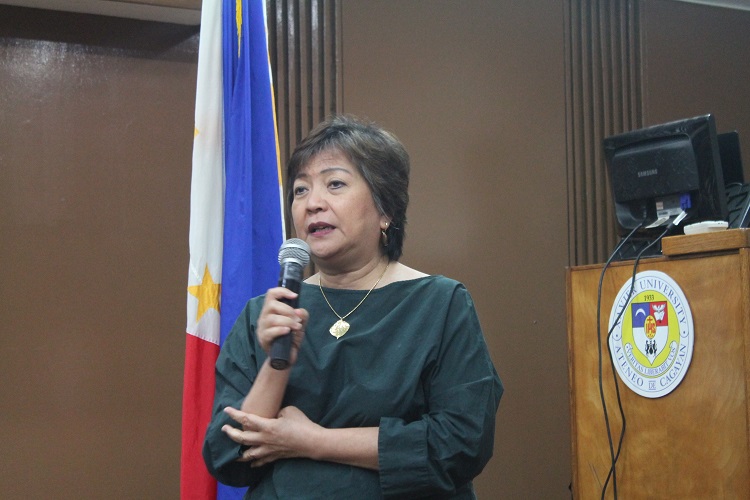 RESILIENT CITY. Eileen San Juan from Oro Trade, Investment, and Promotion Center, during her closing remarks, highlights partnership as key to a building a resilient city.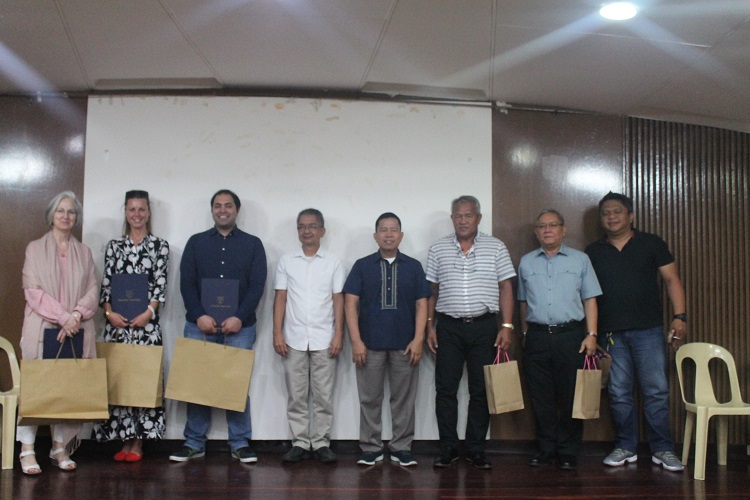 SPEAKERS AND REACTORS. VP Roel Ravanera and VP Edison Sasoy give the speakers and reactors their tokens of appreciation, which are pieces of "Malong Marawi," a product made by the IDP mothers at their temporary shelter in Area 7 Angat Buhay Village in Marawi City (a resettlement project managed by Xavier Ateneo). The malong symbolizes the resilience of Filipinos because it is useful for many everyday activities and even more so to keep the warmth during disasters.