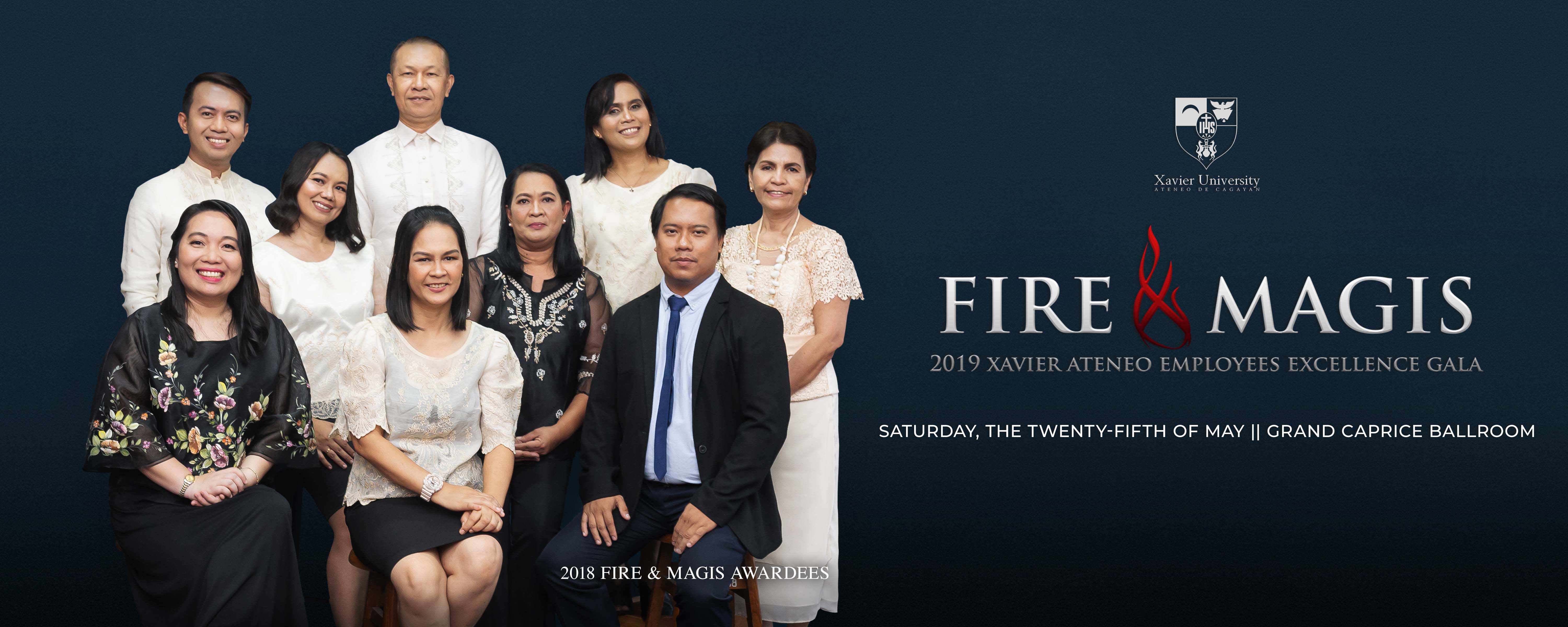 Written by Therese Mole
Image by Billy Jo Macale
As the Fire and Magis Employees Excellence Gala 2019 comes closer, last year's awardees leave us with meaningful insights on magis (a philosophy of excellence) in service, love for passion, and making a home out of Xavier Ateneo.
As a Catholic-Jesuit institution, Xavier Ateneo's teachings are always highlighted in the community. We are always reminded that our faith grows deeper when we acknowledge that God is with us. As what Outstanding Senior Faculty for Higher Education Awardee Adlai Valledor says, "Being at Xavier Ateneo is not just an employment. It is also an opportunity to participate in the mission of the Church, to build God's kingdom here on earth by forming leaders of character in the future."
For Outstanding Senior Faculty for Basic Education Awardee Angelina Galupo, not only did Xavier Ateneo contribute to the balance of her life, but it also made her grow spiritually. "With Xavier, I was able to have a balanced life, which means that I had more time to do well in my career, be with my family, and most especially I had more time to focus on my spiritual growth because of the values inculcated by the institution."
Outstanding Non-teaching Staff for Higher Education Awardee Adora Rondez reminds us to be thankful for the blessings God allowed in our lives. She said: "As an awardee, I felt it was an amazing grace from heaven. It was God's gift to me, His reward, His way of saying, 'I love you, child. Be happy. You deserve to be happy.'"
Xavier Ateneo has always upheld its core values — one of which is magis. As Ateneans, magis is deeply inculcated in our culture. Last year's Outstanding Administrator for Higher Education and Central Administration Awardee Dr Jovelyn Delosa and Outstanding Rookie Faculty for Basic Education Awardee Maria Lourdes Vocal share how they define and exemplify magis in their own ways as they serve the XU community.
Delosa shares her version of magis and it's what most of us need to hear. For Delosa, "Magis is to have the more loving decision, the more loving action, the more loving choice."
Vocal, on the other hand, shows how she exemplifies magis, and she does it with care for the pupils. "As a teacher, I put love in the work that I do. I do it for the children who are entrusted under my care. That is how I exemplify magis." The word "magis" may already be a familiar word in Xavier Ateneo, but its essence will always be one of a kind.
Love is always present when you put your heart in what you're doing. These awardees have made serving a passion.
"I am inspired to teach as I love sharing knowledge," Outstanding Junior Faculty for Basic Education Awardee Marites Tagas iterates. "Xavier gives us what we can give to others. This university gives me high honor."
Apart from exemplifying magis, putting love and passion together serves as an ultimate service for Outstanding Formator Awardee Jerome Torres as he voices out, "It is the love for others that keeps me going. It is the greatest and best thing to do to make us fully human."
Lastly, Xavier Ateneo is a place we can call home. "Ako ay patuloy na nagseserbisyo sa Xavier Ateneo dahil sa tatlong kapamaraanan: Mayroong puso sa lahat ng ginagawa, pagmamalasakit sa kapwa, at ang institusyong ito ay isang tahanan," professes Outstanding Junior Faculty for Higher Education Awardee Roderick Ocangas.
"When you feel loved and trusted, your heart will never give up," says Outstanding Administrator for Basic Education Hilda Gumanit. "That is what I feel with Xavier Ateneo — it feels like home." Xavier will always be a home for its community. We can always come home to Xavier.
The Fire and Magis Gala pays homage to the people behind this revered tradition, whose minds and hearts carry out and exemplify the ideals of Xavier Ateneo and the true meaning of service and magis.
The 2019 Fire and Magis Employees Excellence Gala is happening on Saturday, 25th of May, at the Grand Caprice Ballroom.∎