Five boys and five girls were selected during the Junior NBA Philippines 2019 presented by Alaska National Training Camp to comprise the newest batch of Junior NBA All-Stars to represent the country at the first Junior NBA Global Championship Asia Pacific Selection Camp in Jakarta, Indonesia in June.
Cleveland Cavaliers guard Collin Sexton and WNBA champion Ticha Penicheiro joined Junior NBA coaches Carlos Barroca and Natalia Andre and Alaska coaches Jeffrey Cariaso and Tony dela Cruz to help train the 80 participants at the Gatorade Hoops Center and Don Bosco Technical Institute on May 18 and in the boys and girls exhibition game at the SM Mall of Asia Music Hall on May 19.
The final day of the Jr. NBA National Training Camp hosted an exhibition game for former Junior NBA All-Stars and was attended by notable alumni including collegiate players Thirdy Ravena and Janjan Jaboneta.
In the Junior NBA Philippines Girls Roster are the following students:
| | | | |
| --- | --- | --- | --- |
| First Name | Last Name | Age | School |
| Dianne Camille | Nolasco | 14 | Miriam College |
| Karylle | Sierba | 13 | Manuel S. Enverga University Foundation |
| Mikylla | Taborada | 14 | Corpus Christi School Cagayan de Oro |
| Justine Mhyrra | Vibangco | 13 | Saint Joseph Parish School |
| Princess BJ Marie | Villarin | 13 | De La Salle Zobel |

Meanwhile, in the Junior NBA Philippines Boys Roster are:
| | | | |
| --- | --- | --- | --- |
| First Name | Last Name | Age | School |
| Henjz Gabriel | Demisana | 14 | Bacolod Tay Tung High School |
| Joshua | Minguillo | 13 | - |
| Zhan Paolo | Moreno | 14 | Xavier University Cagayan de Oro |
| Sebastian Roy | Reyes | 14 | Nazareth School of National University |
| Lionel Metthew | Rubico | 14 | De La Salle Lipa |
The participants and coaches also received awards during the event.
Gatorade Hustle Awardees: Zhan Paolo Moreno and Franchesca Isabela Buenvenida
Panasonic Rising Star Awardees: Zak Gumaya and Kaye Andrea Vivas
Coaches of the Year: Orlando Estrelles and Precious Jimenez
Alaska Ambassadors: Henjz Gabriel Demisana and Justine Mhyrra Vibangco
Most Valuable Players: Sebastian Roy Reyes and Dianne Camille Nolasco
Junior NBA Philippines presented by Alaska is committed to improving youth health and wellness and addressing growing inactivity by highlighting the importance of proper nutrition and an active lifestyle to participants.
Since its launch in 2007, Junior NBA Philippines has reached more than two million players, coaches, and parents across 190 cities and municipalities nationwide, teaching the fundamentals of basketball and the program's core values of sportsmanship, teamwork, a positive attitude, and respect (S.T.A.R.).
Junior NBA Philippines 2019 is presented by Alaska, with AXA, Gatorade, Globe, Panasonic, Rexona and Vivo as official partners.
ABS-CBN S+A, Basketball TV, and NBA Premium TV are the official broadcasters of Junior NBA Philippines.
For all things NBA, fans can follow Junior NBA on Facebook and the NBA at www.nba.com and on Facebook and Twitter. Fans can visit www.alaskamilk.com to learn more about the Alaska Milk Corporation, and follow Alaska Milk on Facebook for more information about Alaska Sports.∎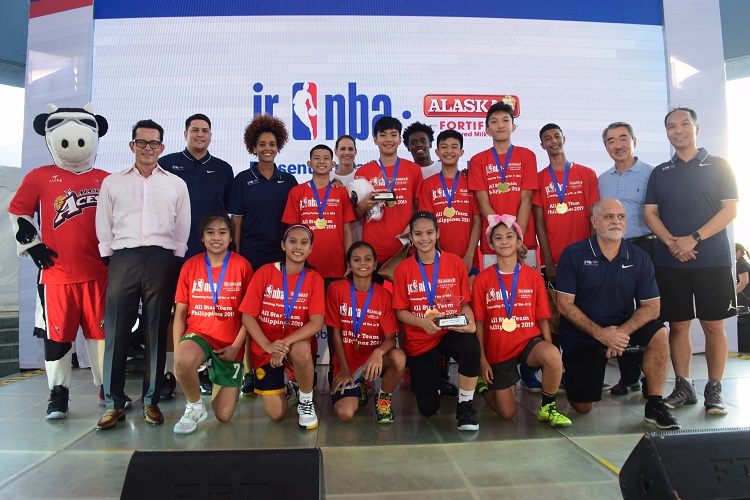 The top ten cagers named to the Junior NBA Philippines 2019 presented by Alaska All-Star Team are (front row, L-R): Princess BJ Marie Villarin, Mikylla Taborada, Karylle Sierba, Diane Camille Nolasco, and Justine Mhyrra Vibangco; (back row, L-R): Lionel Matthew Rubico, Sebastian Roy Reyes, Zhan Paolo Moreno, Henjz Gabriel Demisana, and Joshua Minguillo. Also in photo are Alaska Aces mascot E-Cow, Alaska Milk Corporation Chairman of the Board and Junior NBA Asia Advisory Council member Wilfred Uytengsu, Alaska coach Tony dela Cruz, Jr. NBA coach Natalia Andre, WNBA Legend Ticha Penicheiro, Cleveland Cavaliers rookie Collin Sexton, SM Prime Chairman of the Executive Committee and Junior. NBA Asia Advisory Council member Hans Sy, NBA Philippines managing director Carlo Singson, and Junior NBA head coach Carlos Barroca.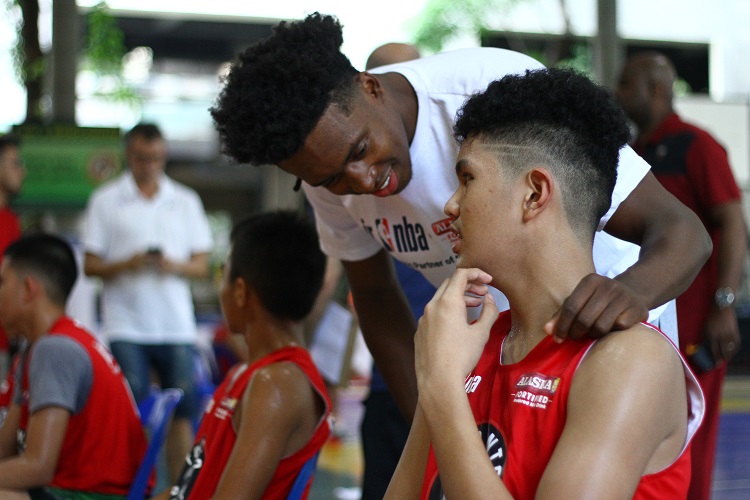 Collin Sexton of the Cleveland Cavaliers gives words of encouragement to a Junior NBA participant.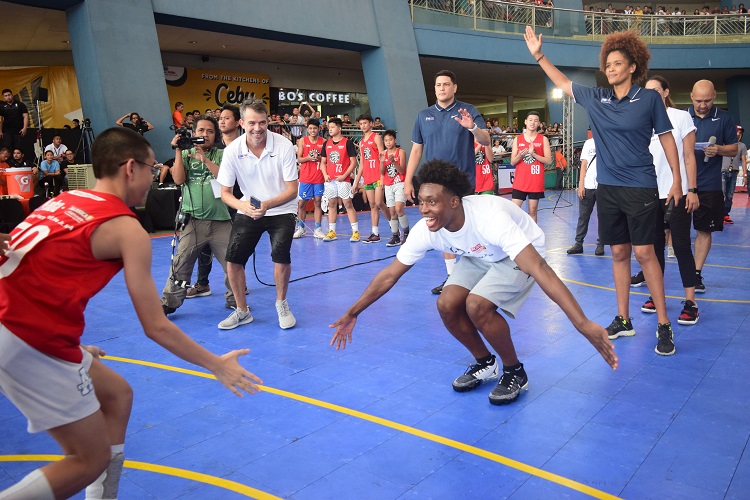 Cleveland Cavaliers rookie Collin Sexton celebrates with a Junior NBA participant as he is called to be part of the Top 20 boys.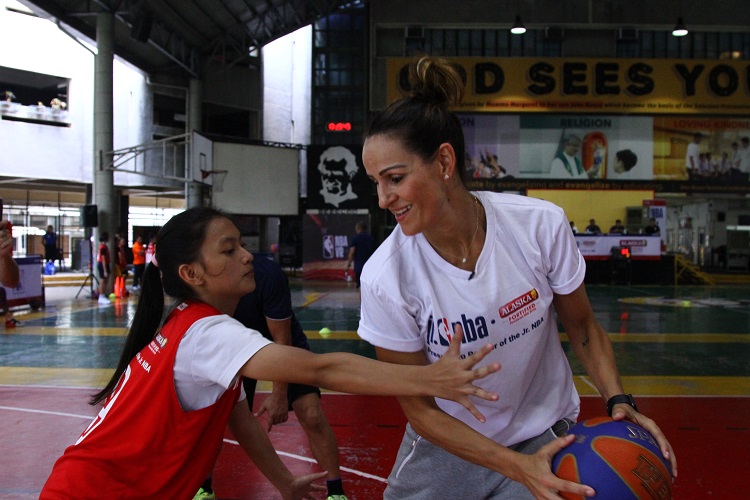 WNBA Legend Ticha Penicheiro teaches this young baller how to protect the ball.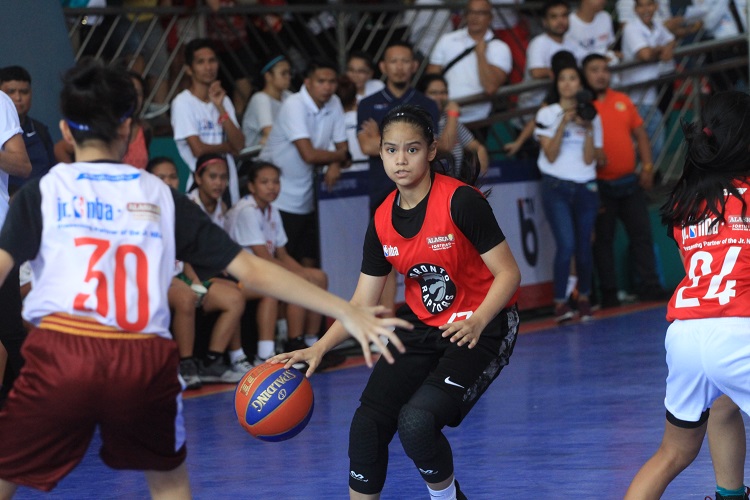 A Junior NBA participant keeps her focus and intensity during the Top 20 Girls' game.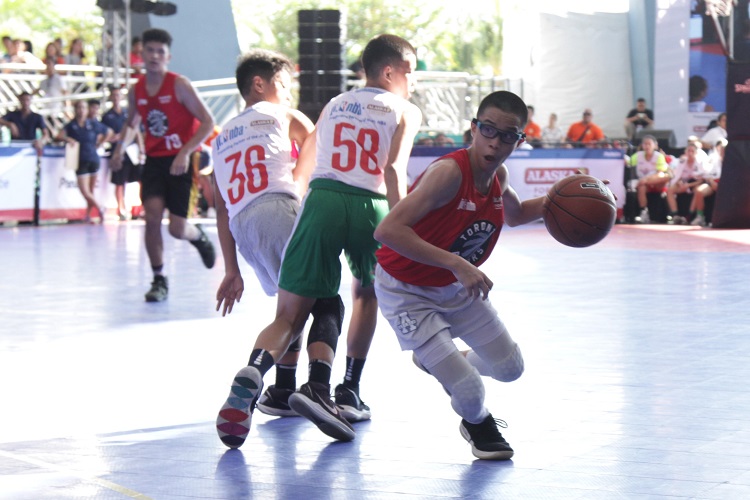 A Junior NBA baller wows the crowd as he leaves his opponents behind on this play.