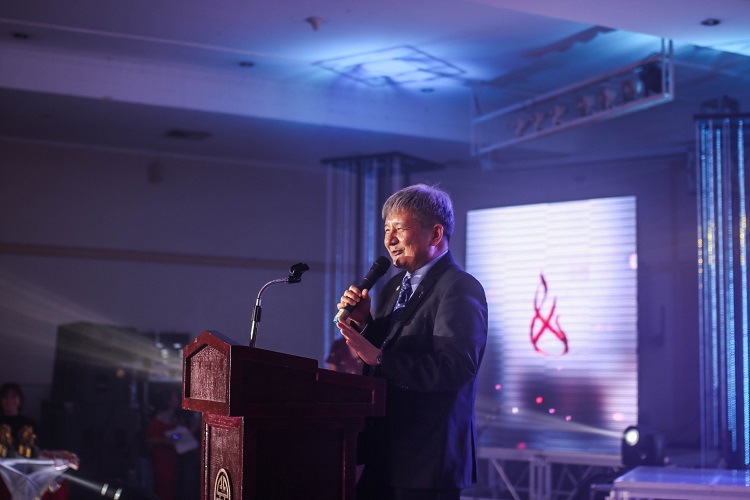 THE 25TH OF MAY. Xavier Ateneo president Fr Roberto C Yap SJ delivers his inspiring message "Union of minds and hearts," during the 2019 Fire & Magis Excellence Gala on the The Grand Caprice ballroom on the 25th evening of May. Photo by Anthony Jacob Karagdag.
Union of minds and hearts. Good friends, we celebrate this evening, our union of minds and hearts at Xavier Ateneo.
At Xavier Ateneo, our minds and hearts are united in working together for service. We work together for the formation of our students, so they will become leaders of character … so they will become persons of competence, conscience, and compassionate commitment … so they will become men and women for and with others. We are united in vision, purpose, and ideals. We share passion and fire … hopes and aspirations … struggles and successes.
At Xavier Ateneo, our minds and hearts are united in sharing a common mission. As partners in mission, we are never content with the status quo, the known, the tried, the already existing. We are constantly driven to discover, redefine, and reach out for the magis. For us, frontiers and boundaries are not obstacles or ends, but new challenges to be faced, new opportunities to be welcomed.
At Xavier Ateneo, our minds and hearts are united in the pursuit of magis. Magis is too often misunderstood in competitive terms, misapprehended as competitive excellence. "I am better than you!" "We are better than you!" "Our school is better than yours." This is not what magis means.
For the Xavier Atenean, magis means to become the best that we are capable of becoming. In other words, magis means that if ever we are competing, we are competing against ourselves, not against others. In more spiritual terms, magis means becoming the persons God calls us to be. Magis (the 'more') is about the quality of our interior disposition and attitude – like being more humble, more honest and truthful, more open and adaptable, more daring and courageous, more detached, more trusting, in short, more Christ-like.
Pope Francis often speaks of the God of surprises and, this is one test of magis: whether we are still being surprised by God, if we are still being called to growth. For Ignatius, God is Deus semper maior, God who is always greater, a God who always surprises us, because his thoughts and his ways, his love and his dreams, are always beyond ours. This is what magis really means. A person who lives the magis is one who has space in his heart for the ever-greater God, who listens to the God of surprises, who allows this God to lead him out of his comfort zones, to greater freedom, greater love, greater service, greater joy.
This evening, we joyfully honor our co-workers, our colleagues, and our friends who have distinguished themselves in following magis as a guiding star of their journey at Xavier Ateneo.
United in minds and hearts, we are more and more aware that life is a community affair, that salvation is a community experience and that building the realm of God here on earth is a community endeavor.
Union of minds and hearts … united in service … united in mission … united in magis … This evening, we celebrate what is true, what is good, and what is beautiful in Xavier Ateneo. Mabuhay … cheers … God bless!∎