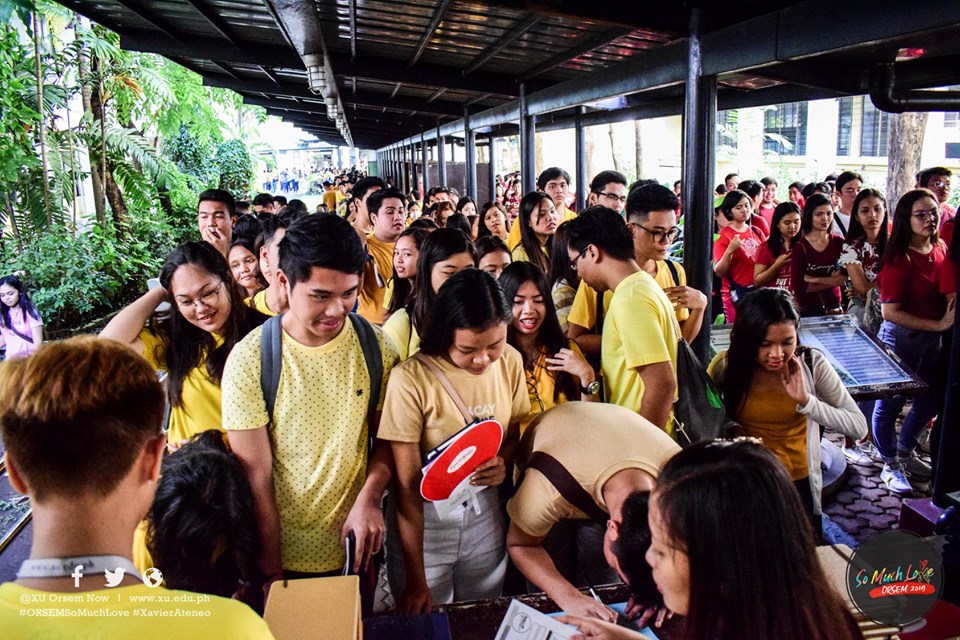 Interview by Alessandro Kennz Nioda
Photo courtesy of ORSEM 2019 Team
As preparations for ORSEM 2019 continued on its last days, Gabriel Andres, one of the volunteers, attended yet another meeting at the Loyola Conference Room as part of the welcome team and the audience development team. He cannot count the number of times he has gone in and out of that room. In fact, this year will be his third in working for the annual three-day event. He has maintained the eagerness he had felt like a participant in Aim High, Senior High that made him sign up, relive, and replicate the experience to incoming students since 2017. Out of these moments in his life, one could truly say that love relentlessly resides in him through the power of service.
Now an incoming sophomore in BS Development Communication, this "clever and enthusiastic" guy, in his own words, opens up about his past three years in Xavier Ateneo.
Q: Can you describe your first impression of being a freshman at Xavier Ateneo in relation to your program and your involvements?
A: It is always going to be difficult and scary at first because you're only beginning to settle in a new environment and mingle with new people, but eventually it will turn out all right. […] Volunteering for ORSEM really allowed me to develop the social skills that I needed in preparation for my course. […] I learned to get along with people from different walks of life, knew their stories as well, and share mine. The whole experience is truly rewarding especially when you realize you can do it all again every year!
Q: How have you related well with the community given the adjustment phase?
A: I feel like I immediately connected with the Xavier Ateneo community because the excitement and enthusiasm brought about in ORSEM transcend from it and are instilled to all of us even until the end of the school year. I've immediately become friends with my batch because we're all sharing the same positive energy and willingness to find growth in one another. To be part of this community is truly rewarding. […] The way you fit in just feels right the first time.
Q: Have there been things in XU—concrete or abstract—that you love?
A: Besides the collectivist culture of Ateneans, I think what I love about Xavier Ateneo is that our environment is designed to bring people together. One thing I noticed was that during ORSEM, students would flock together into kiosks or tables in the Magis cafeteria, unknowingly making these places their own "barkada spot" for the next few years. For a while, my friends and I made the tables near the field our "barkada spot" because we agreed to meet there after our ORSEM sessions. What seemed like a normal place to us before now serves as a remnant of all the shared stories, laughter, and friendship that is sure to last a lifetime.
Q: What are you looking forward after ORSEM as a continuing student?
A: I'm looking forward to the following batches of college students to keep the ORSEM spirit alive. I think what truly sets apart our ORSEM from other university welcomes is that the event and its volunteers bank on the freshmen's positive experience to exceed into volunteerism for the spirit to continue. This is why I hope that every student whom we [fellow volunteers and I] inspired and pleased would consider volunteering after their ORSEM year and appreciate how much this event matters in building a loving Ateneo community.
Q: For my last question, do you think you will love XU less or more?
A: The experience of being welcomed and, eventually, welcoming others definitely grows on me. It allowed me to feel the selflessness and love that Xavier Ateneo offers (and will offer) in a much more intimate way.∎