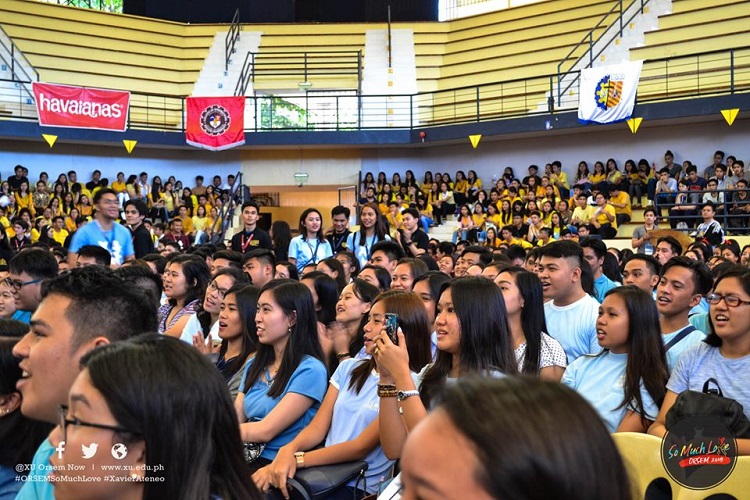 Text by Stephanie B Lopuz
Photo courtesy of ORSEM 2019 Team
Warm smiles and crowds of buzzing freshmen dressed in their respective college colors filled the campus. Excitement with a hint of nervousness radiated in the perimeters of Xavier Ateneo in light of this year's Orientation Seminar (ORSEM) held from June 6 to 8.
Adhering to the theme "So Much Love," the college freshmen and transferees were "showered with love," as Xavier Ateneo opened its gates to welcome the three thousand and seven hundred new members of the community.
An abundance of surprises, gimmicks, and jam-packed activities were organized to kick off their college journey. The event formally opened with a eucharistic celebration held at the University Gym.
A new feature to this year is the Safety and Security Orientation to fully ensure that the entire school, its members and properties are being protected. Its purpose is also to guarantee that they are far from any danger during their stay here.
"Dear freshmen, have an outstanding tradition of academic excellence to live up to," said Xavier Ateneo president Fr Roberto "Bobby" C Yap SJ. "You have to experience excellence at Xavier Ateneo" was a challenge he posed to Class 2023 during the academic convocation.
"Xavier Ateneo wants to bring out the leader in each of you," Yap added. In line with the school's vision, he states to be not only leaders in imagination and inspiration but to also have a heart grounded in service.
Filled with love
Split sessions were held in the first two days. The seven undergraduate colleges conducted their separate college assemblies, the Counseling and Green Campus Agenda (GCA) Orientation, and small-group discussions. All provided great interaction and became an avenue to create strong bonds from both freshmen to freshmen and upperclassmen to freshmen.
The third day brought exciting, fun-filled parallel sessions. Student Interest Sessions catered to the individualized pursuit of the student ranging from academics (Bop to the Top) to athletics (Game On!) and student leadership (Take the Lead) to service (Living for Others).
While in the ORSEM games, the freshies battle it out not only in terms of strength but also knowledge. ORSEMazing racked their brains with questions from the split sessions and about the history of Xavier Ateneo. At the same time, ORSEMvivor developed their quick thinking and nimble bodies.
In the afternoon, the Org Tour gave a peek into the wide range of organizations offered, both co-curricular and extra-curricular. Any passion it may be, freshies will always find an org that will cultivate it here in Xavier.
A showcase of spectacular performances concluded ORSEM 2019 in an explosion of talent and love at the ORSEM Night. Booming cheers reverberated inside the gym as different production numbers incredibly mesmerized the crowd.
A barrage of posts with the hashtags, #ORSEMSoMuchLove and #XavierAteneo, filled Twitter and Facebook throughout the event, as a strong social media presence was kept through updates and student feedback. Many were drawn to the occasion as some reminisced to their own ORSEM days while some looked forward to the following days as daily summary videos and albums were posted.
Continue to love
Ivanell Subrabas, director of the Office of Student Affairs (OSA), explained that the spring of love that sprouts from this event is always present within the university and continuously grows, which is why this year's theme is "So Much Love."
BS Psychology student Jenaina Clem shared her ORSEM experience: "ORSEM 2019 was truly a wonderful experience. I learned a lot from the speakers and had fun participating in games and events and touring around the campus."
She continued saying that she felt welcomed and ready to face on college with love and vigor. "I felt welcomed and loved the moment I stepped in the campus. It was so overwhelming, I'm glad I choose to experience excellence at Xavier Ateneo."
The three days did not only offer knowledge on the know-hows of XU but the first-hand experience of the Atenean spirit and identity. The love that has been shared will continue on as freshmen will embark on their college journeys at Xavier Ateneo.∎