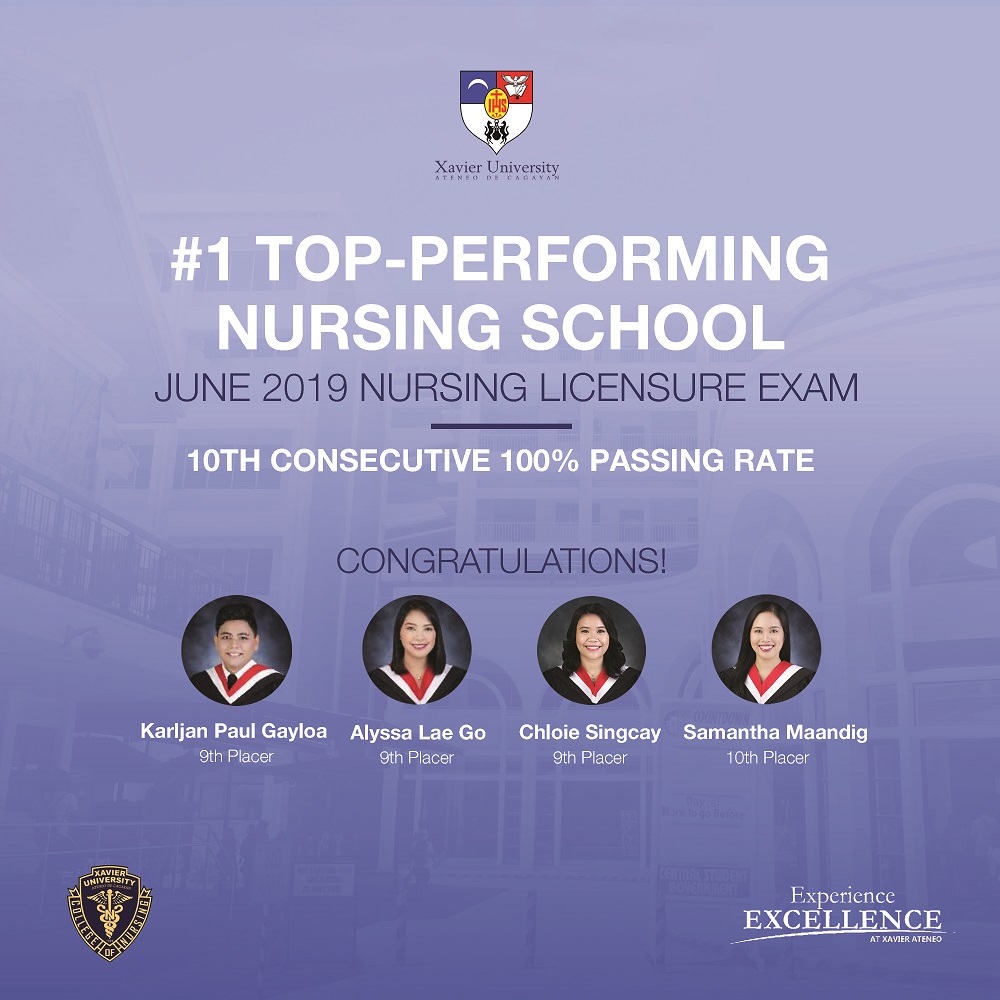 CAGAYAN DE ORO CITY, Philippines —The College of Nursing of Xavier University - Ateneo de Cagayan proves to be a force to be reckoned with as it recently secured its 10th consecutive 100% passing rate in the Nurse Licensure Examination (NLE).
After all 102 of its takers successfully passed the June 2019 NLE, Xavier Ateneo Nursing ranked first in the list of top-performing nursing schools in the country, alongside two other universities.
Four Xavier Ateneo graduates were also topnotchers in the said exam. Karljan Paul Lopez Gayloa, Alyssa Lae Rafaela Go, and Chloie Jorolan Singcay shared the ninth spot (85.80%), while Samantha Bacalso Maandig ranked tenth (85.60%).
In his memo to the academic community, university president Fr Roberto "Bobby" C Yap SJ wrote, "We thank once again Dean Ramona Heidi C Palad, the faculty, and staff of the College of Nursing for the superb guidance and steadfast support they provide our students."
Yap added: "Truly, the College of Nursing is XU's pride and joy. Pope Francis has called the nursing profession 'a real mission,' and referred to nurses as, 'experts in humanity.' Pope Francis has said that 'Like no other, the nurse has a direct and continuous relationship with patients, takes care of them every day, listens to their needs and comes into personal contact with them ... The role of nurses in assisting the patient is truly irreplaceable. They touch the sick like Jesus, making them experience the closeness and tenderness of God.'"
Dean Palad believes that the "secrets" to getting 10 perfect passing rates in a row are embracing the Nursing program wholeheartedly and attuning the goals of the college with the vision and mission of Xavier Ateneo.
"It's the systems-approach in the implementation of our Nursing program that got us our 10th consecutive perfect passing rate," Palad said. "Our input, output, and feedback mechanisms are in place. We evaluate students through our admission requirements and we adhere to CHED orders of hiring professors with the right competence to teach and form our students to be the 'Best for Filipinos, the Choice of the World.'"
Dean Palad also expressed her gratitude to the people behind this latest feat of the College of Nursing: "We owe this success to the parents who entrusted their children to us to have the excellent education they so deserve. I also thank the support of the PTA, student body, faculty, staff, and other stakeholders who made our mission possible. We aim to produce not just Nursing graduates, but graduates who have a niche and be of great help to communities."
Only two Ateneo nursing schools made it to the list of top-performing nursing schools in the Philippines (with at least 45 examinees), Xavier Ateneo and Ateneo de Zamboanga University (#5 with 95.54%).
The Professional Regulation Commission reported on Friday, June 21 that only 5,059 out of 9,691 (52.20%) takers passed the NLE, administered by the Board of Nursing in the cities of Manila, Baguio, Cagayan de Oro, Cebu, Davao, Iloilo, Legazpi, Lucena, Pagadian, Tacloban, Tuguegarao, and Zamboanga.∎