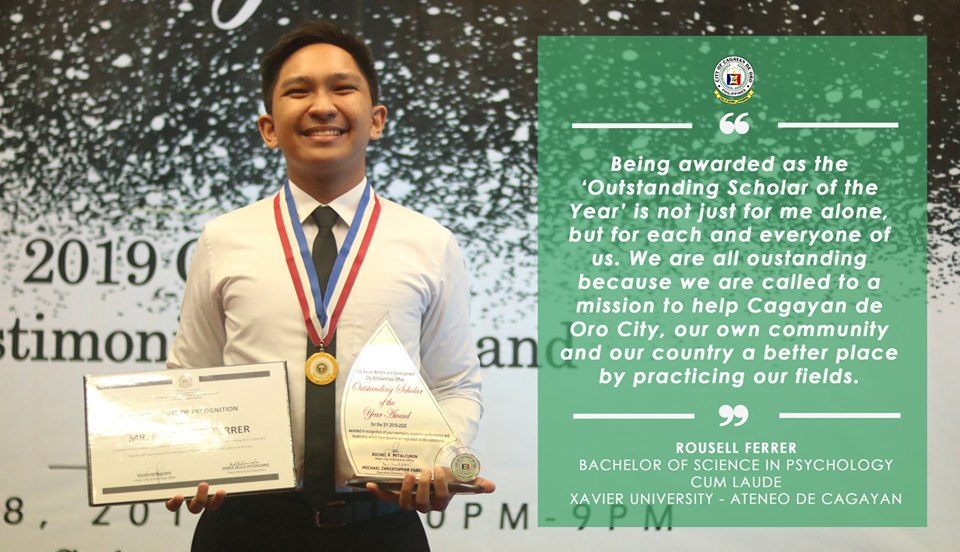 Report by Maria Monica L Borja
Image courtesy of Cagayan de Oro City Information Office
Xavier University - Ateneo de Cagayan graduate Rousell Ferrer was hailed as 1st Outstanding City Scholar of the Year at a gala hosted by the City Scholarships Office under the City Social Welfare and Development Office, held on June 28 at Mallberry Suites Business Hotel.
Ferrer bested other city scholars, who graduated from private and public universities and colleges in Cagayan de Oro.
In his message, Ferrer said: "Being awarded as the Outstanding Scholar of the Year is not just for me alone but for each and every one of us. We are all outstanding because we are called to a mission to help Cagayan de Oro City, our own community, and our country a better place by practicing our respective fields."
Ferrer graduated as cum laude in Bachelor in Psychology of the Class of 2019 and served as a member of the music ministry of one of XU's organizations, Campus Chapel Aides, in his college years.
Partner offices and institutions and those with Latin honors were also acknowledged at the event.
At present, the local government unit of Cagayan de Oro caters over 3,500 city scholars.∎