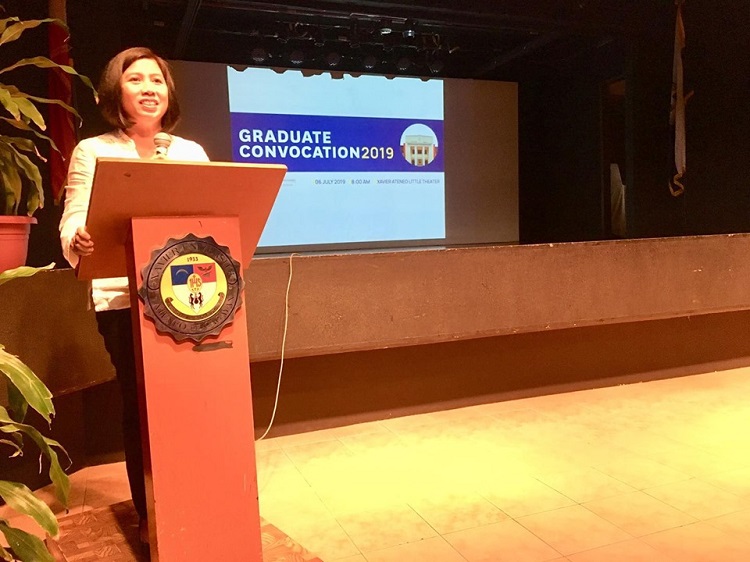 STRONG SUPPORT. Part of XU Graduate School dean Dr Catherine Roween Almaden's mission is to help, through the department, students address their challenges when conducting research.
Report by Angelo Lorenzo
Photos by Debbie Jane Gatab
The Xavier Ateneo Graduate School and the Graduate School Student Council (GSSC) for AY2019-2020 spearheaded their annual convocation at the XU Little Theater on Saturday, July 6.
Students enrolled in graduate programs this year attended the event for an opportunity to witness the induction of officers, introduction to their programs, and the proposed plans and activities with their involvement this academic year.
Introducing the list and backgrounds of these programs were faculty coordinators, deans, and their representatives. While each program offers quality education with their curriculum, students gain more knowledge with their chosen specialization once they conduct their own research.
With the convocation emphasizing its relevance, research will not remain as a prerequisite to a graduate or post-graduate degree. It becomes an opportunity to discover new avenues of learning and contribute to the vast existing knowledge in the students' disciplines.
Research for mission
Xavier Ateneo president Fr Roberto C Yap SJ opened the convocation by calling for students in graduate programs to value research as a way to fulfill the Jesuit mission.
"We are a Jesuit university," Yap said, defining Xavier Ateneo's identity as distinctive from other schools and colleges in Northern Mindanao. "In a university, it is important to search for new knowledge. This happens in the research of our graduate students."
Yap cited the Jesuit mission for this year, following Fr General Arturo Sosa SJ's announcement of the Society of Jesus' Universal Apostolic Preferences (UAP) in February. This covers: promoting discernment and spiritual exercises; walking with the excluded; caring for our common home; and journeying with the youth.
The UAP would serve as the graduate students' guide to pursue research studies and dissertations for noble pursuits so that this initiative will provide resource and reference to address the needs of communities outside the university.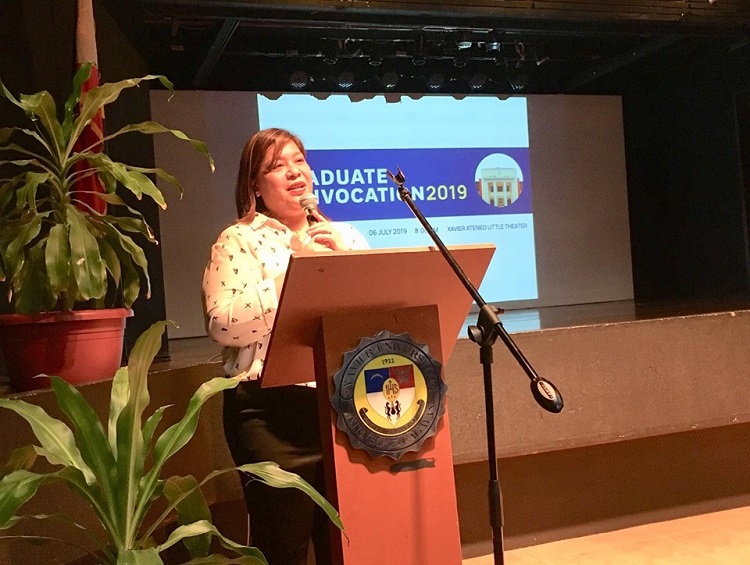 ADVOCACY. Graduate School Student Council president Bernadette Paalam plans to serve the graduate students with social responsibility, unity, and inclusiveness.
Research and opportunities
Providing opportunities for research resources and mentorship is the core of Dr Catherine Roween Almaden's advocacy as the graduate school's new dean. Almaden has been one of the active faculty members of the university's economics department, serving as its chairperson from 2006 to 2013. This is among her vast academic and professional experiences.
Speaking in front of the attendees during the convocation, she addressed the gaps and challenges that most graduate students encounter when conducting their research – from resources to funding and time management.
"Despite difficulties, my consolation when I was a graduate student was the strong support from my graduate school," she recalled. "This will be my major aim this year – the same support is afforded to you."
She went on: "In Xavier University, we have the experts and the best in the fields. That is already guaranteed."
Research and active participation
Besides instilling a strong support system for academic pursuits, the GSSC is looking forward to collaborating with graduate students on activities that will contribute to their excellence in their specialization.
During the convocation, the GSSC conducted a survey through sheets of paper from students by asking them for their suggestions and feedback. Inputs will help the GSSC better serve the student body by providing them what they need.
Inducted at the event along with the new set of officers, GSSC president Bernadette Paalam enumerated three concepts that would serve as the bases for the term's proposed plans: advocacy for social responsibility, activities for a united student body, and avenues for inclusiveness.
A student of the graduate school's public administration program, Paalam also keeps a promising career in the Cagayan de Oro City government's human resource department.
"As officers of the student council, we are your link to the higher-ups," Paalam said. "We will work together to achieve the goals we have this year."
By addressing challenges and concerns in terms of the graduate students' research endeavor, the GSSC and the graduate school department's collaborative and active support will link students to vast opportunities.
Almaden also encouraged this year's graduate students to check out the graduate school's Facebook page for these opportunities with their frequent announcements.∎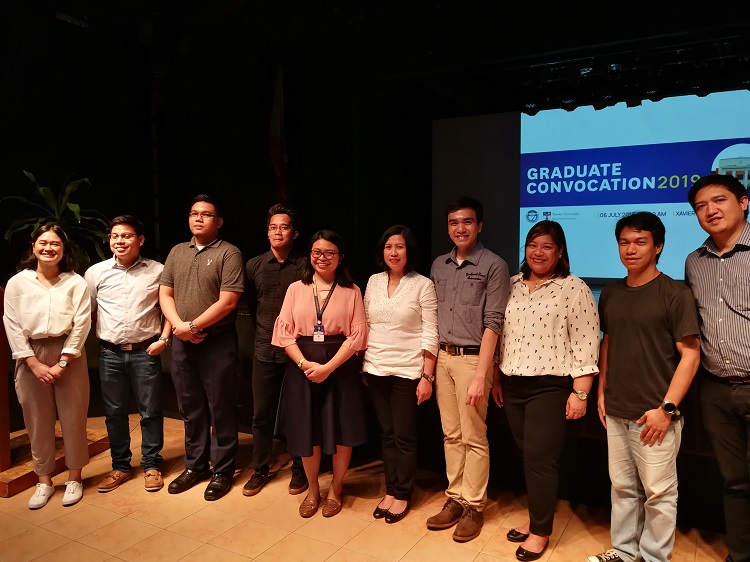 INCLUSIVENESS. This year's Graduate School Student Council officers plan to pattern their activities according to the students' needs by taking heed of their suggestions and feedback.