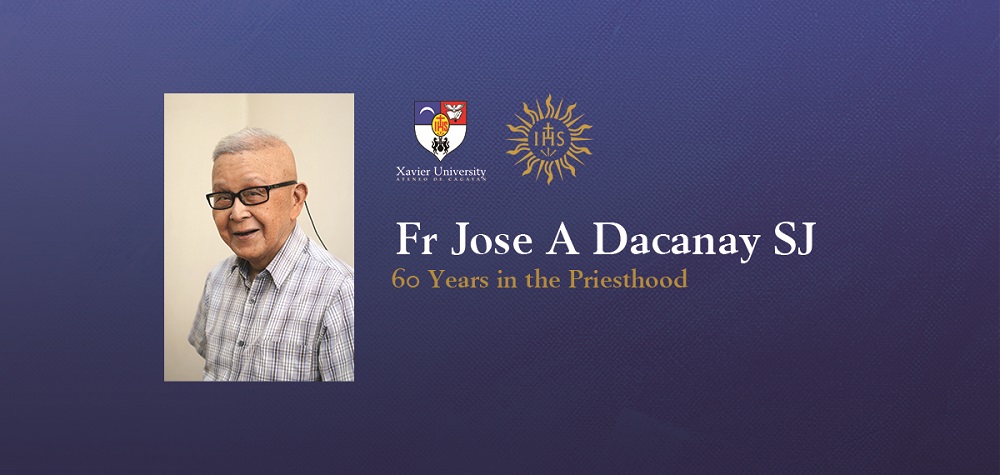 A profile by Fr Gaby Gonzalez SJ
Fr Joe's life has been marked by mission from birth. He was born in Shanghai, China, on June 21, 1925, to Feliciano Dacanay and Jovita Arcega. He went to a high school in Shanghai named after one of the patron saints of the mission, St Francis Xavier's College. At 21 years of age, he entered the Jesuit Sacred Heart Novitiate in Los Gatos, California, USA. He then did his Philosophy studies at Mount St Michael's in Spokane, Washington. He came to the Philippines, particularly to Ateneo de Cagayan, for regency from 1953 to 1955. He then went back to the US for theological studies at Woodstock College in Maryland. He was ordained a priest in 1959 at the Fordham University Church in the Bronx, New York on June 20, 1959. He was then only 34 years old. This year, we celebrate Fr Joe's 60th anniversary as a priest.
Fr Joe's priestly ministry has been focused on Mindanao. He taught Mathematics and Physics in Ateneo de Davao from 1961 to 1965. He was then assigned to Ateneo de Naga for a couple of years but returned to Mindanao by 1967, this time to Ateneo de Cagayan where he taught Physics and acted as Prefect of Discipline. In 1970, he received a mission area assignment at Margosatubig, Zamboanga del Sur. In 1974, he continued his mission area work in Bukidnon at Imbatug, Baungon.
Fr Joe briefly returned to a university setting, at Ateneo de Cagayan for a year in 1975. He then continued with his mission area work in Bukidnon for the next twenty years, covering the following areas: Pangantucan, Sumilao, and Musuan. He was Chaplain-Campus Minister at Central Mindanao University (CMU). People whose lives he touched at CMU remain his faithful friends today more than thirty years later.
Fr Joe had another brief stint outside Mindanao, at the Jesuit Retreat House in Cebu from 1995 to 1997. That was followed by a return to the mission areas in Zamboanga del Sur, this time covering Payao, the island of Titay, and Ipil. From 2004 to the present, Fr Joe has been back at Xavier Ateneo.
Of Fr Joe's 60 years as a priest, 56 have been given to Mindanao. Of the 56, 23 have been given to Ateneo de Davao and Xavier Ateneo, and 33 to the missions in Mindanao. Fr Joe's ministry has come full circle. As a Jesuit, Ateneo de Cagayan was his very first assignment in the Philippines. He has come and gone but keeps coming back home to Xavier Ateneo.
At 94, Fr. Joe's missionary zeal cannot be quelled. He generously serves the Xavier Ateneo community by his easy availability for confessions and masses for university groups on retreats. He is always available and regularly responds to requests for the anointing of the sick and for funeral masses, many of which requests come from outside the Xavier Ateneo community. A regular stream of young professionals from all over the city comes to Loyola House to have their confession heard by him at Loyola House. And he faithfully serves the aged and infirm at St Joseph's Golden Home in Nazareth. For Fr. Joe, the mission continues, especially through a ministry of healing through the sacraments of reconciliation and anointing of the sick and through the accompaniment of those seeking their way back to God.∎