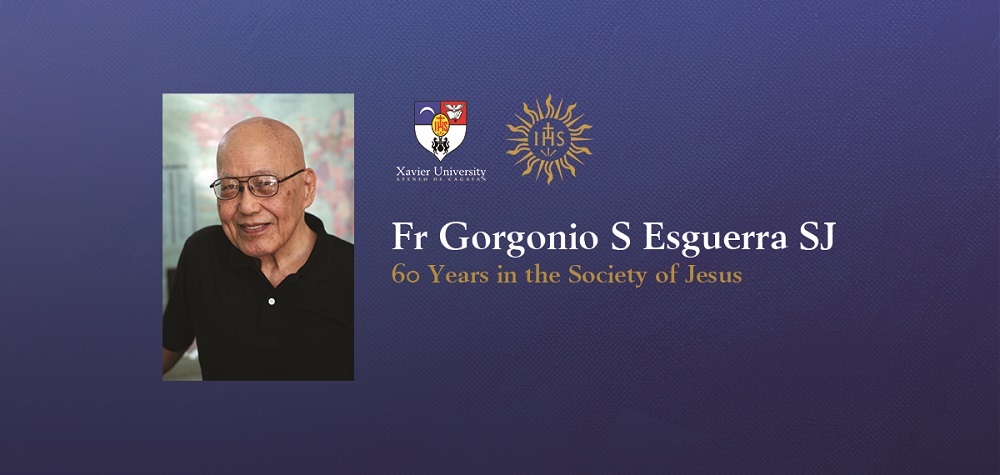 A profile by Fr Emeterio Barcelon SJ
Ateneo High School has a beloved teacher in Mr Onofre Pagsanghan. He wanted to be a Jesuit priest but his poor health disqualified him. But as it turned out he was healthier than most of his classmates since he is still alive today. He was not only a good and beloved teacher but he inspired others to give themselves to the priesthood. One of these is Fr Gorgonio Esguerra even though he did not go to the Ateneo; it was in Balik-Balik in Manila that they met.
Fr George entered the Jesuits in 1959 after he graduated from Mapua Institute Technology and passed the board exam as a civil engineer. He spent his first formation years as a Jesuit in Sacred Heart Novitiate, Novaliches, Quezon City and was ordained a priest in 1970 by His Holiness Pope Paul VI. Then from 1971-73, he took up post-graduate studies in Theology in Ontario Canada.
Right after his studies abroad, Fr George started his long ministry as a college teacher and administrator beginning in Ateneo de Davao University. He took on several assignments both in the college and in the community as chaplain, confessor, department coordinator, teacher, and trustee but his longest was as a college dean which was a record-long from 1978 to 1999 for a total of 21 years. After Davao, Fr George took a year of sabbatical leave in the States then was assigned at Xavier University - Ateneo de Cagayan as principal of the high school for seven years. His last administrative work in the university was as Vice President of Mission and Ministry Office and as the Director of College Campus Ministries. In the Jesuit community, Fr George also held an important office as house minister for nine years. For many years until the present, he also holds the fort as acting rector of the Loyola House whenever both the rector and the minister are away.
In all the years as a school or house administrator, Fr George has been the ideal executive. No fanfare, nothing extraordinary but the school runs as smoothly as possible. He works quietly and does not seek attention to himself but he delivers the expected results. There is stability in the way he manages his office yet he listens to and is open to new ideas. As house minister, he is reliable in providing the daily material needs of the Jesuit community.
Years ago, Fr George had to have a bypass for the arteries of his heart but he has been operating as steady as usual. He has retired from school administrative work and spends a good deal of time in hearing confessions and saying Masses for the students. During his free time, he likes watching basketball games on TV and playing solitaire on his computer.
Fr George is the steady hand and the executive in all these years. Even in his retirement years now, he remains constant and dependable. The Lord has blessed him with fair health and calm and happy disposition. We are thankful to the Lord for his long years of quiet and dedicated service to the educational apostolate of the Society.∎