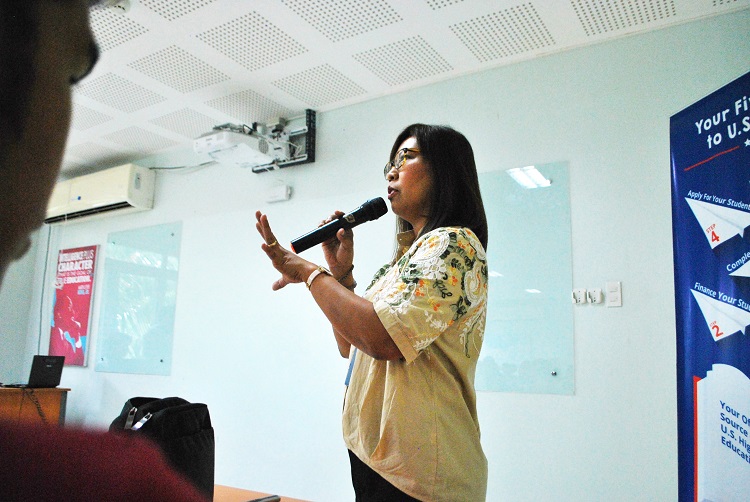 DOING RESEARCH. Xavier Ateneo Research dean Dr Heidi Rabanes talks about the guidelines on submitting theses and research papers for Kinaadman Research Grant during the Social Sciences students' orientation on doing research on July 24 at the XU Library Annex.
Report by Therese Mole
Photos by Gene Verona
Students from AB History, AB Economics, BS Psychology, AB International Studies, and AB Sociology programs attended the College of Arts and Sciences (CAS)-sponsored orientation on doing research, held on July 24 at the XU Library Annex with speakers University Research dean Dr Heidi Rabanes, University Libraries director Estrella Cabudoy, and University Ethics Board head Dr Jane Gallamaso.
The orientation started with a rationale by new research coordinator John Louie Sabal in hopes that the students will learn from the orientation and apply it to their researches and theses.
Rabanes started the talk on University Research Agenda and Kinaadman Research Grant. She highlighted the Kinaadman Support for Student Research (KSSR) which is university-funded and is intentionally for students doing highly competitive researches required by their respective programs. The external funding sources include the Department of Science and Technology (DOST) agencies and Regional (Northern Mindanao) Consortia for national, and USAID and European Union (EU) funding for international.
Rabanes also showed samples of templates for research and capstone proposals, along with guidelines on submitting research papers for Kinaadman.
Cabudoy, for her part, conducted a presentation on e-resources and other research electronic technology. She said that along the innovation of21st-century library comes the advancements of research materials such as texts and sources. With this, she mentioned the sites and online sources student could use in their research. E-learn, ScienceDirect, and Emerald Insight were some of the sites she mentioned.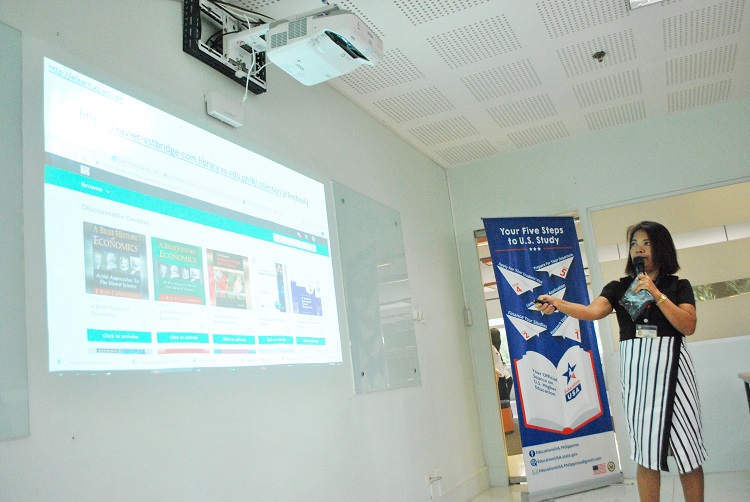 JOURNAL SOURCES. University Libraries director Estrella Cabudoy teaches students where to find sources and references for their research.
Cabudoy emphasized the importance of having local sources aside from international resources. These local sources can be found in the Filipiniana section of the XU Library. Cabudoy promoted the use of open access for students doing their research, as it can help them find references especially for their Review of Related Literature (RRL). "In your research, you don't only focus on Cagayan de Oro," she said. "Don't only focus on Xavier University. You need to go international also. That's why you need to use open access."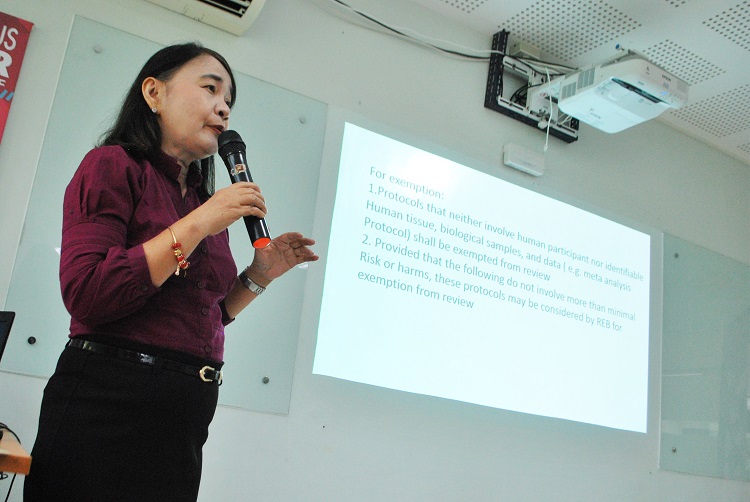 ETHICS IN RESEARCH. Head of University Ethics Board Dr Jane Gallamaso presents the ethical considerations when submitting theses and researches during the Social Sciences students' orientation on doing research.
Lastly, Gallamaso presented the Ethical Review Guidelines and Tips. Along with her talk are criteria, the step-by-step process when applying for a review, protocols, general ethics, and special ethics. Gallamaso imparted the importance of ethical considerations which include conflict of interest, privacy and confidentiality, informed consent process, assent, vulnerability, recruitment, risks, benefits, incentives or compensation, and community considerations, and how to approach these factors properly and professionally.
After each talk, there was an open forum and giving of certificates to the speakers.∎