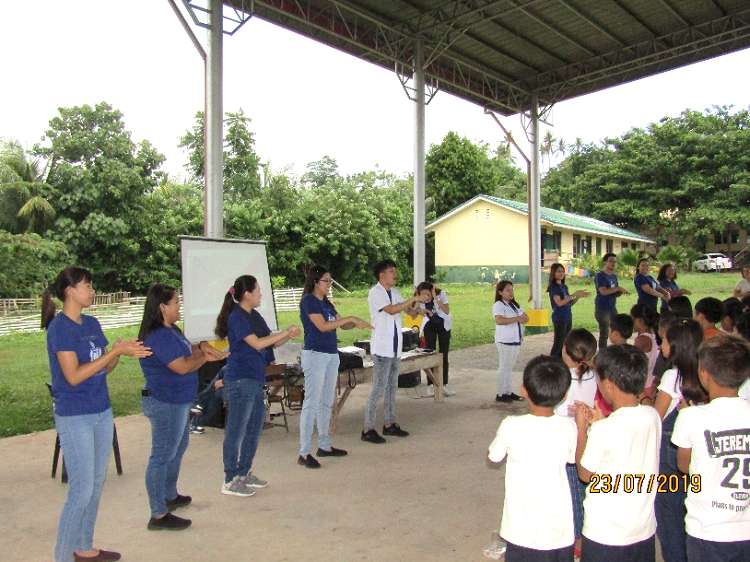 PROPER HANDWASHING. Xavier Ateneo Med students teach kids how to properly wash their hands. Supplied photo.
Report by Sarah Mae L Namoc, Christy Clare B Llono, Jeric Evanz G Delos Santos, Zaidee M Anas
According to the 2015 survey by the Food and Nutrition Research Institute (FNRI)'s updating on the nutritional status of Filipino children, malnutrition remains high in Northern Mindanao. One in every five children under five years old has been found to be nutritionally-wasted particularly in the provinces of Misamis Oriental and Lanao del Norte, topping the survey for the most number of malnourished children at 22.3%.
The children are a vulnerable population, and malnutrition limits their full physical and mental potential that's why this challenge needs full cooperation, coordination, and commitment from public and private sectors, encompassing food, health, and social protection systems.
The Sustainable Sanitation (SuSan) Center and Dr Jose P Rizal School of Medicine (JPRSM) of Xavier University - Ateneo de Cagayan, together with community midwife Julieta Buray and Barangay Health Workers (BHWs) from Molocboloc, Alubijid, Misamis Oriental, spearheaded lectures on proper nutrition, handwashing, and toothbrushing on July 23 for the children of Molocboloc Elementary School. The event also included feeding and mass deworming activities.
The celebration of the 45th National Nutrition Month with the theme, "Kumain nang wasto at maging aktibo… push natin 'to!", was participated by kids from the daycare and grades 1 to 6.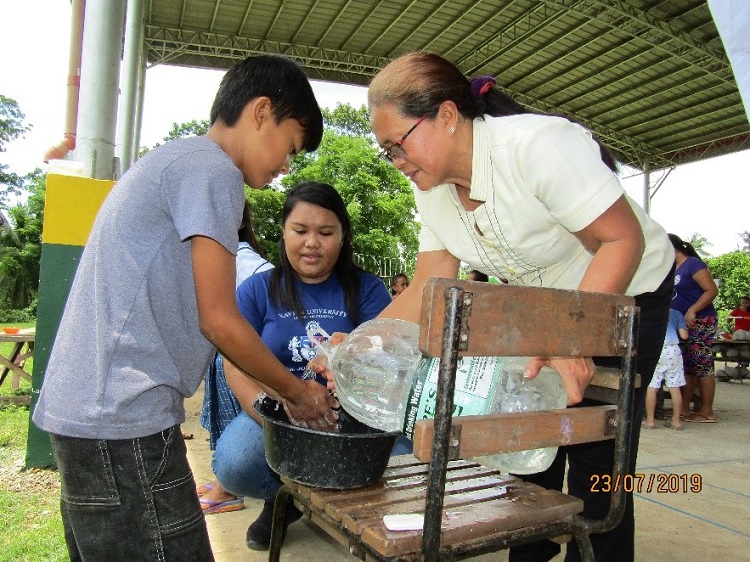 NUTRITION MONTH CELEBRATION. The event includes demos on proper handwashing and lectures on its importance in the overall health of children. Supplied photo.
The brief lectures on proper nutrition covered topics on "Pinggang Pinoy," identifying common food items in their locality and arranging them into food groups and identifying healthy and bad eating habits. The lecture emphasized the importance of having the right portion of each food group and the benefits they can get from eating the right food.
Supplemental lecture and demonstrations were also held to cover proper handwashing and the importance of washing their hands often.
Handwashing is one of the simplest and effective means to stop the spread of infection, especially among children who are at risk for contracting diarrhea and other diseases related to poor water, sanitation, and hygiene (WASH).
Incorporating these topics into the school curriculum and making facilities for it to be practiced are in line with the Department of Education (DepED) Order No 10, "Policy and Guidelines on the Comprehensive Water, Sanitation, and Hygiene in Schools (WinS) Program."
Another public health threat in children nowadays is the detrimental impacts of the Soil-Transmitted Helminths (STH) on their growth and development which includes anemia, malnutrition, weakness, and impaired physical and cognitive development resulting to poor growth and school performance in children.
In this light, the national government, through the collaborative efforts of the Department of Health and World Health Organization, in partnership with the local government units, public schools, and Johnson & Johnson (Philippines), continues its nationwide drive to eliminate intestinal parasitism in children, held twice a year during the months of January and July.
Towards the end of the event, "champorado" (porridge) was served by BHWs (which they prepared for the kids) and after the children brushed their teeth, they took deworming medication.
Small efforts, such as this event in Molocboloc, Alubijid, are crucial in cultivating a culture of collaboration towards protecting the lives of children with the help of a well-informed, active, and responsible community.∎

TEACHING YOUNG MINDS. The Nutrition Month celebration in Molocboloc, Alubijid zeroes in on proper diet and handwashing. Supplied photo.