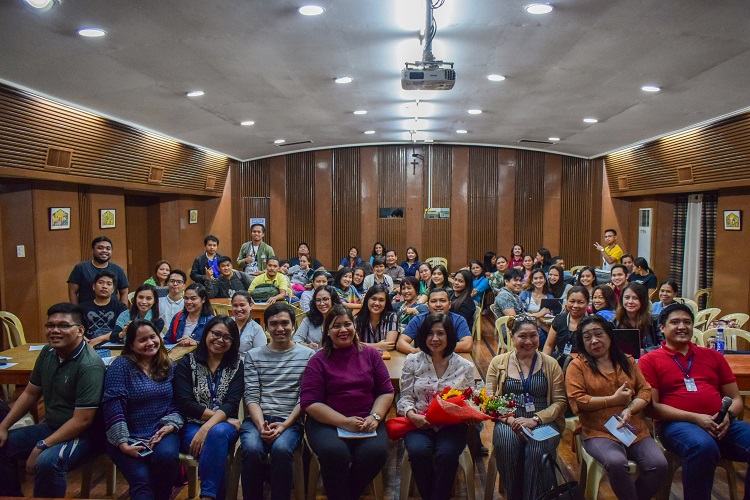 COLLABORATION. Xavier Ateneo Graduate School students pose with GSD dean Dr Catherine Roween Almaden (center, with bouquet) after the seminar-workshop. Photograph courtesy of Benjiemar Trajan G Dagala.
Report by Angelo Lorenzo
In its first seminar-workshop for the academic year 2019-2020, the Graduate School of Xavier University - Ateneo de Cagayan underscores the importance of producing quality research works by students. These would serve as solutions to address Cagayan de Oro City's prevalent issues.
"We can produce research that can be of value to our society and community," Graduate School Student Council president Bernadette Paalam said in her opening speech on Saturday, August 3, at the XU AVR-1.
Organized by the Graduate School Department in active collaboration with the GSSC, the seminar-workshop introduced Mendeley software as a research tool for graduate students. In terms of reference management and concise iteration, Mendeley can assist graduate students in their literature review, a fundamental part of any research.
Initiatives for students and city
XU Graduate School dean Dr Catherine Roween Almaden first pitched the idea of the seminar-workshop in one of the initial meetings with the GSSC in July. This is one of the initiatives that the GSD and GSSC are looking forward to conduct this year.
At the same time, Paalam hopes that these activities would encourage graduate students enrolled this year and the succeeding terms to come up with research that can be utilized by local government units as bases for sustainable and effective solutions and policies.
"Imagine if students from the graduate school produce research that help ease Cagayan de Oro City's problems – such as the traffic issue – we would all be living in a better place," Paalam stated.
But achieving this objective requires students and researchers to familiarizing the means to produce such works. Research tools, such as Mendeley, may be necessary to accomplish this.
Available resources
Almaden, who spearheaded the lecture in the seminar-workshop, relayed her experience in using the research tool from its website to its app. Almaden demonstrated how the software works during the seminar-workshop.
She also encouraged graduate students to utilize available resources apart from getting used to new tools.
"You can also use our online database," she said, referring to Xavier Ateneo's diverse academic platform, electronic library, and digital references that contain peer-reviewed and reliable sources.
She also advised for graduate students to localize their research depending on their field and program.
"What will be your contribution to the existing literature?" she asked.
This year, the GSD and GSSC underscore inclusive and collaborative ventures such as seminar-workshops and related activities to help students excel in their chosen specialties through academic research. ∎